Sleek Stainless Steel Countertop Ideas Guide
Featured Image: Carrie Wells
Go to most restaurants and commercial kitchens and chances are they are using stainless steel countertops. Their harsh and busy working environment requires a surface that can take a beating and still look good. Most importantly, they need a surface that maintains the highest hygiene standards. Stainless steel provides these benefits and much more. You can also enjoy these benefits at home at roughly the same costs you would incur with a granite, marble or quartz countertop.
If you are looking for a countertop that is tough, durable and looks good, try a stainless steel countertop. It brings chef-level style and functionality right into your kitchen.
TRANSITIONAL
ndre Rothblatt Architecture
Nice array of materials in this transitional kitchen.
CONCRETE & STEEL
ndrea Michaelson Design
A nice modern mix of concrete countertops and stainless steel countertops.
NASHVILLE STYLE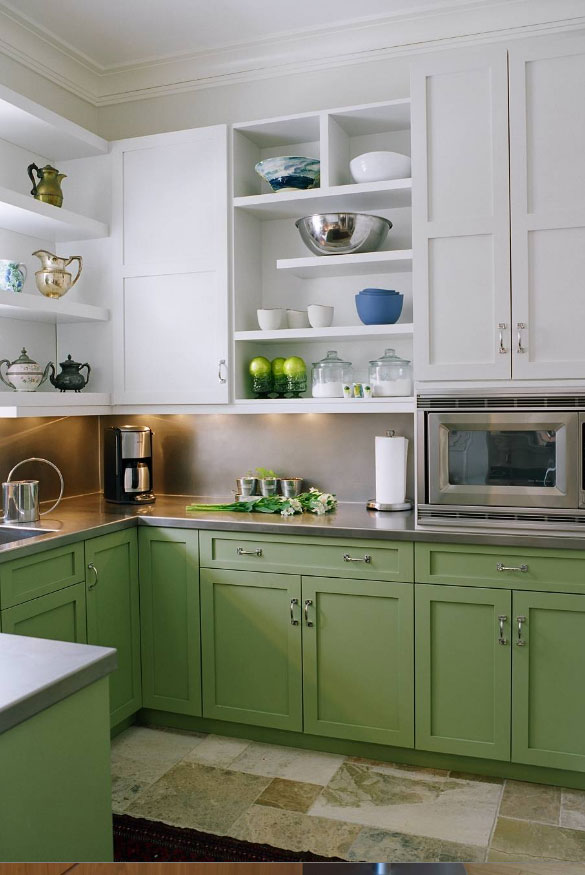 FourSeasons MetalWorks
This Tennessee kitchen is so fresh and eye-catching.
FLUFF & FOLD
XTC Design Incorporated
Fantastic laundry area.
GROUNDED
Christian Dean Architecture, LLC
Notice there are no upper cabinets. Ample windows allowing in tons of light–very open. Great pendant lights over the island.
TROPICAL STEEL
Coastal Style Constructions
This bathroom has a tropical vibe.
COLOSSAL COUNTER
Cornerstone Architects
No lack of prep space! Cook's dream?
DALLAS CONTEMPORARY
Holland Rogers Company, LLC
Great mix of design elements in this Dallas kitchen.
BRIGHT & INVITING
LineBox Studio
A bright and inviting kitchen. Love the blue color on the wall.
SKI RETREAT
Brooks and Falotico Associates, Inc.
Wonderful warm kitchen to retreat to after a day of skiing.
Stainless Steel Withstands Almost Anything
There is a reason why steel countertops are a favorite among commercial establishments. They are tough beasts that can withstand almost anything. Unlike other countertop materials that are damaged by heat, you don't have to worry about your hot pots and pans marring your smooth steel countertop. Oil, acid and wine spills are also nothing. Just wipe them off like nothing happened.
If you own heavy pots or appliances, your steel countertop can hold them without denting or chipping as long as it has been installed properly. The resilience of a stainless steel countertop is especially beneficial for busy kitchens. If you do a lot of cooking whether for your large family or frequent guests, consider investing in the hardy and hardwearing stainless countertop.
Countertops that Maintain Hygiene
In restaurants where cleanliness is paramount, they rely on stainless steel countertops to keep bacteria and germs away. One of the characteristics of steel metal countertops is that they are nonporous. This simply means that they do not allow liquids to seep through them. So harmful bacteria and mold have no place to thrive and hence there is little danger of food contamination. Considering that most food preparation is done on the countertop, using a steel countertop protects you and your family. This can be especially crucial if you have young children or an infant in your home.
INDUSTRIAL CHIC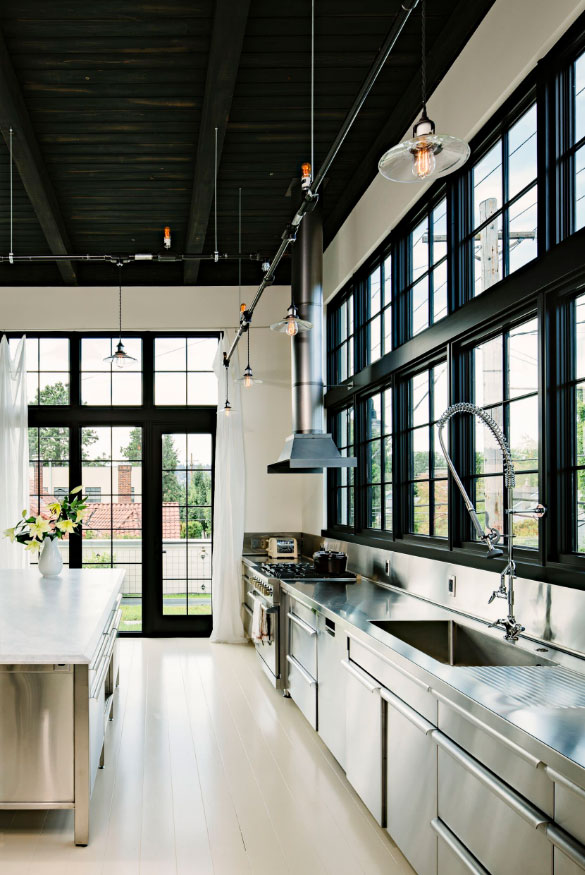 Emerick Architects
Love the expansive dark-framed windows.
CLEAN & SLEEK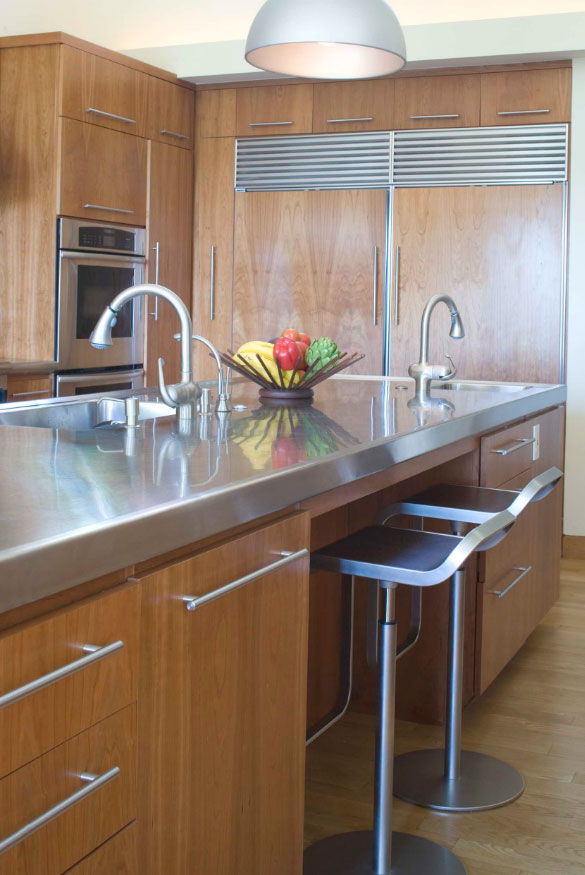 Studio William Hefner
The stainless countertop is perfect in this contemporary California kitchen.
SIMPLICITY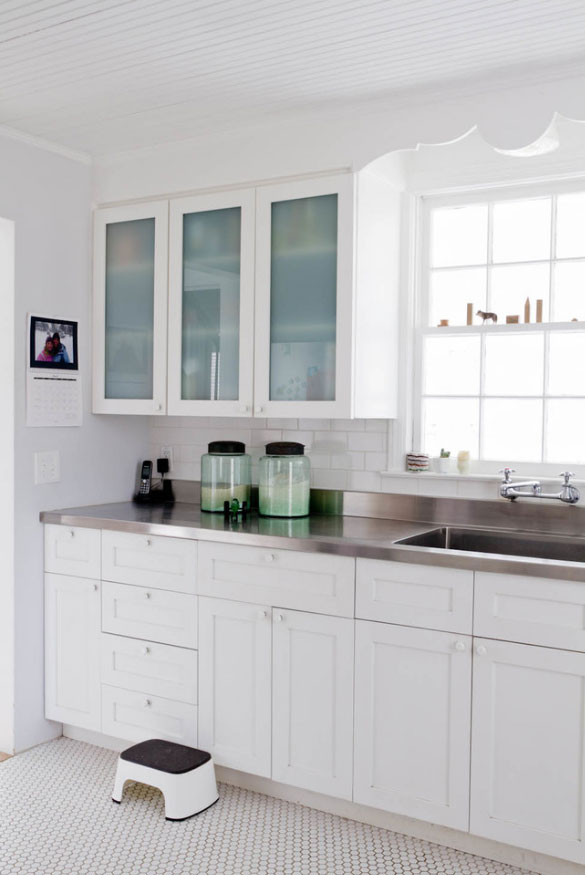 Rikki Snyder
Just a great looking non-fussy kitchen space.
FUNKY FARMHOUSE
Surround Architecture, Inc.
Love the unique mix of choices in this farmhouse bathroom.
Breeze to Maintain
The nonporous nature of stainless steel countertops also make them really easy to maintain. Since liquids do not go beyond the surface, there is zero risk of staining. Anything that spills on the countertop can be quickly dealt with by a quick wipe. You don't even need any harsh detergents or special chemicals to keep your countertop clean and shiny. Some mild detergent, vinegar or baking soda will do just fine.
If you are planning a kitchen renovation with a mind to create a less maintenance-intensive kitchen space, then a steel countertop should definitely be in your plans.  Again, this is one of the reasons restaurants love these countertops. In a busy kitchen with lots of cooking and serving to be done, you don't want anything slowing you down.
Stylish Contemporary Look
Have you looked at pictures of kitchens with stainless steel countertops? Don't they have a nice modern clean look them? If your kitchen décor is contemporary or you have a flair for clean minimalism, a steel countertop will fit right in. It creates a refreshing cleanliness and order to even the most cluttered spaces. I especially love how the metal surface reflects back light, resulting in an open feel and look. If you are wondering how to create the perception of space in your small kitchen, try a stainless steel countertop.
If it feels too cold or plain, try pairing it up with a textured or patterned backsplash. Brick-styled tile or mosaic glass backsplashes provide a nice contrast to the smooth countertop. But if you prefer a seamless continuity, you can opt for a similar stainless steel backsplash and then use the floor and wall cabinets to balance out the shiny metal.
LOADS OF FUN
Tim Barber Ltd Architecture
The stainless countertop looks great in this laundry room.
LAKE HOUSE
Birdseye Design
Stunning kitchen in this Vermont lakeside home.
GRAYSCALE
Stone Port
Only shades of gray in this space.
MODERN LOFT
Wilkinson Design Corporation
The wood is gorgeous in this Chicago loft. Love how thick the stainless countertop area is.
Highly Durable
Your steel countertop will likely outlast a lot of other things in the house. Even though it will surfer some blemishes with time (see the drawbacks section), it tends to age well, developing a certain alluring patina. So even after years of use, it still looks good and works just as well.
It's Green
If you are looking for an environmentally friendly countertop, we recommend stainless steel. Up to 60 percent of its content is recyclable meaning that it can still be useful even at the end of its life. You can even go a step further and look for countertops made with American-made steel. They usually have higher amounts of recyclable content.
Stainless Steel Countertop Cost
Stainless steel countertop pricing is roughly the same as that of marble or quartz. The cheapest you can get it is at $50 per square foot. On the higher side the average stainless countertop cost is around $150 per square foot. But the average cost in most places is between $60 and $95 per square foot.
CHEERY LAUNDRY
The Design Den Homes Inc.
Doing laundry in this space wouldn't be so bad. So bright and cheerful.
STAINLESS GALORE
Ciccozzi Architecture
No lack of stainless here!
MULTI-TASK
Provincial Kitchens
What a cool ironing board feature.
LEVEL BEST
Designer Premier
The stainless looks great with these rich & warm cabinets and the levels add a little something different to this bath.
SUMMER NIGHTS
ustin Outdoor Design
Nice example of a stainless countertop outside in a spectacular grilling area.
DARK & SLEEK
DCI Home Resource
The stainless looks amazing with the dark cabinets.
Drawbacks of Stainless Steel Countertops
Before you get a steel countertop, there are some concerns and issues you should know.
They will scratch over time. Scratches are inevitable especially if you countertop has a glossy finish. Avoid cutting anything directly on the countertop surface and keep the heaviest pots away.They are susceptible to denting. This happens when you place really heavy pots or appliances on the countertop. To prevent denting, make sure you get your countertop professionally installed. The best steel countertops have a wood backing underneath to support the top sheet of metal.For glossy countertops, smudges are common and easily visible. You may have to keep wiping the countertop, which can be a bit frustrating if you have kids who keep touching it. Additionally, any small bits of particles such as dust or crumbs are more noticeable compared to other countertops.They tend to be noisy as they interact with pans, pots and cutlery. While the noise is not extreme, it takes some getting used to.They are not budget countertops. Being in the same price range as marble, stainless steel countertops are not cheap. If you are looking for a budget countertop, this is not it.
THE VIEW
Ziger/Snead Architects
Impressive contemporary kitchen with an awesome view!
CHERRY DELIGHT
Perkins Smith Design Build
Absolutely love this kitchen. Great mix of warm cherry woods and stainless steel. Plus lots of great natural light. Must be a pleasure to cook and entertain here.
When it comes to kitchen countertops, marble, granite and quartz dominate the conversation. But stainless steel is starting to make headway, moving away from commercial kitchens and into homes. It is easy to see why many homeowners are interested: it's durable, resilient and has a great style to boot.
This is an image roundup post, curated to showcase and promote other reputable contracting companies' and their amazing work.  To have any of the images removed, please reach out to us and we would be happy to do so.
Other Great Articles to Read:
6 Top Trends in Kitchen Countertop DesignLearn How to Match your Countertop with the Cabinets and FloorQuartz vs. Quartzite Countertops PLUS Quartzite Pros & Cons
The post Sleek Stainless Steel Countertop Ideas Guide appeared first on Luxury Home Remodeling | Sebring Design Build.