Choosing the Perfect Metal Range Hoods or Wood Range Hoods
Range hood installation is one of the most common tasks when it comes to kitchen remodeling. As a result, it is important to know how to go about selecting the perfect metal range hoods or wooden range hoods for your kitchen. When you want to select the perfect wood or metal range hood, it is first and foremost important to have an idea of the various options and styles that are available for your kitchen.
The kitchen area is one of the most important rooms in your home. This is because most of us spend a significant amount of time in the kitchen preparing various types of meals for the family. Considering this fact, your kitchen should be very appealing and as comfortable as possible. One of the most effective ways you can enhance the overall appearance and functionality of your kitchen is by remodeling it. A good kitchen remodel will ensure that you are able to improve the general appearance of your kitchen and at the same time, improve the general functions performed in the kitchen.
While you will definitely want to have an idea of the styles of the range hoods available out there, it is equally important to ensure that you understand some of the technical aspects of the range hood.
In addition to showcasing some great kitchen design ideas this blog will also guide you through some of the technical aspects you need to know when selecting the best product for your home.
BIG RED
Ward-Young Architecture & Planning
The red metal range hood just makes this rustic kitchen even more warm and welcoming.
COOL CUSTOM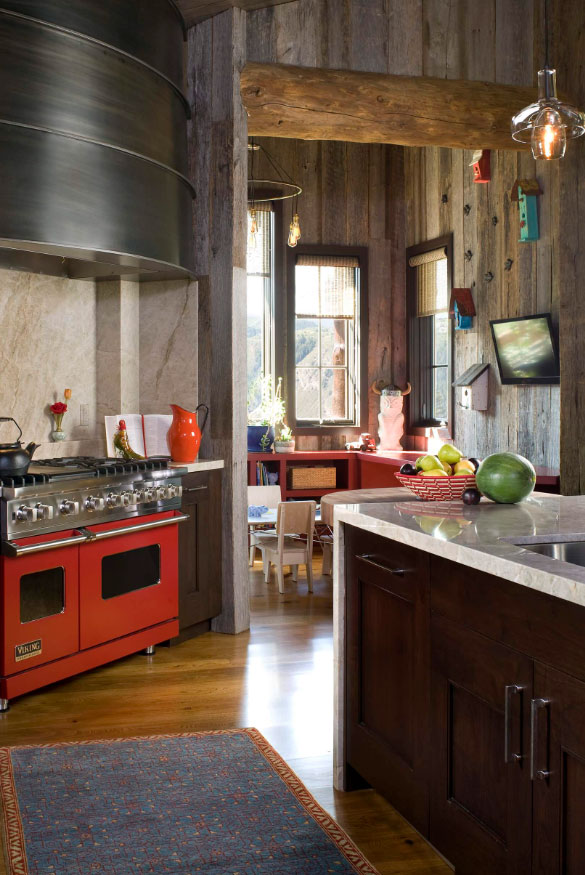 Studio 80 Interior Design
This custom metal range hood is just so unique (and big).
BLACK AND
SLEEK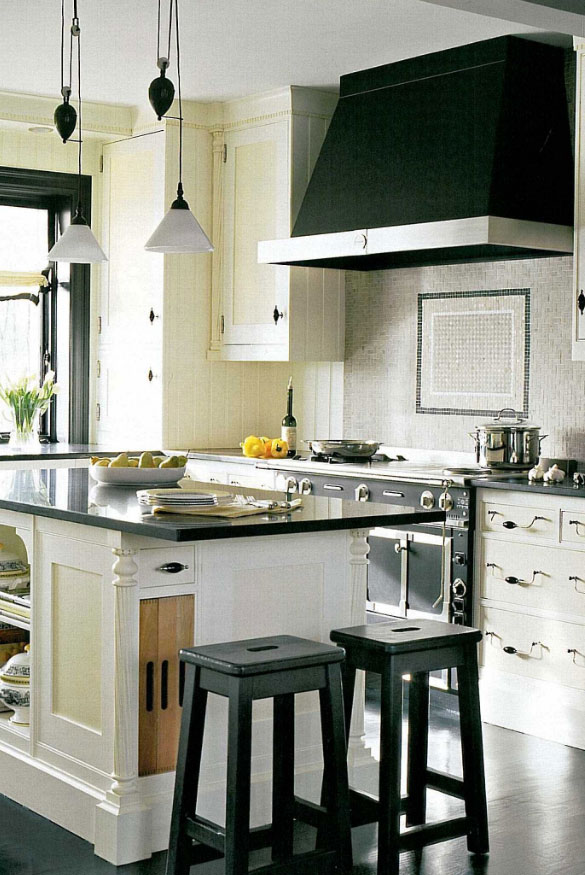 Dalia Kitchen Design
Clean and sleek and classic.  The hood and range are both LaCornue.
INDUSTRIAL PEWTER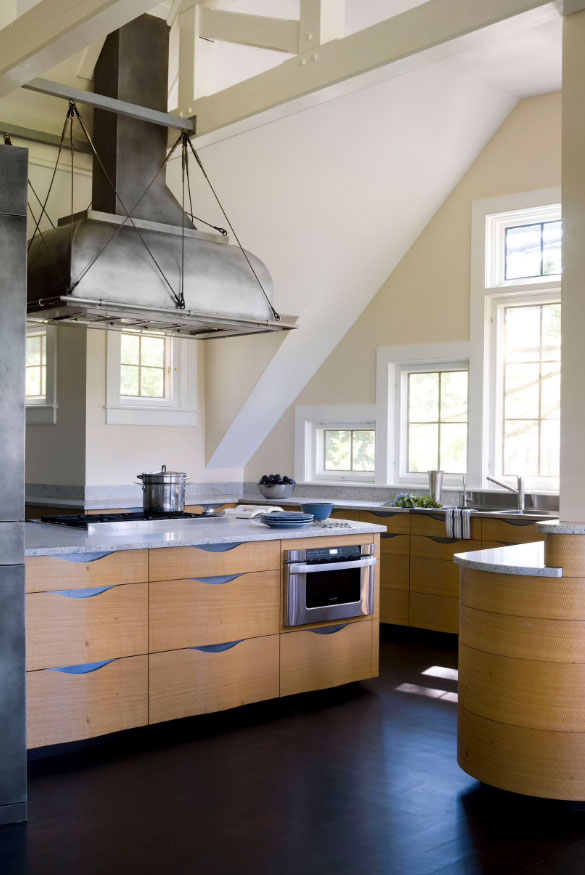 ustin Patterson Disston Architects
Definitely a focal point!  This cool hood is a patina zinc burnished to a pewter-like finish.
TERRIFIC TRANSITIONAL
Jennifer Worts Design Inc.
Gorgeous transitional kitchen in Toronto.   This kitchen keeps the two-toned theme balanced with the crisp & clean two-toned wood range hood.
TROPICAL
BLUE
Village Architects AIA, Inc.
Soothing tropical feel to this kitchen.  Beautiful wood counters!
BEACHY
Matthew Bolt Graphic Design
The custom wood range hood is just stunning.   Even with all the black–this kitchen is still bright and beachy.
ELEGANT
Triad Real Estate Photography
Lots of elegant details on the wood range hood in this traditional kitchen.
COMPLEMENT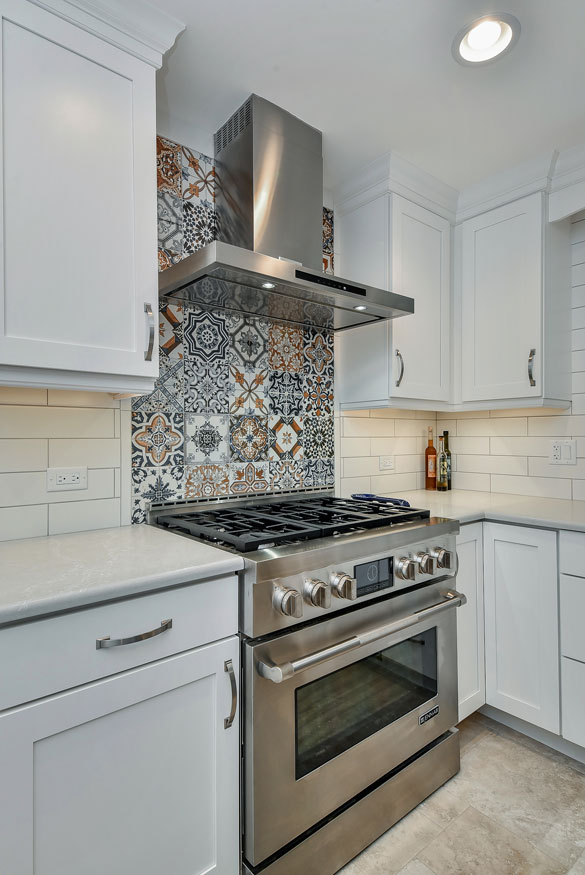 Sebring Design Build
This metal range hood is perfect over this range–it looks good and still showcases the bright and unique backsplash tile.
COPPER
storia Custom Homes
Everything in this kitchen is dark, rich & luxurious, and the range hood is no exception.
Diameter of the Range Hood Ductwork
One of the most important factors to consider while selecting a range hood is the diameter of your ductwork. This diameter will need to fit your unique kitchen installation needs. In most cases, the diameter of the ductwork is usually around 4 inches, and this implies that this diameter is considered ideal for typical installation tasks. Be that as it may, you can go for a diameter that is slightly smaller than the recommended 4 inches depending on the exact installation needs of your kitchen.
There are several recommendations for the diameter of a range hood, and these recommendations are meant to enable you to have a rough idea in terms of what should be the appropriate diameter for your ductwork. The ultimate diameter should be determined by the size of your vent hood CFM.
COPPER 2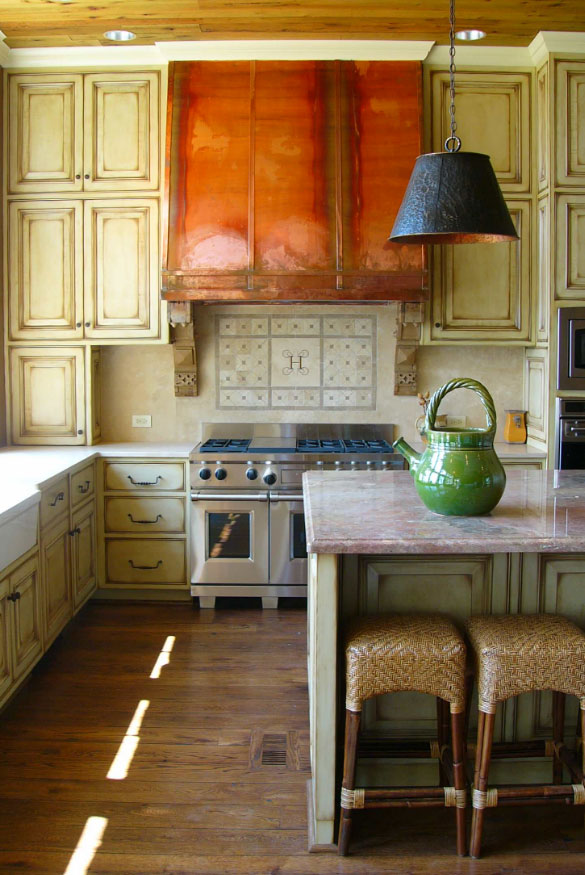 Erdreich Architecture, P.C.
This beautiful copper range hood adds a splash of warmth to this Birmingham kitchen.
SPARKLE & SHINE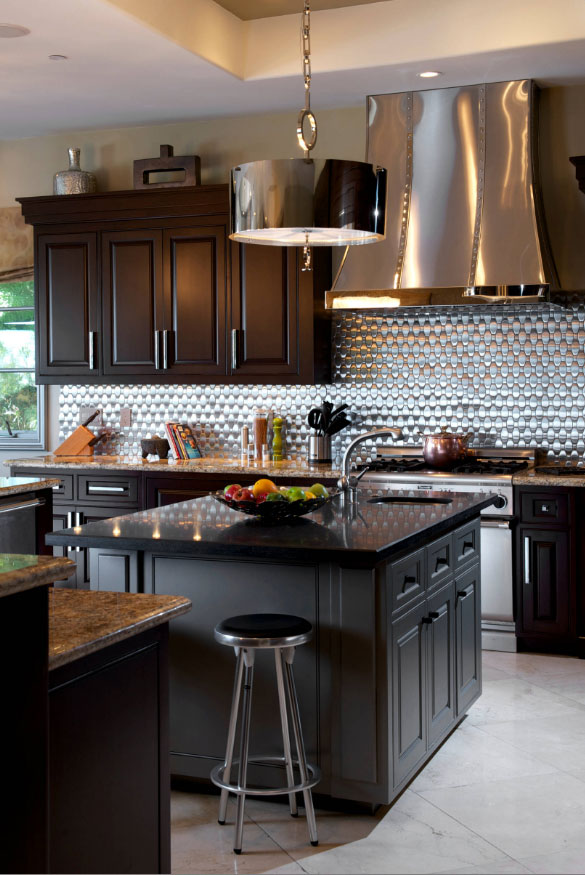 Dora Brigham Interiors
This metal range hood is so stunning–like a fine piece of jewelry. Love all the shiny chrome and how it ties in with the light fixture plus the cool backsplash!
TRADITIONALLY CRAFTED
Sebring Design Build
Lots of space in this classy and warm traditional kitchen.
CUSTOM
ALDER
Legacy Design-Build
This warm and sunny kitchen hosts custom alder cabinets with matching Vent-A-Hood range hood over the expansive island.
Length of the Ductwork
In addition to the diameter of the ductwork, another important aspect that you should consider when it comes to selecting the perfect range hood for your kitchen is the length of the ductwork. The overall length of the ductwork will to a large extent determine how effective the installation will be at getting rid of exhaust gases from the kitchen.
There are several general guidelines that should guide you on the length of your metal or wood range hoods.  First one being that shorter ductwork is better longer. This is because shorter ductwork is more effective when it comes to getting rid of exhaust gases from the kitchen. Second, straight ductwork is recommended.
MODERN FARMHOUSE
Kate Lester Interiors
This designer used reclaimed oak paneling with a slight whitewash to create this custom range hood and it is perfect for this kitchen!
RECLAIMED
BARN
Tineke Triggs Artistic Designs For Living
This lovely range hood makes use of reclaimed wood from a barn.
BRIGHT & LIGHT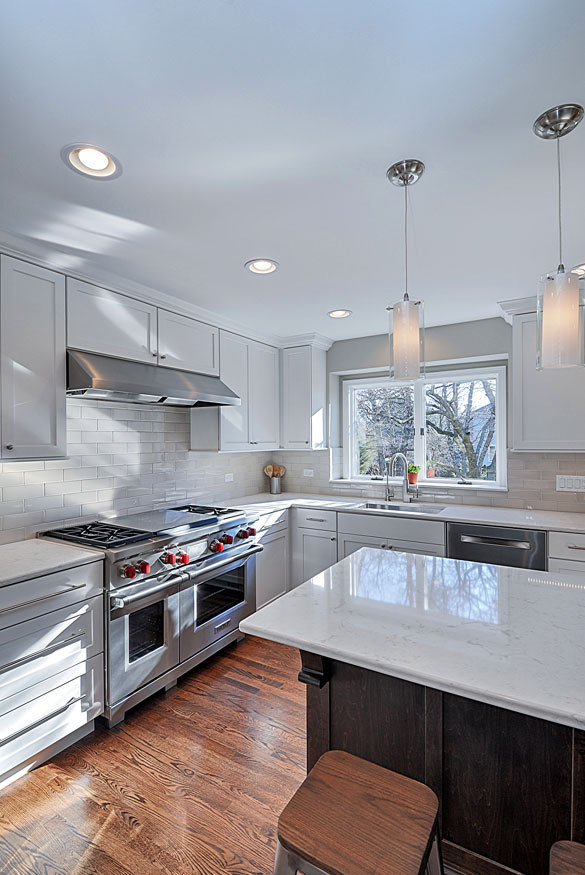 Sebring Design Build
Simple but large enough metal range hood to cover the space over this incredible range.
RUSTIC IRON
Terra Firma Custom Homes
Wonderful rich details in this rustic Denver kitchen.  This range hood in Rustic Iron Finish was designed and finished by Raw Urth Designs, Fort Collins, CO.
Type of Wood or Metal Used
An important thing to consider when it comes to selecting the best metal or wood range hoods is the type of material used in the overall construction of the structure. It is important to ensure that the material is indeed appealing enough since it is the most visible aspect of the installation. When it comes to wood range hoods, the best wood types to use include hard maple, red oak or cherry. These materials feature a classy look when subjected to the right finish, thus serving to enhance the aesthetic appeal of your kitchen area.
When it comes to metal range hoods, you might consider using appropriate metal types such as the zinc range hoods that are quite popular in the market. Furthermore, the overall appearance of your range hood can be enhanced by the color of the finish you choose to apply on the wooden or metallic surface.
Hood Designs
Finally, it is essential to have a good understanding of the range hood designs that are available for your kitchen. Getting the right design for the range hood is important since it will serve to improve the overall appearance of your kitchen.  Take some time to look at the many metallic and wooden range hood design ideas that we have featured.  Hopefully this will inspire your own remodel.
METALIZED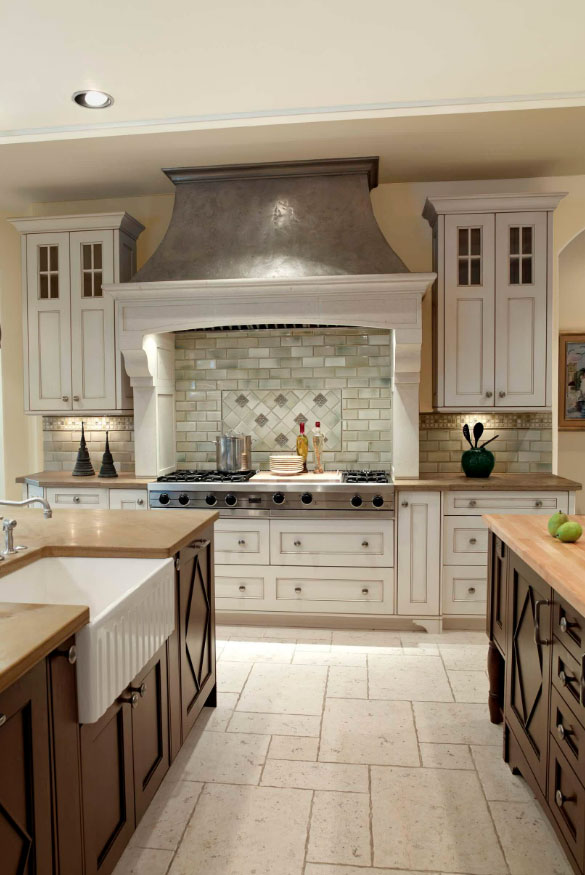 ngela Otten – Inspire Kitchen Design Studio
This is actually a stone hood with a metalized stack.  The stone hood is by Materials Marketing and it is metalized by Liquid Metal Coatings LLC.
DOWNDRAFT
Glenvale Kitchens
For those who like the hood to be less of a focal point–there's the downdraft.
SUNSHINE BRIGHT
Rafe Churchill
Wow! How can you not feel happy in this bright yellow kitchen?   This wood range hood is a custom made cabinet with an internal hood.
HIGH STANDARDS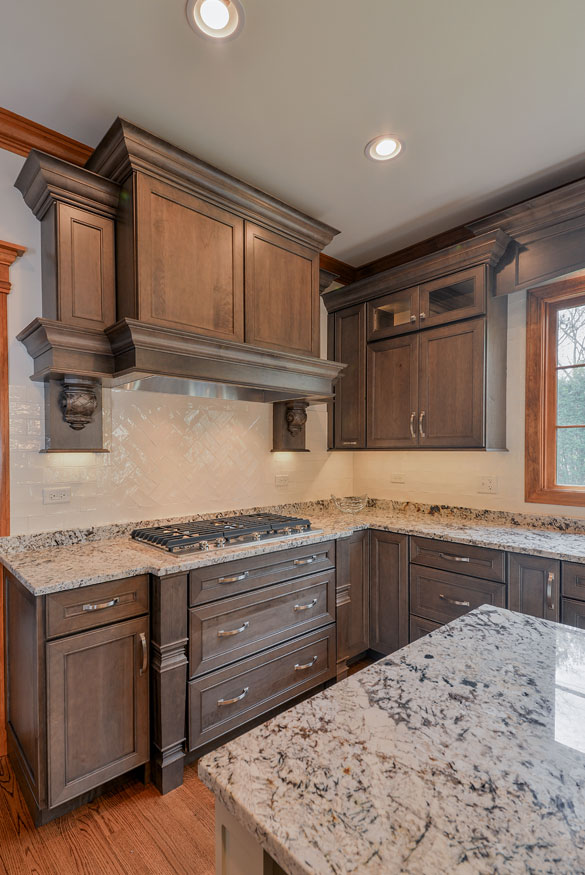 Sebring Design Build
There are so many features to love in this well-appointed kitchen.
CHERRY
ON TOP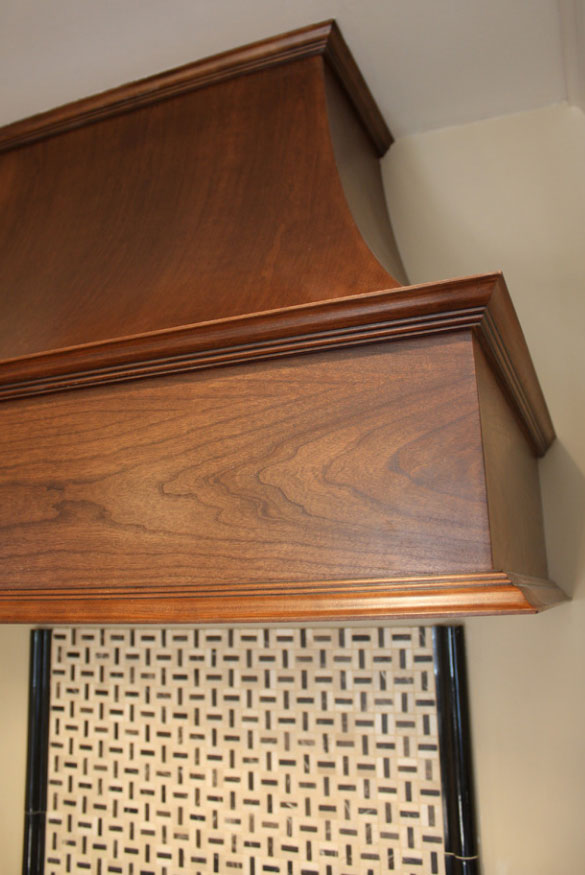 Southcoast Kitchen Designs
Gorgeous cherry wood range hood.
TRADITIONAL DISPLAY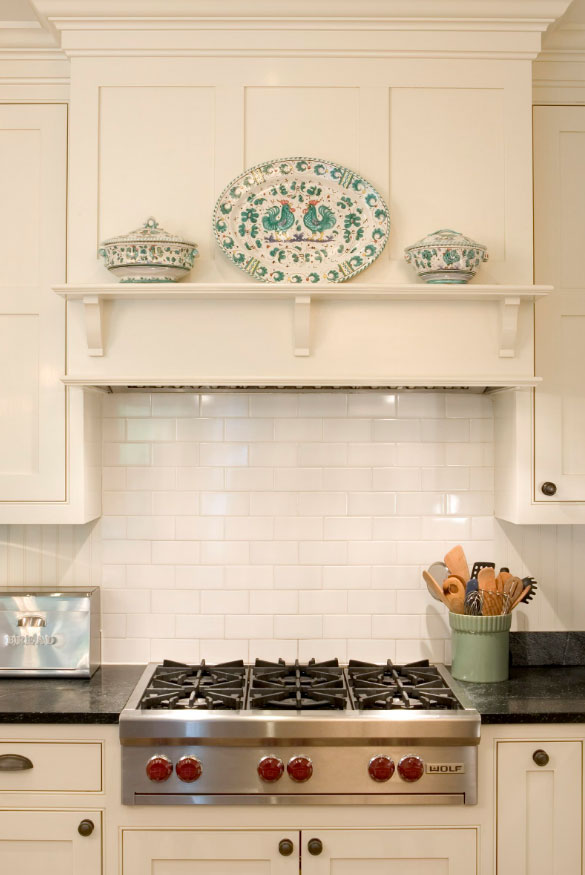 Lasley Brahaney Architecture + Construction
This range hood is concealed within custom recessed cabinetry and white bead board layered surfaces.   The feature shelf is great for displaying special kitchen bakeware.
LET'S GET TOGETHER
Sebring Design Build
This kitchen looks like a great place to host some wonderful parties for family and friends.   The metal and glass range hood adds some modern flair and helps keep the space open.
CLASSIC GET
TOGETHER
Sebring Design Build
Probably something we are more accustomed to seeing.  Still a great clean classic look.
BIG BLUE
lvarez Homes
This mansion in Tampa showcases a ginormous blue hood.  It was custom built and most likely painted with automotive paint. Interesting note–the backsplash was faux painted by Splat Paint of Tampa to match the real granite on the island. They also did the metal strapping and rivets on the hood.
CA CONTEMPORARY
Neumann Mendro Andrulaitis Architects LLP
Handsome streamlined space with a Boffi integrated hood featured.
MODERN ISLAND
Sebring Design Build
The rectangular shape of this metal hood vent works great with the square pulls and ultra modern feel of this kitchen.
HEAVY METAL
Seal Tex
Definitely makes a statement, like your favorite heavy metal band.
TRADITIONAL LIGHT
Sebring Design Build
A great traditional look with white cabinetry and details.
TRADITIONAL DARK
Sebring Design Build
A great traditional look with warm wood cabinetry and details.
WARM & INVITING
Luis Jauregui
Love the deep rich color of this vent hood.  This space does a great job of mixing dark and light elements–warm and inviting for sure.
CHARMED
Erika Bonnell Interiors
The light blue hood is a pretty and tranquil infusion of color in this charming kitchen.
WOOD
ENCLOSURE
Santarossa Mosaic & Tile Co, Inc.
The expansive area above the range beautifully encases the vent in this stunning kitchen.
SKYLIGHT TRADITIONAL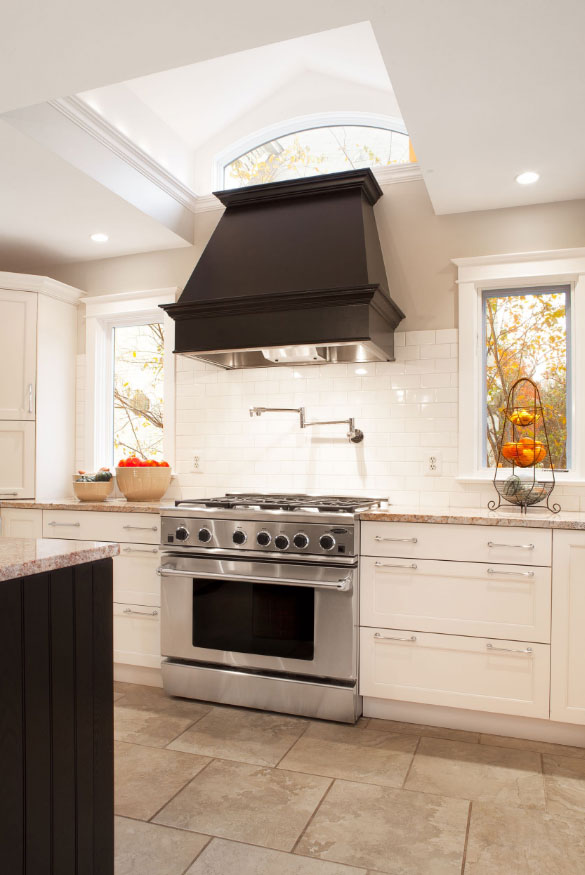 idan Design
This hood is custom built and contains an insert that vents to the exterior.
OPEN & AIRY
Sebring Design Build
This metal range hood is a perfect choice for this bright and airy kitchen.
PERIMETRIC
Sebring Design Build
Honestly had to look at this a few times–never seen this type of range hood before.  Unfortunately it may not be available anymore, but here is some information regarding perimeter ventilation.   This unit is a Jenn-Air 32" Wall Mount Perimetric Range Hood, Model #JXP5032W, (600cfm).  It is definitely unique and looks really cool.
ONE OF A KIND
To sum it all up–first and foremost, don't forget to identify the most appropriate diameter and length for your ductwork so that it functions properly. Next, take into consideration the type of material used for the hood. There are several wood types and metal types that are ideal for ensuring that the installation is indeed aesthetically appealing and serves to improve the appearance of the kitchen. Finally, it is equally important to ensure that you can select the best design that will serve to compliment the general appearance of your kitchen.
A good metal or wooden hood is one of the most vital items that you must consider when it comes to a typical kitchen remodel. The range hood plays a vital role of guiding exhaust gases out of your kitchen. In addition to that, the hood also serves to improve the general appearance of your kitchen.
This is an image roundup post, curated to showcase and promote other reputable contracting companies' and their amazing work. To have any of the images removed, please reach out to us and we would be happy to do so.
Other Great Articles to Read:
30 Classy Projects With Dark Kitchen CabinetsKitchen Appliances Colors: New & Exciting Trends32 Kitchen Shelving Ideas

The post Choosing the Perfect Metal Range Hoods or Wood Range Hoods appeared first on Luxury Home Remodeling | Sebring Design Build.
Did you miss our previous article…
https://lakeoftheozarkspropanehome.com/?p=2976