9 Trends In Basement Wet Bar Design For 2022
Sebring Design Build
From dark and dull basement, this one has transformed into a fun and bright space.
When you finally decide to remodel your basement, there are plenty of ideas out there. You could add an extra bedroom, a home theater or a playroom for your little ones. If you are looking for something fun and functional, how about adding a wet bar?
A wet bar is basically a galley kitchen meets bar.  It usually includes the common kitchen essentials: cabinetry, countertop, sink & faucet with various under counter appliances; all with the intention of serving family & friends. It is meant to be a fun, relaxing place where adults can lay back over a beverage or two and talk about the day. A basement wet bar can be designed as a compliment to the main space within the room.
For instance, you can have a game room and a bar off to the side, or a home theatre with the bar at the entrance. Ponder a spa bathroom with a bar in the corner to keep your cucumber water chilled and also the towels warmed.
If you do decide to go with a wet bar, here are the top 2022 trends to help you with design ideas:
Trend #1. Adding Under Counter Appliances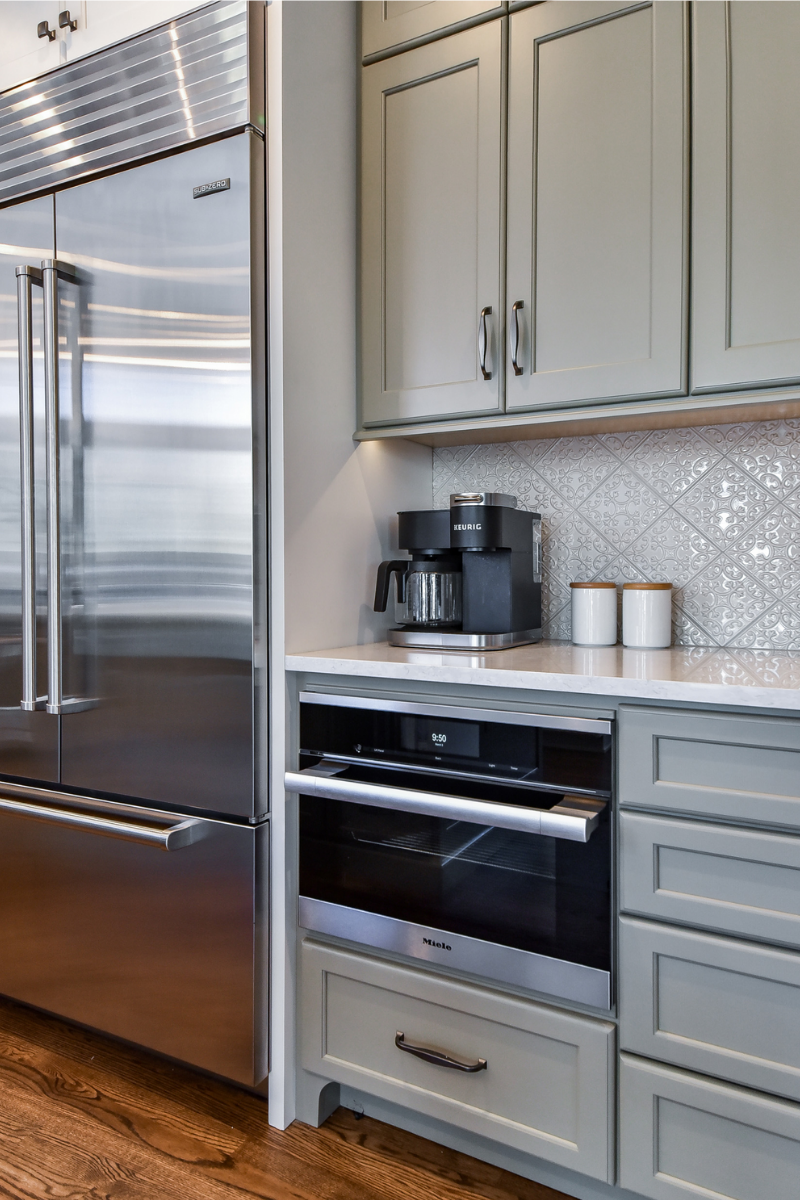 Photo By: Sebring Design Build
Lovely built-in green cabinets with stainless steel oven underneath the countertop.
Basement dry bar designs used to feature modest built-in cabinetry and countertop area for a storage area for drinks and snacks. In 2022, things are getting serious with the addition of an under counter refrigeration units and built-in microwaves. Probably the most popular under counter appliance we expect to see in 2022 are the microwaves. Soon, these will take over your typical countertop microwave.
Instead of having a single cabinet that stores your drink components and glasses, homeowners are adding wine chillers, beverage centers, beer kegerators, and ice makers. Not only does this add to the pub-feel, it provides more functional storage and ensures an adequate supply of chilled beverages. There are different kinds of wine refrigerators and beverage coolers available in the market.  If you frequently entertain and are the host with the most; make sure you consider a built-in microwave as well–so you don't have to go upstairs to make popcorn or hot beverages. If you don't do extensive entertaining, a small compact one should do just fine.
Trend #2. Wine Storage
Sebring Design Build
We are drooling over this fancy wine library which can hold countless wine bottles!
If you are a wine connoisseur or enthusiast, then you should think seriously about how you are going to store your wine. How you store it affects its quality. Having special storage for your wine bottles is also bound to add a dash of opulence to your bar space. In 2022, more homeowners are going full out in creating attractive and functional storage spaces for their wines. Some go as far as turning the entire basement into a wine bottle storage cellar.  When you are planning your storage, here are some things to remember:
Keep it in a cool place. Heat destroys wine flavors. The ideal range is 45-65 degrees Fahrenheit.If you decide on a refrigerator, do not store the wine for more than a few months. Really cold temperatures can also cause issues.Store the wine at a steady temperature range. Fluctuations from hot to cold will cause air to enter through the cork.
Sturdy racking in the basement often functions as great wine storage. You can build in the racking with molding trim pieces that adds some style to your wine cellar. If you want much larger storage options, one creative idea is to hide the wine behind a large glass door in its own room. If space allows, consider adding a tasting station within the racking or a wine barrel island.  If you want a more secretive space then consider hiding behind sliding barn doors.
Trend #3. Simple But Classy Design
Sebring Design Build
Full bar in with wine storage in a basement.
Just because bars are hidden away in the basement, does not mean that basement bars do not deserve a great look. Creating simple but classy bars in the basement is a trend that is quickly catching on. We are finding more and more homeowners spending more money for the right design. This involves a more streamlined design that focuses on the base cabinets, countertop space and floating shelves. Extra storage may come from floating shelves on the wall instead of wall cabinets. Homeowners still want high-end design and features in the space, including painted cabinetry, high-end natural stone or quartz countertops,  eye popping tile backsplash designs. It is common to see that homeowners either go all out with extravagant bar designs, or keep it fairly simple. These extreme choices aren't everything out there, but people tend to choose one or the other.
Related: Expand Your Home by Finishing Your Basement
Trend #4. Floating Shelves
Sebring Design Build
Floating shelves and quartz countertops in this timeless kitchen.
Sebring Design Build
Quartz countertops & decorative tile backsplash for this wine bar.
As mentioned above, many basement bars are moving towards a modern pared down design. This includes neutral colors, simple furniture and no excessive wall cabinetry. While some basement bars are eliminating wall cabinetry in favor of base cabinets with floating wall shelving. Installing open shelving has two advantages.
One, it provides storage without being too intrusive on your bar space. It is a low profile look that is perfect for a modern basement bar.Second, it is a great way to show off your wines and glasses and adds a nice look to your bar.
With open shelves, you could play around with lighting to create some cool effects. Floating shelves are great in smaller set ups, as they minimize clutter and promote organization. Open shelves are great in smaller set ups, as they minimize clutter and promote organization. You can add some small LED light strips to illuminate the underside of the shelf or position a main light fixture to shine light on the  objects above. The reflective effect will add a nice unexpected variation to your bar. Homeowners also can decorate this open wall space with bold tiles patterns and colors, which we will discuss in the next paragraph.
Trend #5. Bold Tile Patterns and Colors
Sebring Design Build
Stunning blue cabinets and patterned backsplash in this beautiful space.
While the countertops are staying neutral, homeowners are opting for bolder style in other elements such as the flooring, cabinetry and backsplash. Homeowners want it to feel fun and artistic. The flooring and walls are the best places to deliver this look.  You will find bold tile flooring with a mishmash of colors or artistic patterns created using mosaic tiles. The bar could also have an accent wall with a bold color or graphic that really stands out, check out these ideas from Pinterest. You can create a feature wall using wallpaper, painting, tiles or a large piece of art.   For wet bars with a backsplash, this is a good opportunity to forgo the traditional countertop and instead create a visual focal point with another material. You can go with creative tile patterns using different colored or shaped tiles. Another option is to use tiles with interesting finishes such as wood, metal or stone. The options are endless.
Trend #6. Party or Entertainment Space
Sebring Design Build
The countertop matches the island.
Your local bar most likely has music and perhaps even a TV showing the latest games. Why not create the same entertainment aspect alongside your basement bar? This is a trend that will continue to be very popular in 2022, as homeowners look to put their basements to fun uses.  You can start small. Just add a TV to play sports, sitcoms, music videos or anything else you enjoy. To expand your entertainment options, consider adding a music system, ideally a wireless one to avoid the clutter of cables. You can play some soft music when you need to relax or something more intense when the weekend party mood rolls in. If you are going to play some loud music, make sure to insulate the ceiling well, so it does not disrupt any upstairs activity.  As you expand the entertainment options, consider making the seating more comfortable. Instead of just having bar stools, you can add a sofa or lounge seats. This way, you'll want to stay and watch a movie.
Trend #7. Interesting Countertop Materials
Sebring Design Build
Smooth and sleek materials for this modern kitchen.
While a basement wet bar may resemble a kitchen in some ways, homeowners also want something a bit different from what they are used to. One way they are achieving this is by using more unique countertop materials.  Instead of the usual quartz, marble, granite or tile options, you can find something different like wood, stainless steel or even concrete. These alternative options create character to the space. Wood makes the bar feel cozy and authentic. Steel is modern industrial and perfect if you plan on having full on parties in your basement bar. Concrete has that industrial feel and is perfect if you are going for a transitional design.  Glass bar tops are also something to consider if you want a luxury-themed wet bar, since the glass can be etched with any design or pattern to personalize the space with your initials or logo of your new bar space. Glass is also a great alternative to high-end materials like quartz and granite.
Related: Hanstone Quartz Countertops: The Pros and Cons
Trend #8. Family-Friendly Designs
Bee Studios Design
A pop of color will take your blues away!
VIA International- Texas
Small organized spot to get the party started.
More and more homeowners also see the "bar" as a great family-friendly space.  Rather than being used to serve alcoholic drinks or entertaining a group of friends for a heated game of football; you can transform the place into a family-friendly game area. This involves having lower counters that the young ones can easily reach, a lot of comfortable seating options and a beverage center with drinks like flavored water, juice boxes, and soda. You can also add a microwave to pop popcorn and maybe even a home ice cream maker.  The base cabinetry or island is the perfect place to store board games, coloring books, and action figures that the family can enjoy together. Another trend we're seeing is a morning bar with coffee and juices or a spa bar with hot towels and water for after a workout or quick swim. The possibilities are endless!
Trend#9. Extension Of Your Main Kitchen
Sebring Design Build
Blue cabinets and white quartz countertops with stainless steel appliances.
We are beginning to design basement bars as an extension of the main kitchen. This is great for entertaining or when you host house guests! Do you feel like your existing kitchen isn't large enough for holiday gatherings? If you have the room in your basement, work with a designer to create a space with a full refrigerator and possibly even an oven (this isn't always allowed). We can create extra seating and this can be your next favorite spot in the house! Be sure to check your local codes to see if this is possible in your area, as sometimes this type of design can be considered an extra dwelling.
Conclusion
A basement wet bar is a great place to relax and kick back after a long day. If you are planning one in 2022, you have plenty of options to think about. The most important thing is to create a pleasing atmosphere that works best for you to enjoy for many years to come.
Check Out Our Other Great Articles:
Really Fun Sports Themed Bedroom IdeasTeen Bedroom IdeasStunning Wine Cellar Design Ideas That You Can Use Today
The post 9 Trends In Basement Wet Bar Design For 2022 appeared first on Sebring Design Build.