49 Cool Pool Table Lights to Illuminate Your Game Room
Featured Image: Dreamstime
If you're looking for some top-notch ideas for cool pool table lights, you've come to the right place. We've picked out some of the best cool pool table lights ideas. Your billiards table is one of the most valuable and entertaining fixtures in your home, and it deserves all of its glamour and glory. Having the right kind of lighting on your pool table can add that extra touch of elegance that can tie the entire entertainment room together.
Whether you're into a more contemporary style, or you want something rustic to complete your interior design; there are several great lights and light fixtures to choose from. Check out the number of ways you can illuminate your pool table and keep the game going for hours on end.
SASSY AND LIVE
Distinctive Designs By Janelle
Beautiful Spanish feel with a pop of color.
BALL PARK LIFE
Scott Landon – Modern Antique Store
Gives you the feel that you are at the ball park.
CABIN FEEL
Denise Stringer Interior Design
Love the outdoor look that makes you feel you are in a cabin or a lodge.
HIGH CLASS
The Wiseman Group Interior Design, Inc
One of a kind look for a casino feel.
TRADITIONAL BRASS
Rinfret, Ltd.
A beautiful example of traditional pool table lighting provided by Klaff's.
CLEAN & CRISP
Dream House Studios
Clean & crisp game room & pool table lighting by Visual Comfort.
COMFY & COZY
Thompson Custom Homes
A comfy/cozy space–perfect area for the family to unwind.   Love the nook!
COOL & SLEEK
Benning Design Construction
All the black grounds and enriches the space along with the rich, warm ceiling.  The pool table lighting fixture is the cherry on top!
EXQUISITE ESTATE
Parker House Inc.
Exquisite details are apparent in this Houston home.
PARTY PERFECT
Kimberly Timmons Interiors
This rustic game room in Denver is the perfect party spot.  The Bronze Age Six Light Bar Pendant from Sonneman Lighting looks spectacular!
Pool Table Lights Specifications
There are a couple of features and specifications of pool table lights that should be reviewed before taking a look at the different styles available. You need to ensure that your fixtures will be secured, with just the right amount of light for your gaming pleasure.
The pool table lights' height should typically be around 40" above the table, but no higher than 70". Between 40" and 70" is a great range for the perfect amount of lighting, without being too bright or too dim.
The pool table lights' length depends on the size and width of your table. You can decide which size lights to use by taking a look at the handy sizing chart table below. Remember that the same information applies whether you are using one or multiple lights in a row:
The available pool table sizes offer different lengths and depths, which can help to determine which style of lights you'd like to choose for your billiards room.
Cool Pool Table Lights
The scope of what is and isn't cool can vary from person to person, and the interior design world is often redefining the meaning of cool itself.  However, there are several timeless pieces that will always be known as "cool". Several ideas for cool table lights include those made from barn wood, different colored lamp shades, vintage colorations (such as green and pink), imprinted lamp shade designs, rubbed bronze, and much more.
Next, let's take a look at some of the most popular lighting styles for your billiards table.
NASHVILLE CUE
Eric Ross Interiors, LLC
A colorful game room in Brentwood, TN.  The pool table lighting, seating area, wine nook, and fireplace are all awesome features.
BEACHY
Home Beach Designs
This Quoizel Emery light fixture is just the right touch of shiny "bling" in this beach style Cape Cod house.
ENTERTAINING
Urban I.D. Interior Design Services
Another amazing space for entertaining.
WAVY
Schippmann Design
This custom pool table light by Pam Morris is whimsical and unique.
Stained Glass Pool Table Lights
Also known as "Tiffany" style, the stained glass pool table light can be a beautiful addition to your ceiling. These fixtures are often adorned with colorful decorations, almost in a mosaic-like pattern on the glass shade of the lights. They can be fixated to an iron bar, which attaches from the ceiling and hangs at exactly the right height.
This is a great choice for anyone who is looking to add a more antique feel to their home, further pulling together the golden oldie style of a classic games room.
Vintage Pool Table Lights
Vintage pool table lights can either be handmade or produced to mimic a vintage style. There are a wide variety of vintage styles available to choose from. Some popular favorites include lights made out of an upside-down feeding trough, with the rustic metal adding a genuine touch, and the refurbished industrial hanging light, which uses vintage materials salvaged from machines with an Edison light bulb for a vintage look. Several other styles are available that can be made from old pieces of furniture, salvaged wood, different metals, and even stained glass.
IRONCLAD
Eunice Fernandes
This game room in Brazil features an impressive iron and zinc pool table light.
RUSTIC RETREAT
Shannon Callaghan Interior Design
Perfect rustic retreat to get away from the daily grind.   How about those bunk beds?
SPORTY
Mitchell Exclusive Billard Designs
There is no doubt a sports-lover came up with this cool pool room.
DOUBLE DOME
blurrdMEDIA
Sleek dome lights accent this pool table area.
Rustic Pool Table Lights
Rustic pool table lights often come from old and natural materials. The term "rustic" itself refers to old metal which has slightly rusted over, giving it a genuine and well-used look. Many homeowners love inviting rustic styles into their houses, which can look especially neat when adorning a classic game room.
Rustic lights are often made from metal or wooden troughs, industrial materials, or pieces of furniture. They are not required to be vintage in order to be considered rustic.
Contemporary Pool Table Lights
Before delving into the details of a contemporary pool table light, it's important to highlight the difference between contemporary and modern. People tend to confuse the two because there are certain similarities that can compare the two styles. However, contemporary is a style all of its own, with many features that are independent from that of a modern look.
Contemporary defines anything that is current and trending, while modern takes its cue from the past. There is a definitive modern style that will never change, whereas contemporary fits the times and preferences of the moment. With this being said, contemporary pool table lights are often boxy, square-shaped, and with several minimalistic devices. They add a great touch of modernity and a city-like feel to your room when you install them.
CHROME DOME
Mitchell Exclusive Pool Tables
There's plenty of captivating chrome in this game room–plus you can't miss the giant dome light fixture–so unique.
VINTAGE COOL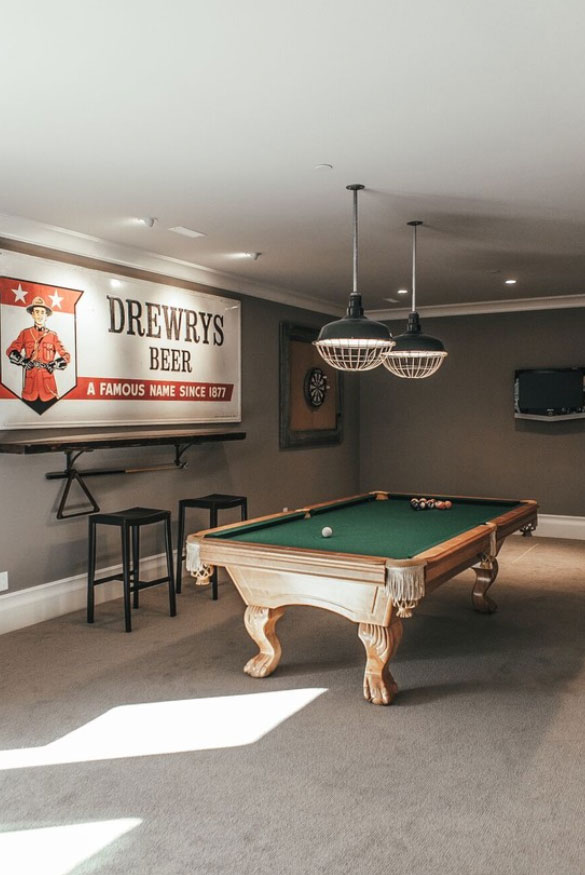 Scott Landon – Modern Antique Store
Don't forget about antique and vintage pool table lights–simple and cool.
CANDLE-STYLE
Everything Home
This candle-style chandelier looks perfect over this pool table in this traditional game room.
SPACE CRYSTAL
Erica Bryen Design
The Robert Abbey Jonathan Adler Sputnik chandelier in polished nickel with crystal accents is a beautiful focal point in this stunning game area. Definitely takes its direction from space, stars, and planets.
PARK CITY WOW
Sorento Design, LLC.
This extraordinary craftsman style home in Park City, Utah looks like it has the best of everything!  The curved light fixture is surely a cool pool table light.
TLANTA RUSTIC
J.Banks Design Group
While you have to look at the back of this picture to see the pool table and light; the shape of this rustic pool table light is unlike what we usually come across above pool tables.
Custom Pool Table Lights
Aside from the huge variety of creative and classic pool table lights available on the market, you always have the option to make some custom designs that would fit perfectly with the personality of your room.
Do you like some stained glass designs, but you are also into modern and contemporary styles? If so, you can combine the two to make a custom fixture that nobody else in the world will ever have
The beauty of creating custom lights is that it's easy to get creative and come up with a multitude of ideas that have yet to be produced. Looking back on some of the vintage designs, you can see how others used to fashion lights out of wooden troughs or barn tools. You can apply the same thought to your custom idea and let your imagination soar.
There are other ways to customize your lights, too; you can imprint the lamp shades with your favorite design or decal. Is your game room sports-themed? Want to show your loyalty for a specific team? Get their team name branded on your lights, so your guests will see them and smile when they enter the room.
WARM & WELCOMING
Martha O'Hara Interiors
This space just looks so warm & welcoming–you just can't wait to pour yourself a drink, play some pool and definitely share the experience with family and friends.  The brick floor is distinctive and the light fixture over the pool table has so much character.
HANGING OUT
Riach Architects
What a remarkable space for the teens to hang out!
BOXY BILLIARD
London Audio Ltd
Besides the cool light structure above the billiard table, this home located in London, Ontario has many award-winning electronic features.
CLASSIC STAINED GLASS
Grainda Builders, Inc.
It is obvious that this classic stained glass pool table light looks good in so many settings, plus this room also includes a beautiful door and pool table.
CLASSIC BLACK
Design Guild Homes
This classic black billiards light is a great choice for any game room!
INDUSTRIAL CHIC
JR Custom Living, Inc.
Lots of great industrial style features in this basement.
MIX IT UP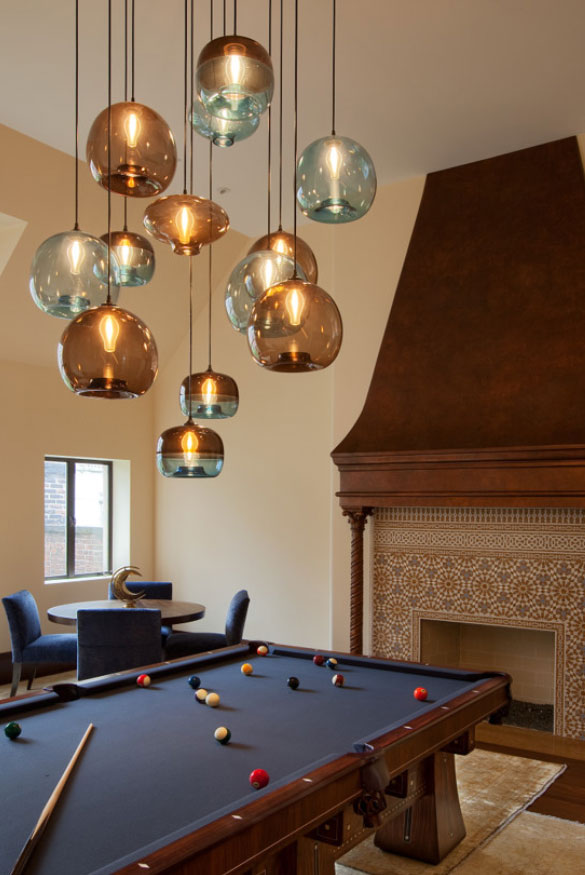 Eljin Construction
This ultra unique fixture is a mix of 4 different styles of pendant lights by Jeremy Pyles.
CLASSIC POOL TABLE
Quoizel
This lovely Arts & Crafts Tiffany stained glass lighting fixture is a classic choice for pool table lighting.
DRUM ROLL
Tim Cuppett Architects
Stunning game room and these drum pendants are perfect complements.
SINGAPORE
The Interior Place (S) Pte Ltd
A cool hangout located in Singapore.  Six sleek black lights illuminate this pool table.
URBAN COOL
Tom Stringer Design Partners
Shiny drum pendants add to the cool feel of this room–plus this pool table is also a dining table!   Great use of space in a Chicago loft.
SUMMER HOME
Tom Stringer Design Partners
A top-notch classic beach style game room at this Michigan summer home.
TRADITIONALLY YOURS
Carolina Design Associates, LLC
This traditional bar and game area includes stunning woodwork and ceiling detail.
SIMPLE RUSTIC
Local Wood VA
Simple rustic pool table lighting accents this woodsy-warm basement.
CONTEMPORARY SF
thena Charis Interior Design
An exceptional contemporary pool table light is just one of the many superb focal points in this San Francisco game room.
RUSTIC RANCH
RMT Architects
The game room at this horse ranch in Denver displays custom pool table lights.
LOHA
Knudson Interiors
Hawaiian charm is evident in this masculine, yet soothing "man cave" game room.  The suspended fixture's silky lampshade gives off a comforting glow.
SURF'S UP!
KKC Fine Homes
Clever surfboard pool table light that is perfect for this contemporary beachside home in Los Angeles.
Here are a few pool table lights that our clients' chose:
Standard Pool Dimensions
Pool tables are available in many sizes. If you like to buy a pool table for your home, you should know the correct dimensions.
Pool tables are typically rectangular in shape, with a length-to-width ratio of 2:1. For example, if the table's length is 8 feet, its width will be 4 feet.
The standard pool table measurements (length and width) are, in general, as follows:
7 feet (2.1 meters) length and 3.5 feet (1 meter) width
8 feet (2.4 meters) length and 4 feet (1.2 meters) width
8.5 feet (2.6 meters) length and 4.3 feet (1.3 meters) width
9 feet (2.7 meters) length and 4.5 feet (1.4 meters) width
A pool table's typical height ranges from 29 1/4 inches (74.3 cm) to 33 inches (83.8 centimeters). This relates to a height range of 2.4 feet (0.74 meters) and 2.75 feet in feet and meters (0.8 meters).
Make Your Game Room Fun!
Pool & billiards are exciting and timeless activities that can be enjoyed with just one or multiple friends. Pool & billiard tables are beautiful and often expensive pieces that deserve to be taken care of and showcased with the right kind of light. When you are looking to install pool table lights above your table, you want to make sure you get it right.
After figuring out the proper height and length adjustments, you can then use your creative spark to figure out your style. From rustic to contemporary, there are plenty of shapes, styles, colors, and materials to choose from. You're guaranteed to have something unique and beautiful every time.
This is an image roundup post, curated to showcase and promote other reputable contracting companies' and their amazing work.  To have any of the images removed, please reach out to us and we would be happy to do so.
Other Great Articles to Read:
43 She Shed & Woman Cave Ideas: The Ladies Answer to the Man CaveThe Most Amazing Video Game Room Ideas to Enhance Your BasementBasement Subfloor Options DRIcore Versus PlywoodBasement Heating Options to Keep Your Family Warm & Comfy
The post 49 Cool Pool Table Lights to Illuminate Your Game Room appeared first on Luxury Home Remodeling | Sebring Design Build.