43 Stunning Wine Cellar Design Ideas That You Can Use Today
A great wine cellar is all about creating a controlled environment.  Whether it is located in a sprawling mansion or in a tiny apartment, design options are virtually limitless.  However, if temperature and humidity are not controlled properly, your precious wine may not age in the right way.
Our wine cellar ideas roundup showcases some of the most creative designs. If you are thinking of setting up your own wine cellar at home, these design ideas and guidelines should provide some inspiration.
Once you make a decision to build a wine cellar at your home, your first consideration should be maintaining the right conditions all the time. How you do this will depend on the size of the wine cellar and where it is located. A large basement wine cellar will require considerably more work in climate conditioning compared to a small wine cellar. If you opt for a pre-made wine closet or cabinet; chances are that it comes with climate control mechanism already installed, relieving you of most of the burden.
Here are some of the climate control actions you need to take when building a wine cellar:
Full room insulation to keep temperatures at a steady range. Make sure the insulation is also a good vapor barrier.For large wine cellars, a wine cooling system may be necessary. This will also require an adequately sized exhaust room to absorb expelled heat.If the location of the wine cellar tends to get too dry, a humidifier will be required.
Once you have the climate control part figured out, you are ready to get started on your wine cellar. Our home wine cellar image round up is a good starting point to help you figure out the design that works best for your needs and budget.
More great information for you to check out at The Wine Cellar Insider.
SIMPLICITY
Sebring Design Build
A simple and neat space for wine storage. Cool door!
WINE CLOSET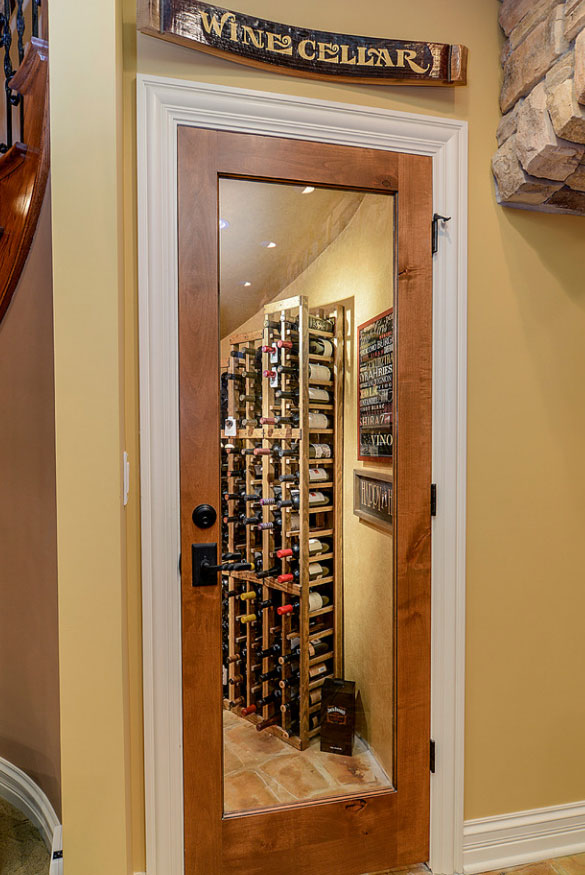 Sebring Design Build
Nice wine closet located near a bar area.
SECRET STASH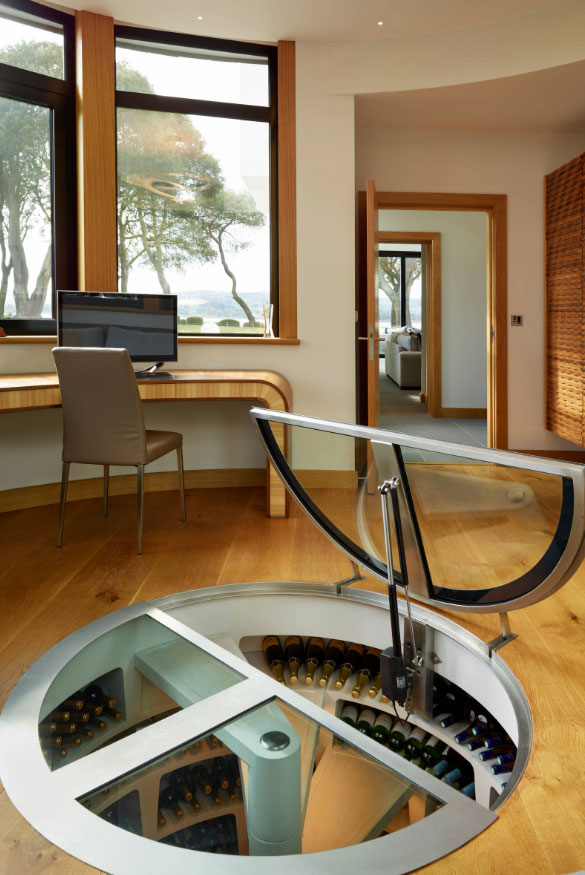 Sapphire Spaces
This underground wine cellar is so cool!
KITCHEN STORAGE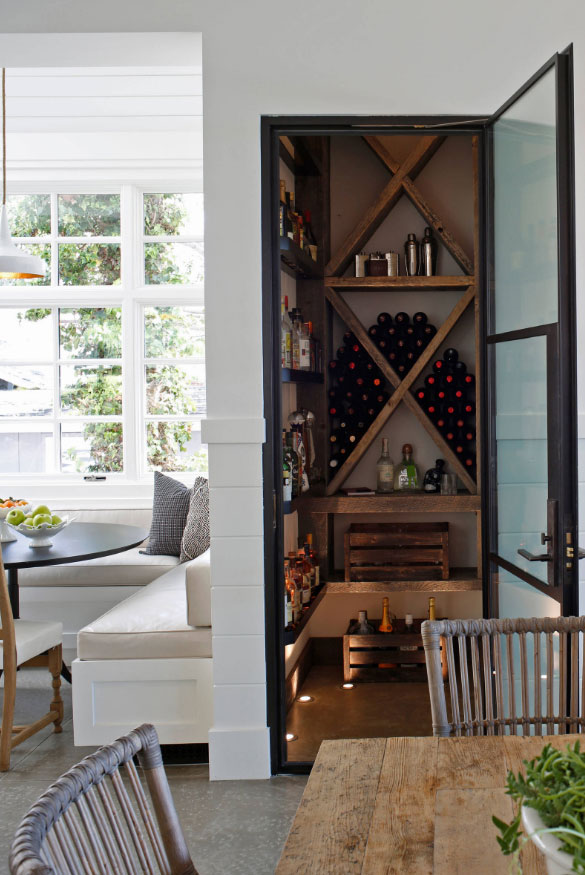 P.S. Platinum Properties
Smart storage area off the kitchen. Wine storage doesn't always have to be in the basement or lower level. Love that seating nook too!
WINE ROOM
Cherry Creek, Inc.
A great space to share a bottle of wine.
SPANISH STYLE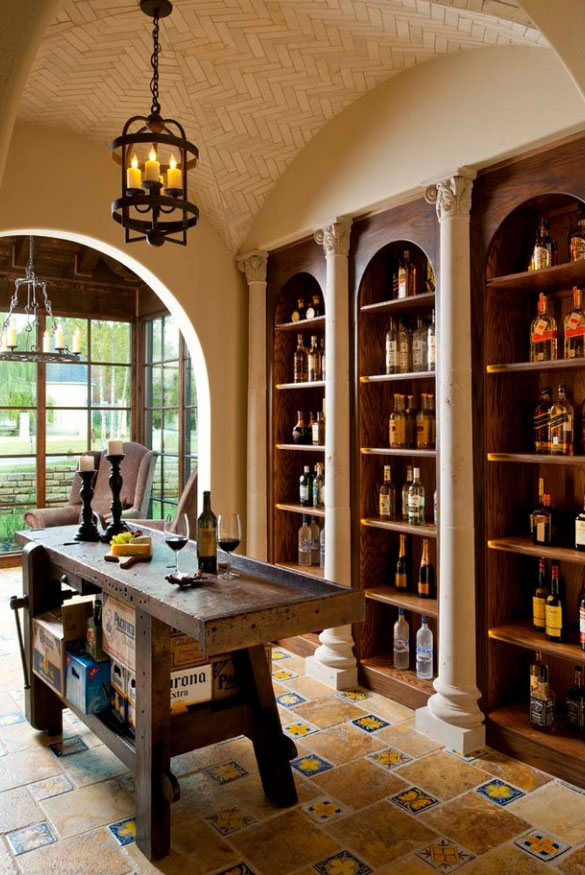 Christy Drew Designs
Warm and inviting wine area in Dallas.
WINE BAR
Sebring Design Build
What a great space in this basement for entertaining!
MEDITERRANEAN
Canaday Group
You are transported "somewhere else" in this expansive wine cellar and tasting area.
NARROW CELLAR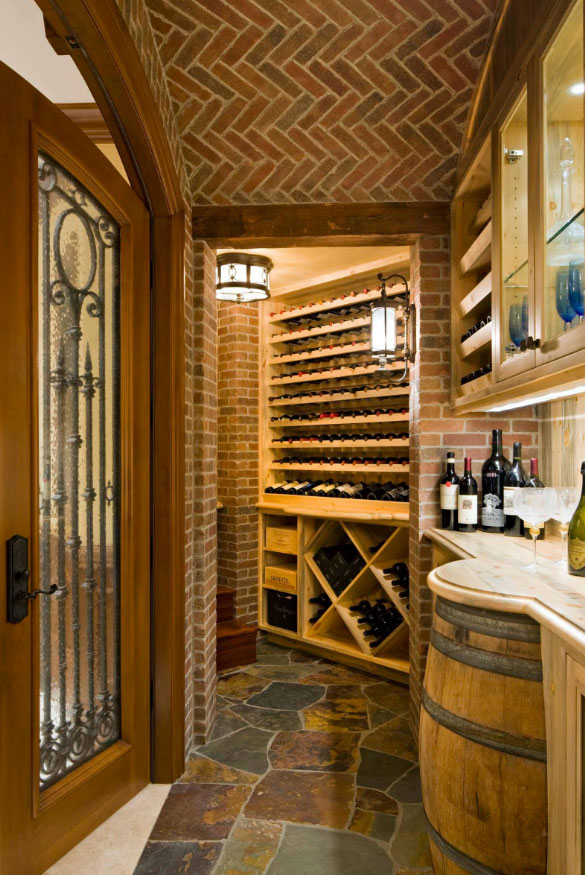 KGA Studio Architects, PC
Almost looks like this is located in a hallway. Great use of space.
BARREL SINK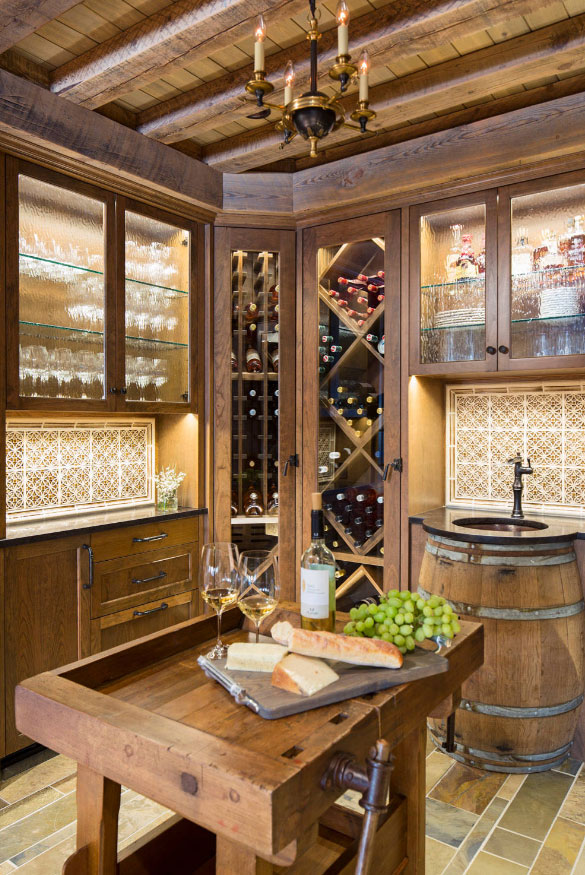 Martha O'Hara Interiors
Wonderful idea to use the wine barrel as a sink!
Wine Cellar Climate Control
Climate control will make or break your wine cellar. Wine is a delicate thing. It tolerates temperature and humidity changes only within a narrow band. If it goes above or below, then the aging process is likely to go awry.
When it comes to temperature, 55 degrees Fahrenheit (13 degrees Celsius) is the accepted sweet spot. A range of 3-4 points above or below this temperature is acceptable. In chemistry, we learn that an increase in temperature increases the rate of reaction. If your wine cellar is too warm, your wine will age too quickly and produce other unwanted reactions. This will damage the quality and taste of the wine. On the other hand, if the conditions are too cool, chemical reactions slow down and your wine ages at a much slower pace.
There is also another aspect of temperature that can damage the wine and that is variability. Without proper climate control, temperatures in the wine cellar will keep swinging between cold and hot. In many cases, the cork sealing the wine is not 100% airtight. As it expands and contracts with temperature variations, oxygen finds its way inside the bottle. As any wine connoisseur knows, too much wine will damage wine flavors because of over-oxidation.
As for humidity, the slightly damp conditions of a basement are actually good. Slightly high humidity keeps the cork from drying out, which could compromise the quality of the seal. The ideal humidity level is 57%, with an ideal maximum of 70 percent and minimum of 50 percent. If it goes too high the biggest risk is the development of mold in the cork, which could damage the wine. Additionally, it can damage any labels on the wine bottle.
STONE
CELLAR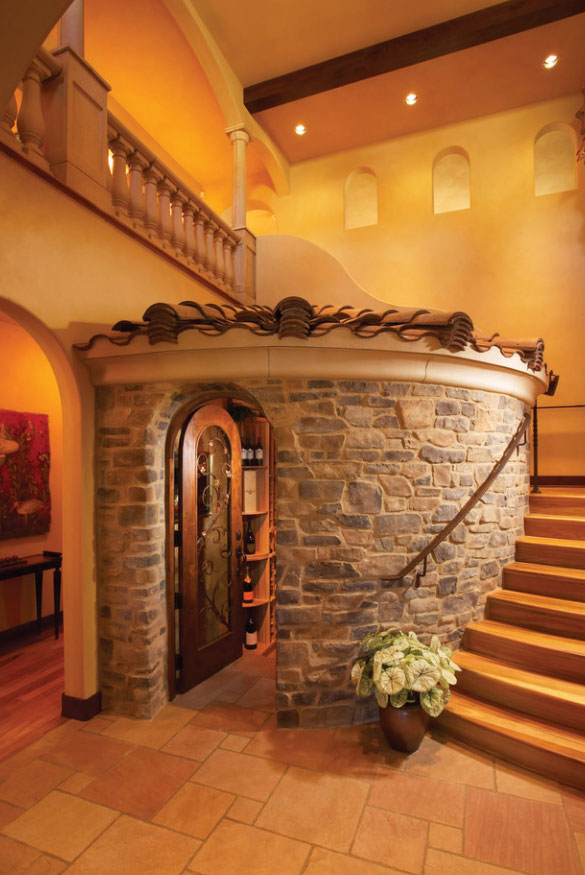 Eldorado Stone
This is such a gorgeous feature in this home. Definitely not something you see every day.
CONTEMPORARY REFUGE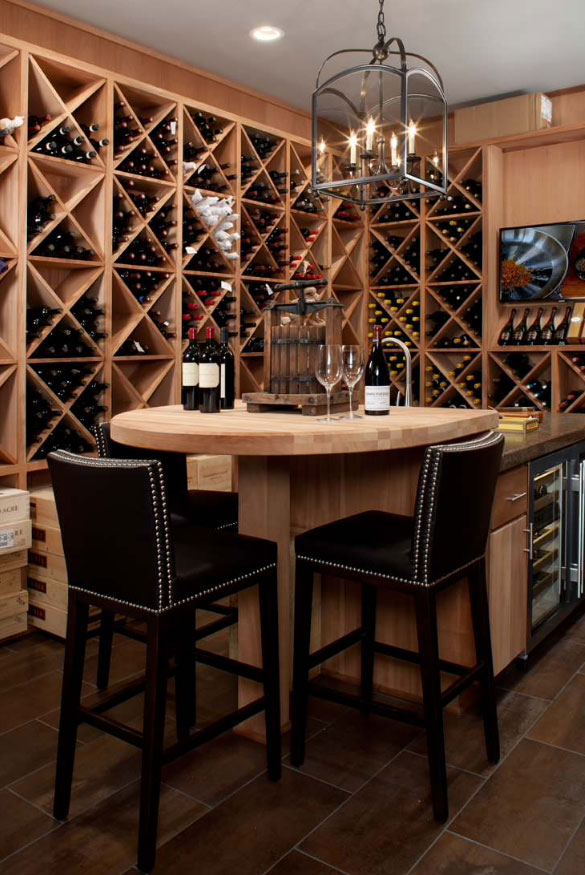 Jeffrey King Interiors
Looks like you can escape & share some good moments here with friends and family.
COMFY & COZY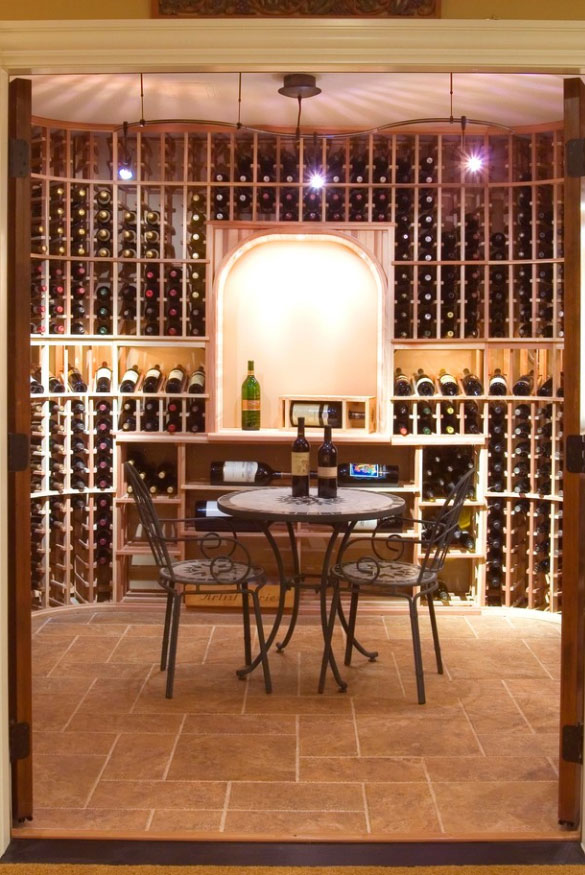 Sebring Design Build
Such a cozy wine cellar. You can sit and sip your wine–relax and forget about the troubles of the day. Or better yet–celebrate?
TO THE POINT
Charles Ayers Construction, Inc.
Just a great straightforward wine storage area.
Unique Wine Storage Designs for All Homes
Residential wine cellars are stunning, luxurious examples of design craft – and are frequently beyond the scope of many homeowners' space and budget accommodations. Fortunately, there are plenty of custom wine storage designs out there for houses and wine collections of all sizes.
The following collection of design ideas showcases beautiful examples of wine storage solutions in different areas of the home. Kitchen islands, basement bars, and even closets present unique opportunities for storage. Before you begin your remodeling plans, it's important to know the basics about keeping wines for the long-term, to help you make smart design choices.
CUSTOM GLASS
Joseph and Curtis Custom Wine Cellars
Unique custom glass sections make this wine cellar stand out.
GRACEFUL DISPLAY
David Johnston Architects
This wine cellar exudes such sophistication.
ESCAPE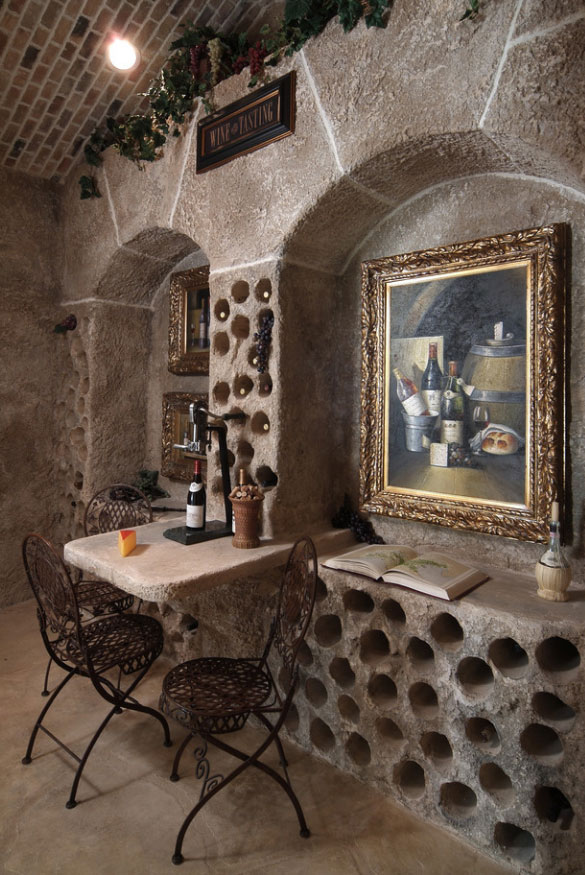 -Design By Gustavo Arredondo, Inc.
Definitely gives you the feeling of being somewhere abroad.
COZY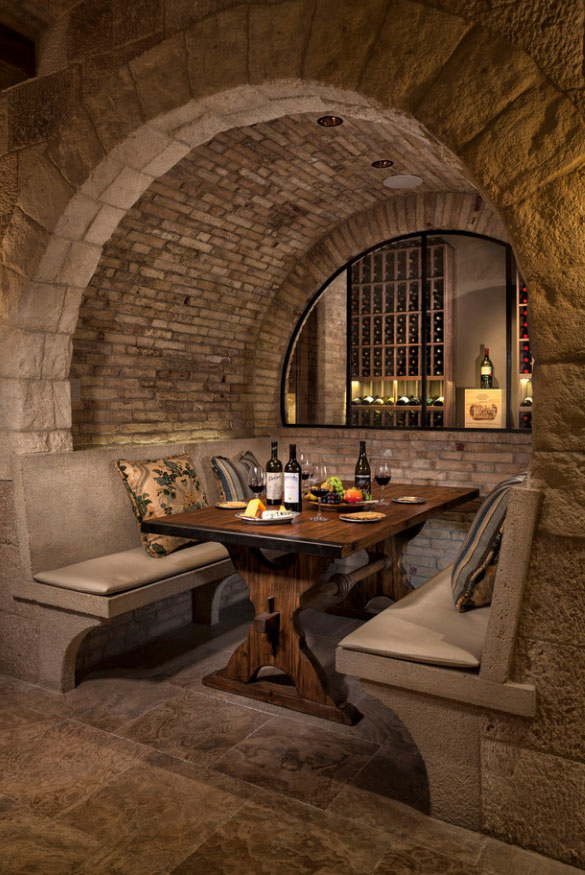 Riviera Bronze Mfg.
This cozy sitting area is a great complement to the wine cellar. You can sit and relax and drink wine all day with your friends.
Proper Wine Storage Tips
No matter what wine storage design you choose, there are some essential basics to consider. Keep the following tips in mind to ensure your bottles are stored properly, which means more enjoyment when you finally pop the cork:
Keep the temperature stable. Wine doesn't hold up well to major fluctuations in temperature. The longer you store your wine, the more stable the temperature its environment should be. So if you have a growing collection, and you're waiting to open that bottle of Barbaresco until at least another five years have passed, then it's best to choose a wine storage design that isn't in a space that sees lots of changes in temperature (top of the fridge, we're looking at you!). If you only keep enough bottles in the house for easy enjoyment, and drink your bottles within a few months after purchase, then temperature fluctuation is less of a concern.Keep the temperature cool. When possible, keep your wines stored somewhere within the cool range of 50°F to 59°F. This is often cited as the ideal temperature to store wine, though bottles can certainly withstand exposure to lower and higher temperatures. The essential idea is that heat accelerates the aging process, so as mentioned above, higher temperatures (though not exceeding 68°F) are less of a concern if you are simply buying wine to drink fairly quickly. A dedicated cool space is more important for long-term storage plans.Keep bottles away from intense light. Light, too, can play a big factor in the quality of wine. For wines that will be stored for more than a year, and for bottles of bubbly, it's best to keep these away from direct, strong sources of light.Keep corks moist. When a bottle's cork dries out, it shrinks and allows oxygen to creep inside. Oxygen is great for letting a wine breathe and develop its flavors, but a wine should be consumed shortly after exposure. Within a few days, oxygen turns even the sturdiest of wines into rancid vinegar. The easiest way to keep corks from drying out is to store bottles on their side.
HIDDEN TREASURES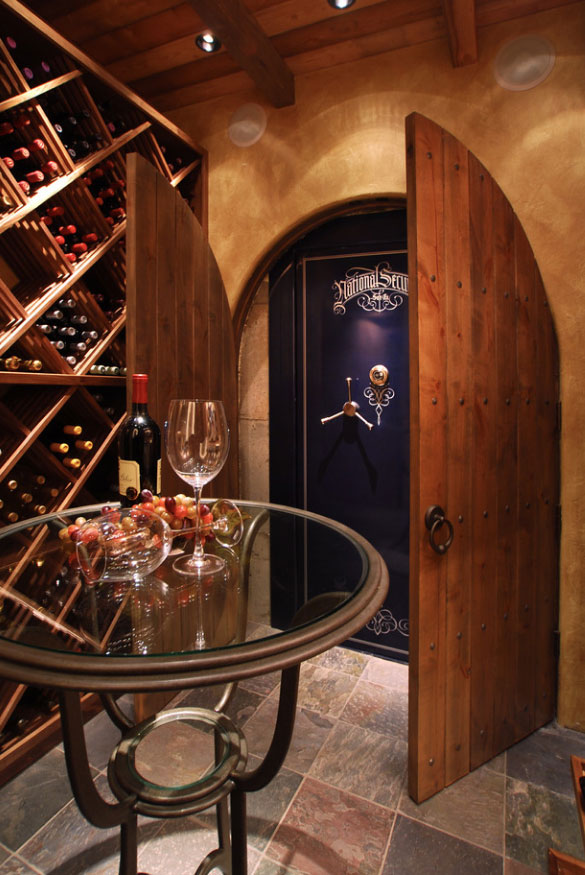 Renovation Artistry
Many hidden treasures located in this cellar!
MASONRY
MAGIC
Omega Products Intl
Beautiful masonry work in this space. Love the fountain!
SMALL WONDER
Eppright Custom Homes
Really smart use of a smaller space. You still have everything you need.
BUTLER'S PANTRY
St. Clair Kitchen & Home
In this home, the wine is stored in this beautiful butler's pantry. The navy cabinetry is stunning.
RANCH FUN
Dorn Homes
This wine room is located in a ranch in Las Vegas. So many fun accents–especially love the bottle chandelier.
WINE ENTHUSIAST
Superior Woodcraft, Inc.
No doubt there are wine lovers living here! This wine cellar features sapele wood, travertine floors and is climate controlled.
Smart Storage: Take Advantage of Unused Spaces
Utilize existing furniture for smart storage: add custom shelving in a kitchen island or a buffet side table. Even the smallest nooks, like spaces between the refrigerator and wall, can be turned into clever wine storage spots. Remember, however, that warmer areas like the kitchen are best for people who aren't storing wine bottles for the long haul.
The colorful kitchen island pictured here includes an impressive wine rack, while there is still plenty of additional cabinet space for storing china, pantry items, and smaller appliances. A sink built into the island, with easy access to the wine collection, makes this kitchen is a great spot for making drinks and entertaining guests.
Diagonal planks make the most of storage space, and are frequently used in wine cabinet and rack designs. The rack here is flanked by clear fronted cabinets, and the wet bar is complete with sink and beverage cooler. This basement bar design truly stands out thanks to the bright, backlit subway tile.
This elegant design is takes advantage of vertical space, with limited room under a kitchen counter making way for a small collection of wine bottles stored on their side. The crisp white lines of the wine rack are the perfect complement to the marble kitchen countertop.
This kitchen island highlights another example of vertical storage design. Instead of dedicating the entire end space to cookbooks, the island has shelving on either side of the clear fronted cabinets. It simple yet smart design holds up to ten wine bottles.
This basement kitchenette has additional overhead shelving to accommodate a well stocked wine bar. This remodeled interior features a richly hued, traditional cabinet design that feels bright and open. There is also plenty of countertop space for another rack for more storage options.
Sleek Wine Cooler Designs
Wine coolers are a great idea for any true wine lover, keeping bottles at a set temperature to ensure they keep well over time. Some models are dual-zone, meaning that you can store both red and white wines at different temperatures. Consider adding a wine cooler to your kitchen island, wet bar, or even outdoor entertaining area.
This unique wine cooler design is perfectly suited alongside the main refrigerator. The matching stainless steel appliances are the perfect complement to the kitchen's traditional wood cabinets.
BASEMENT
OASIS
Finney Construction
What a great space!
CONTEMPORARY COOL
Cable Wine Systems
Just a nice relaxing space–fun chairs!
OPEN CONTEMPORARY
Design By Lisa
This wine room has open wine storage and a cool sitting area.
BRICKS AND
BARRELS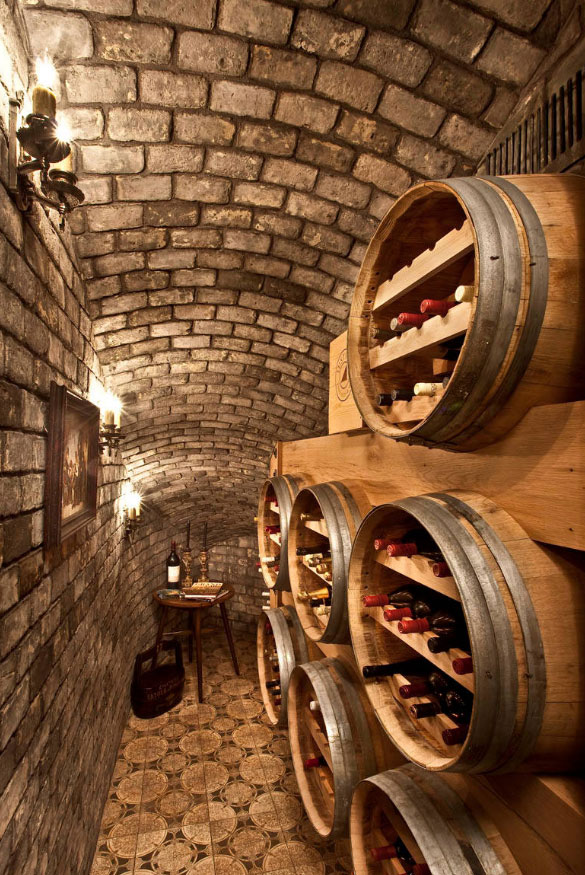 Palmer Interior Design
Love the barrels!
TALL
ORDER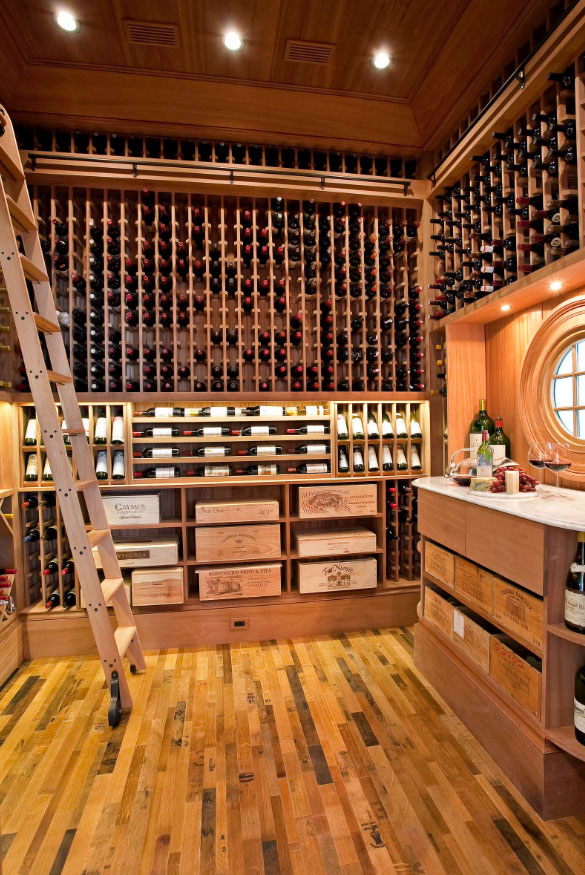 Matthew Bolt Graphic Design
Lots of great choices in this wine cellar–awesome ladder!
LONDON FARMHOUSE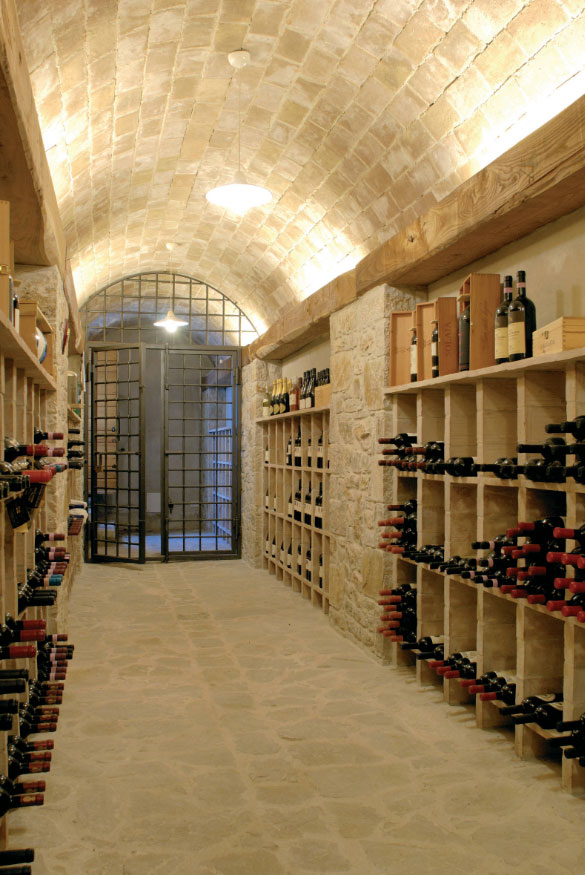 lhadeff Architects
This lovely wine cellar is located in a London farmhouse.
Location
The basement is one of the most common places to locate a wine cellar. It provides a large space to set up a decently sized wine cellar and is fairly easy to maintain in terms of temperature and humidity. Unlike other rooms in the house, the basement does not experience much variation in both temperature and humidity.
If you do not have a basement or it is being used for some other purpose, look for a corner of your house that is not in the direct line of sunlight or draft. One increasingly common and creative idea is to set up a mini-cellar under the stairs. Often enclosed by glass, under-the-stairs wine cellars can look quite dramatic especially when you plan the lighting properly. If you have a pantry with no windows, that would also make an ideal location for a wine cellar. If you have bar area, you can set up a small wine storage cabinet behind the bar.
Generally, the location depends on the size and design of your home. Wherever you decide to locate it, make sure you are able to control the conditions so as to maintain the integrity of the wine.
UNDERGROUND
Michael Bell Architects Pty Ltd
Another great underground wine cellar. Such a great use of space. This custom made door is automatic–genius!
RUSTIC TASTING
KW Designs
Gorgeous wine tasting area and cellar in this San Diego residence.
VILLA
Fourteen Estates
Who wouldn't want to hide away for a little bit in here?
IRON ENTRY
John Kraemer & Sons
Stunning custom made iron doors perfectly accent this elegant wine cellar.
MODERN TASTING
Kirk Saunders Architect
A mix of contemporary and traditional in this nicely designed wine room.
CLASSIC
Summit Woodworkers LLC
An impressive example of a classic wine cellar.
Storage
Once you have decided on location, you need to figure out what kind of storage you are going to use. Most people opt for wine racks. Wine racks come in a wide range of styles and some companies even offer custom made options.
Even in a small wine cellar, racks can take up surprisingly little space, allowing you to store a significant number of bottles in a limited area. Most wine racks are made from wood though you will come across other made from metal. Make sure you choose the right size. Some racks are small enough to be set down just about anywhere in the house. Others will take up an entire room. For really vast storage, such as one consisting of hundreds or thousands of bottles, consider getting custom wine racks that perfectly match your needs.  One other thing to be careful about when buying wine racks is the size of the opening. Some bottles such as Magnum and champagne bottles require large openings.
If you need smaller wine storage, there are many options beyond a wine rack. You can have a wine refrigerator small enough for 50 bottles or a bigger one for a couple hundred bottles or more.  Another option is a walk-in vault. These vaults are mini-cellars complete with built-in storage and climate control.  Other storage options include wine cabinets and wine lockers.
ENTERTAINMENT HAVEN
Zone 4 Architects, LLC
This looks like a great space for parties.
FEATURED
WINE
Sebring Design Build
This glass enclosure does such a great job of featuring this homeowner's wine collection.
RELAX
Eklektik Interiors
Great sitting area–you could relax all evening here.
LIGHT & BRIGHT
Brandon Architects, Inc.
A nice departure from the more common darker & hidden-away wine cellars.
LIGHT
IT UP
Scott Wilson Architect, LLC
The lighting is amazing in this wine cellar.
TRADITIONALLY REFINED
Sebring Design Build
A remarkable example of a well-designed traditional wine cellar.
Design and Lighting
Design is an essential part of wine cellars. After all, the collection is a point of great pride for its owner. The design needs to reflect that. When designing a wine cellar, consider working with a contractor to decide on these design elements.
Many wine enthusiasts opt for hardwood flooring to match the wooden wine racks on the walls. Others opt for stone flooring to contrast with the wood racks and create a vintage style. Glass is also a popular material especially for enclosing smaller under-the-stairs wine cellars.
One of the most important aspects of the design is the lighting. There are two things to consider when deciding what kind of lighting to install. One is of course the style. Do you want a warm darker feel or a brighter futuristic vibe? A good idea is to install lights that can change color to reflect the current mood. The second issue is heat. Halogen or incandescent bulbs should never be used because they emit too much heat, which is bad for the wine. LEDs are the best. You can choose from puck lights, strip LEDs or track lights depending on the style you are going for.
Try to highlight specific areas such as wine racks and any other interesting displays. You can also have an assortment of overhead lights providing general illumination.
Bonus Tips
Here are a few extra tips to keep in mind:
Select a strong door that is insulated to protect the wine cellar climate. If you want a glass door, make sure it has exterior-grade insulation and should be double-paned. Ideally, a wine cellar should not have windows. If they are present, they should be as properly insulated as the door.For flooring, most materials including wood, tile, vinyl and marble are acceptable. The only no-no is carpet. It will develop mold and mildew because of the high humidity levels.For a large wine cellar, consider adding a tasting center. This often consists of a table and chairs. Add more seating space if you plan on holding tasting events often.Don't forget about security. Always keep the door to the wine cellar locked to prevent any unauthorized individual from going inside. For really big collections, install a monitoring alarm system as well as cameras.
Setting up a wine cellar is no easy task. There are so many components to work on including storage, climate control, design and security. But if you love your wine, there is no end to the enjoyment after the wine cellar is complete. It becomes a personal sanctuary where you can relax, be happy and admire your priceless collection.
This is an image roundup post, curated to showcase and promote other reputable contracting companies' and their amazing work.  To have any of the images removed, please reach out to us and we would be happy to do so.
Other Great Articles to Read:
Basement Remodeling 101: Important Considerations for Your Big ProjectYour Basement Planning Guide from the Ground UpExploring the Value of a Finished Basement
The post 43 Stunning Wine Cellar Design Ideas That You Can Use Today appeared first on Luxury Home Remodeling | Sebring Design Build.