37 Fantastic Frameless Glass Shower Door Ideas
Shower Lagoon
Frameless glass shower doors have surged in popularity in recent years as homeowners develop a taste for clean and minimalist aesthetics. Manufacturers have responded by creating a wide selection of frameless shower door designs and styles. While having options is a good thing, it has also left many homeowners torn about the best choice for them. Which type of glass is the best? What kind of hinges do I go for?
We try to answer these and many more questions in our comprehensive frameless doors guide. Whether you are thinking of doing a bathroom renovation or you are in the process of building a new home, follow along.
If you are just getting started with your bathroom remodeling project, take a look at this other post: "6 Questions to Ask Before a Bathroom Remodeling Project".
CLEAN & PRETTY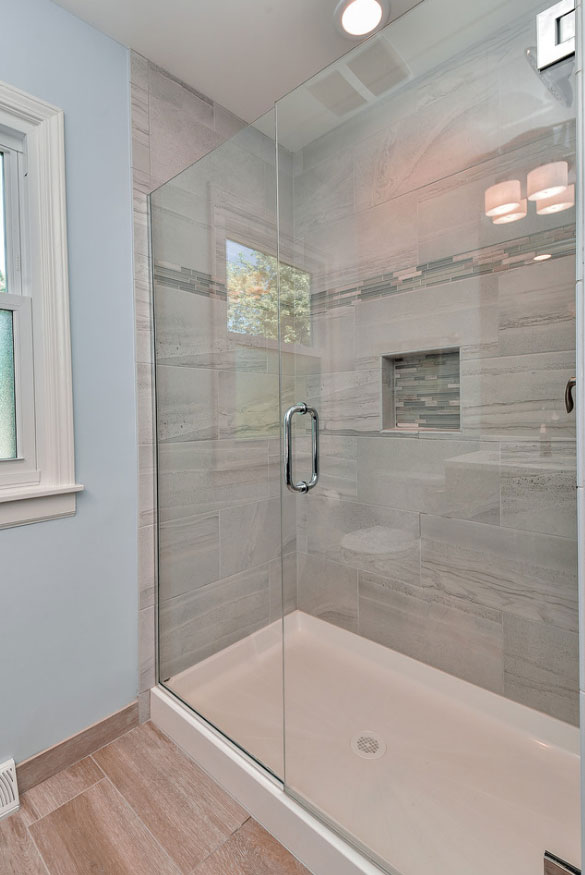 Sebring Design Build
A great frameless glass shower door in this pretty bathroom–so clean and sleek.
RETREAT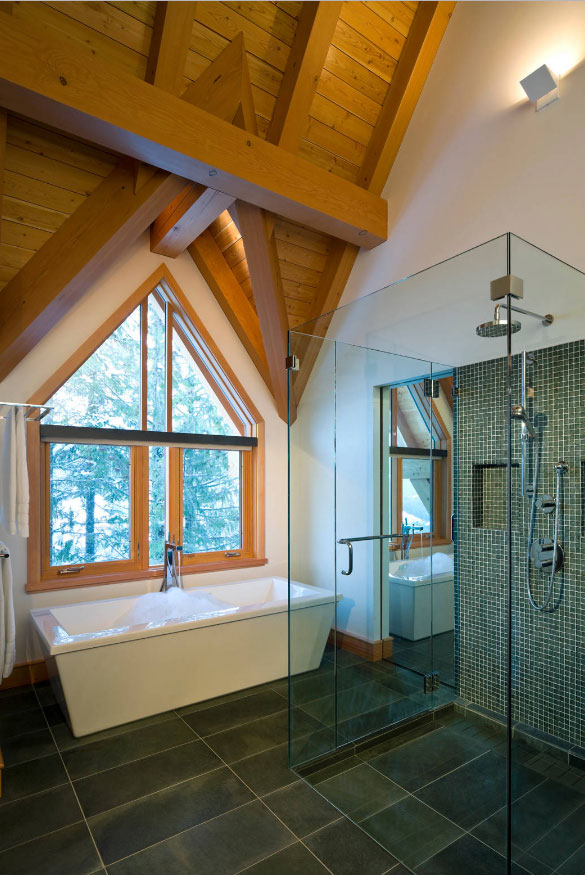 DA – Arata Hatanaka Design Atelier
Nice glass frameless shower in the center this timberframe home.
MASTER SUITE
Cynthia Karegeannes, Registered Architect
Pretty blue mosaic tile in this shower.
RUSTIC WARMTH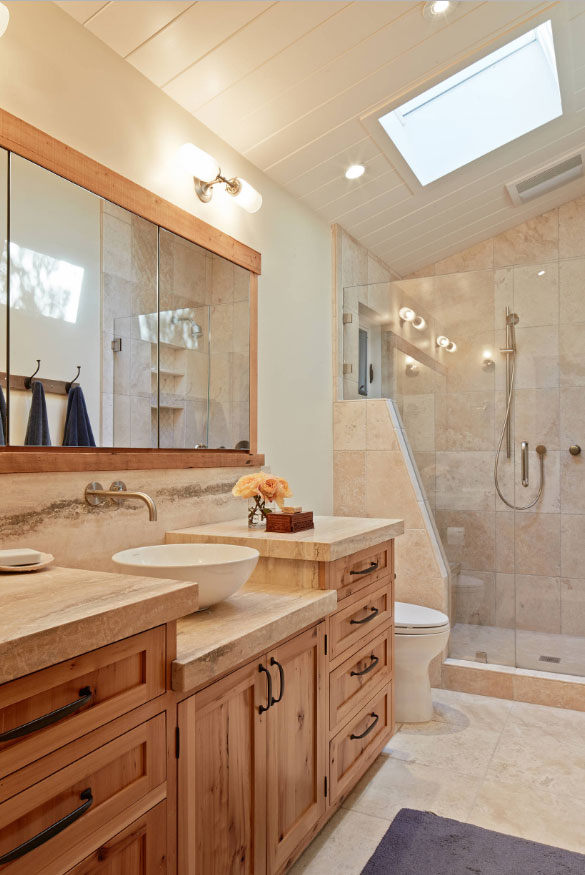 Staprans Design
This bath feels so warm and inviting. Great sink area–the levels are a nice departure from the standard vanities you always see.
BRILLIANT AQUA
Dunn Architecture Studio
You can't ignore the brilliant color in this contemporary bathroom.
RUSTIC ESCAPE
Lands End Development – Designers & Builders
So many great rustic accents in this space!
BLACK & WHITE
CB Showers
A sliding frameless door is featured in this contemporary bathroom.
SHOWER GLASS
Colin Cadle
A frameless shower screen was used in this contemporary bathroom.
RELAXING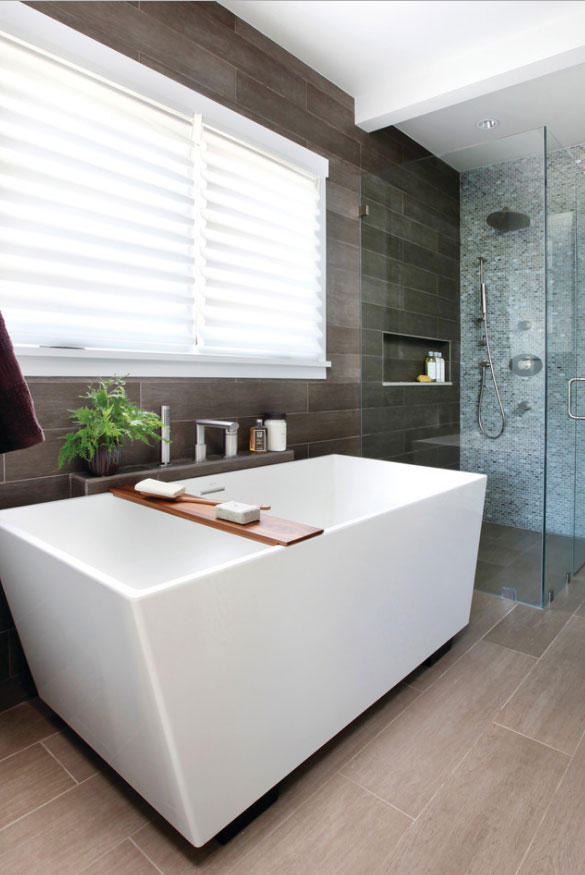 National Kitchen & Bath Association
Awesome shaped tub complements the frameless glass shower.
MALIBU BEACH
Jamie Bush & Co.
This beach-style California bathroom definitely has a more unique look.
What are Frameless Glass Shower Doors?
Frameless glass shower doors as just that–glass shower doors without framing. Traditional framed glass shower doors make use of metal, rubber or some other material to secure the glass along the edges. The result is a bulky look that can become an eyesore especially for small bathrooms.
A frameless shower door does away with the framing, creating a cleaner and less cluttered look. Many homeowners will also agree that a frameless shower door is less of a hassle to clean and maintain. A quick wipe is enough to get it looking sparkling clean.
But the beauty and airiness of frameless glass shower doors comes with a number of downsides. For one, the cost of a frameless shower door is much higher than that of framed doors. This is due to the increased complexity to design and install frameless glass shower doors. Secondly, these doors come with a higher risk of leaking water into other areas of the bathroom. Proper design is essential in preventing this.
With good installation and proper maintenance, a frameless glass shower door is one of the best bathroom upgrades you can make. It leaves your bathroom feeling airier, brighter and bigger.
SLEEK SANCTUARY
Domiteaux + Baggett Architects, PLLC
Great overall space. Lots of light and love the storage cabinetry.
ELEGANT BATH
Jim Deen/Kitchen Kraft
This bathroom is just so elegant.
CENTER STAGE
moroso Design
This frameless shower is definitely the focal point in this bathroom.
LIMESTONE CHIC
JRP Design & Remodel
A little glamorous and a little rustic–featuring charcoal grey limestone.
Key Considerations When Buying a Frameless Shower Door
If you have decided to go ahead with a frameless shower door, there are some essential considerations to keep in mind as you look for the right one.
1. Fully Frameless Glass vs. Semi-Frameless Glass
One of the biggest frustrations when it comes to buying a frameless glass shower door is the lack of standards. One seller will define a frameless shower door in a different way from another and a third one will choose yet another definition. Honestly, it can be pretty confusing to a lot of homeowners.
Two terms you will come across are fully frameless and semi-frameless. Some shower doors make use of long U channels at the bottom or sides of the door to secure it. While some sellers will still say this is a frameless door the more accurate term agreed on by many in the industry is semi-frameless. Other frameless shower glass doors use clamps to secure the glass door to the wall or a fixed glass panel. This is what many refer to as a fully frameless shower door.
When you go shopping ask whether the door uses U channels or clamps (sometimes called clips). Clamps generally have a more minimalist look compared to U channels.
LIT FLOOR
Kelly & Stone Architects
This gorgeous expansive shower showcases Quartzite strips.
FRESH & NATURAL
Tim Clarke Design
This bath brings in many outdoor elements to make it feel tranquil and fresh.
TAKE A SEAT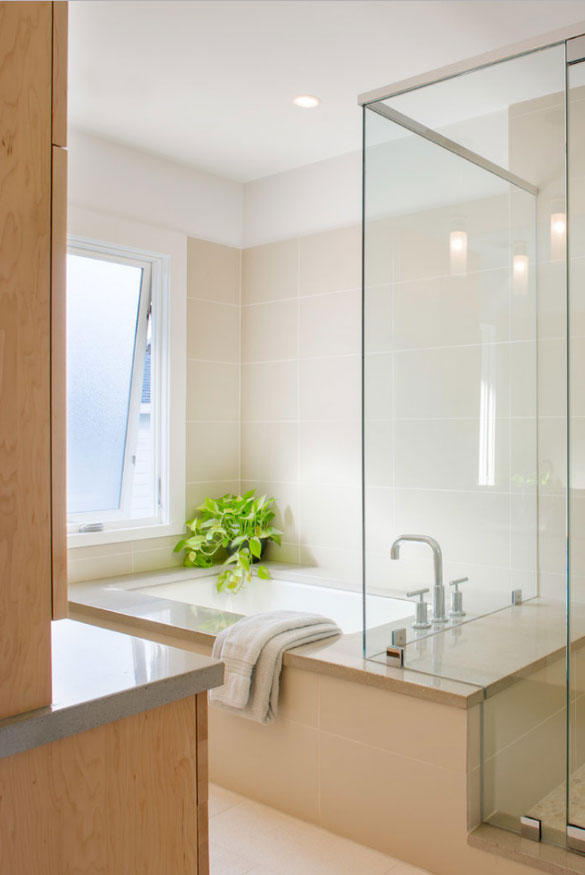 Estes/Twombly Architects, Inc.
Love the seat in this shower.
WOOD ACCENT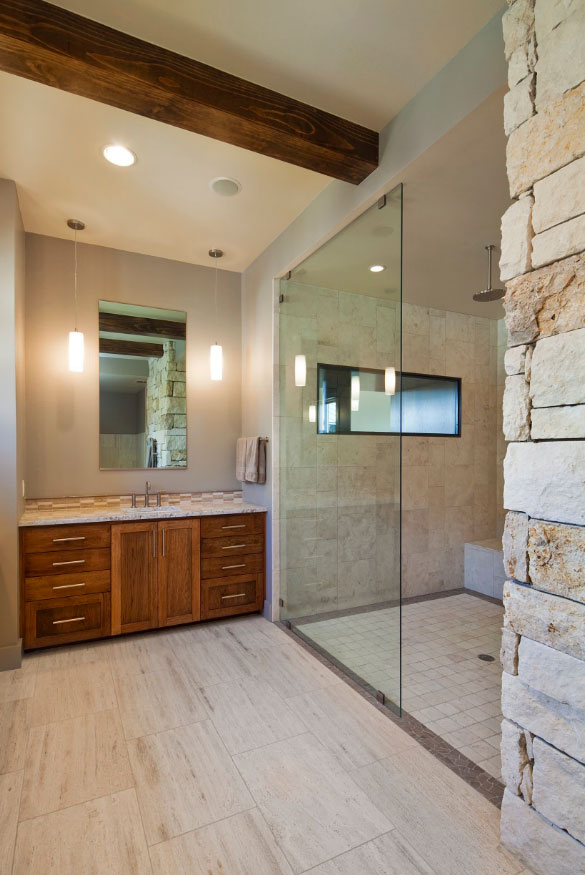 Fine Focus Photography
Wood accents add warmth to this gorgeous bath. That frameless shower is huge!
2. Type of Hardware
Another very important issue is the type of hardware used on the door. This refers to the material used in the U channel (for semi-frameless glass doors) and in the clamps (for fully frameless glass doors) as well as any other component including the hinges.
You will find terms like brass construction, aluminum construction and anodized construction. If possible, always go for brass hardware. Shower frameless glass doors are quite heavy, sometimes weighing up to 200 lbs. The hardware used must be able to bear all that weight safely and ensure structural integrity. Brass is much better at this than aluminum and many other materials you encounter.
You can then choose to have the brass components coated in a finishing of your liking. Common finishes include chrome, oil rubbed bronze and brushed nickel.
One tip that can help you determine that you are buying the right hardware is to ask for part numbers. Look up the part numbers online to find original manufacturer information. This will tell you exactly what materials are used and safe weight tolerances as stated by the manufacturer.
HEAVENLY SHOWER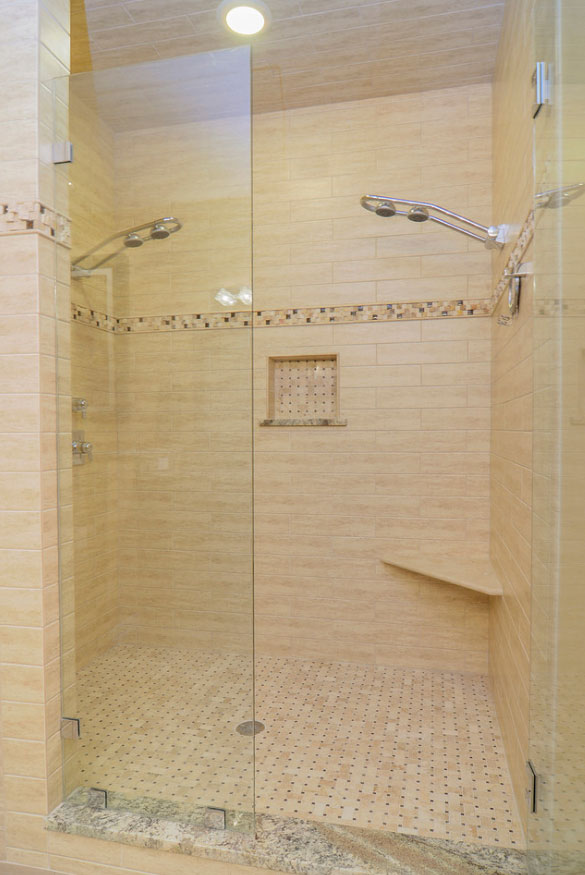 Sebring Design Build
Those shower heads are awesome! What a nicely designed traditional shower.
ROLLER GLASS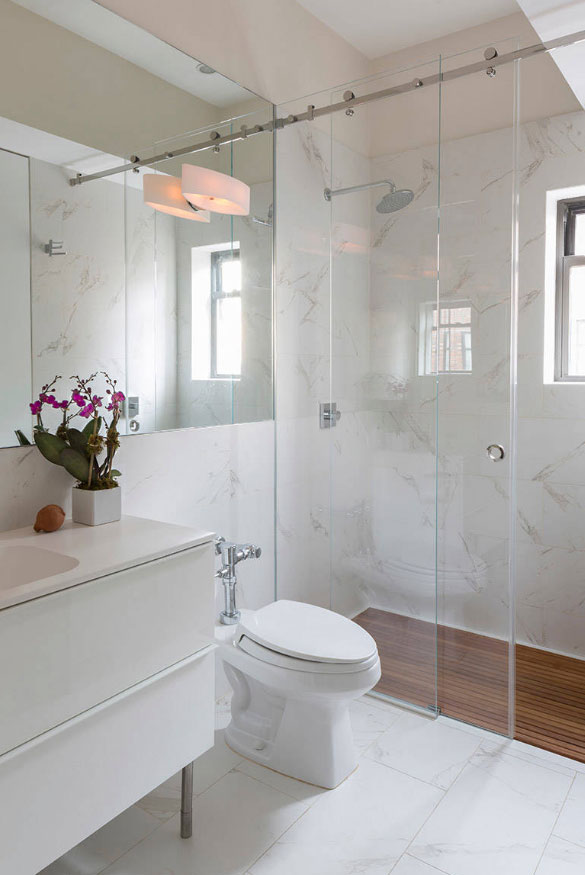 Ira Frazin Architect
The teak mat/shower tray definitely stands out in this shower, but you can't discount the cool roller sliding glass door and the unque hardware in the shower door.
POLISHED GREY
Jordan Smith
This shower/tub features grey polished porcelain tile.
NATURAL FEEL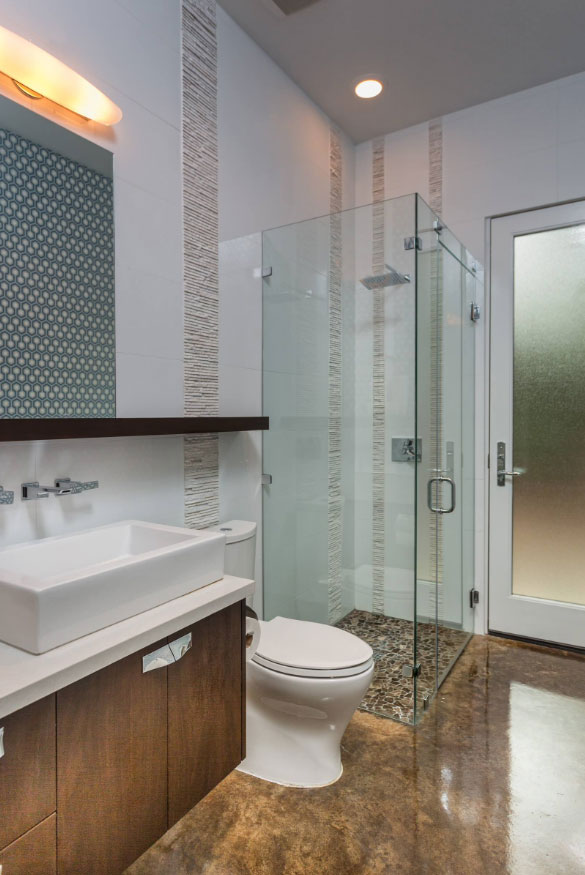 Cornerstone Architects
Natural lighting and natural materials in this bathroom creates a relaxing and functional space.
3. Type of Hinges
For the door to open and close, it must be fitted with a hinge. Installing a hinge on a glass door and a frameless one at that, is an entirely different kettle of fish from installing a hinge on a normal door. The hinge must be able to support the weight of the door and allow it to turn smoothly without any problem.
There are three types of hinges you can use for your frameless shower door: door-to-wall hinges, pivot hinges and glass-to-glass hinges. Ask your contractor for recommendation on which is best in your situation. Each hinge comes with its own benefits and complications.
For example, a glass-to-glass hinge is more problematic to install compared to a glass-to-wall hinge. A pivot hinge has the advantage of allowing the shower door to open 180 degrees in either direction.
Take a look at some great images and additional information we found at Dulles Glass & Mirror.
ROLLER TOP
Sebring Design Build
Another great roller top frameless glass shower. So many great features in this bathroom.
BROOKLYN BATH
JP Warren Interiors
This eclectic NY bath has some cool features like the huge shower head, sconces and unique vanity.
OUTSIDE IN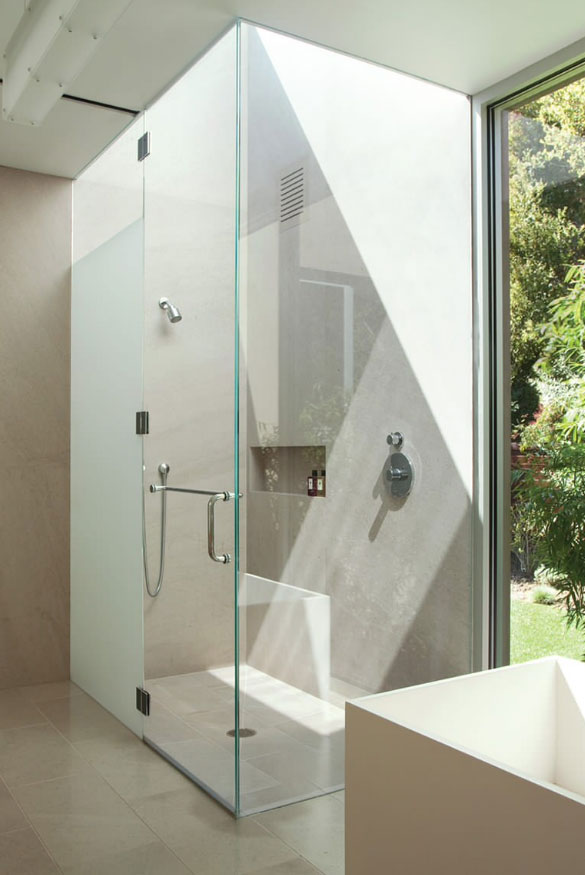 Dumican Mosey Architects
Bringing the outside inside in this modern San Francisco bathroom.
CURBLESS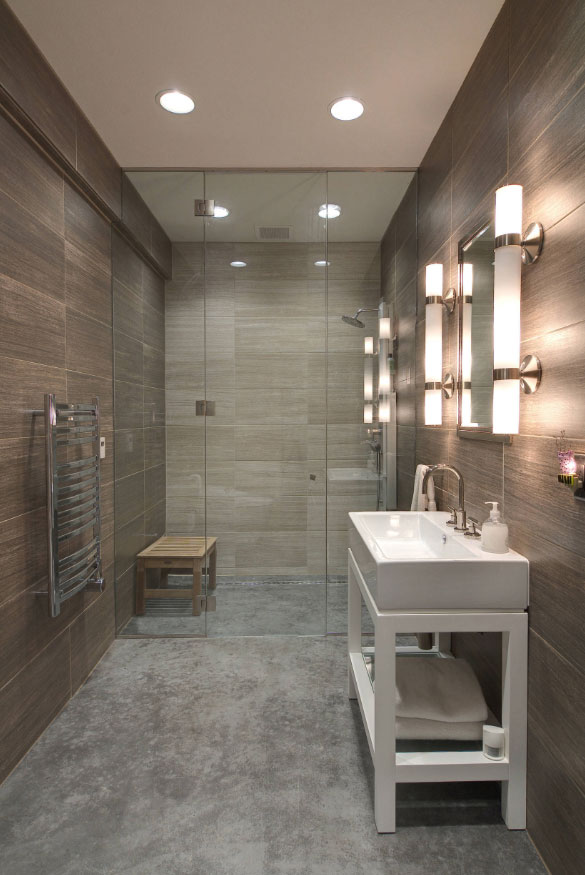 VB Inc.
This bathroom definitely has a more masculine feel. Love the sealed concrete floor.
4. Type and Thickness of Glass
Lacking in framing, frameless shower doors must be thicker to achieve proper support and structural integrity. There are two sizes that are recommended: 3/8 inch and 1/2 inch. Anything thinner than this and your shower door will keep wobbling whenever you open or close it. Note that 1/2 inch frameless shower doors cost more than 3/8 ones.
In addition to the thickness, you also need to choose the type of glass you prefer. This is mostly a matter of aesthetics and each seller stocks different variations, some with proprietary names. Some of the options you will come across include clear glass, frosted glass and rain glass. One thing they all have in common–they are all tempered glass. Tempered glass is as a result of a special manufacturing process that makes it stronger and changes how it breaks. In case of breakage, it fragments into numerous small chunks that are not as hazardous as normal glass.
TRANQUIL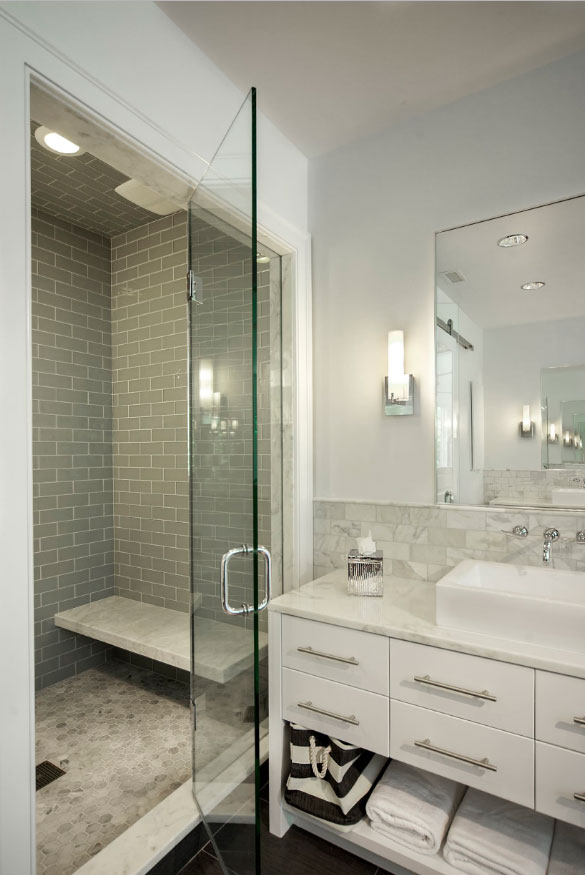 Matrka Group
So soft and tranquil–great contemporary shower space. Love the sink too.
RUSTIC SPA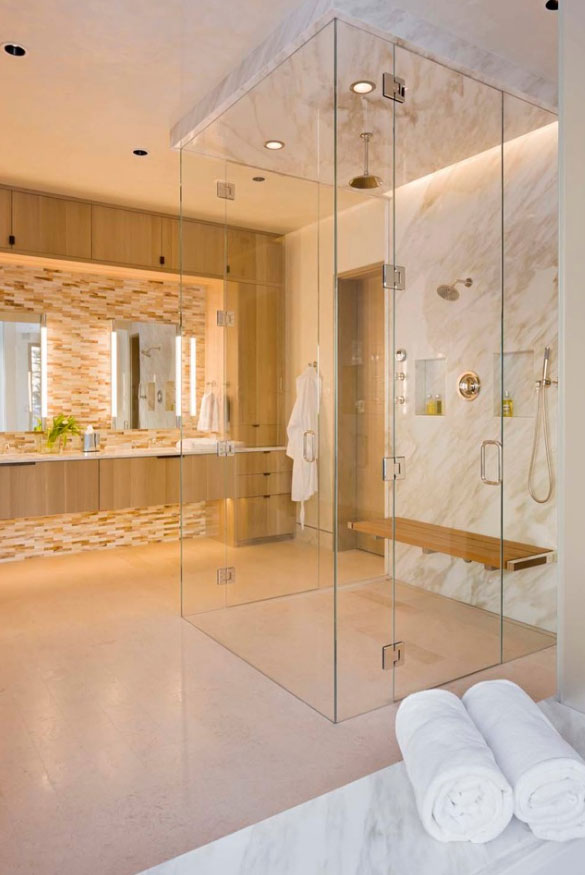 Zone 4 Architects, LLC
Ahhh–Just relax and forget your worries in this bathroom. Impressive frameless shower in the center of this bath.
CORNER SHOWER
Matarozzi Pelsinger Builders
Nice frameless glass corner shower in this bathroom.
CONDO SLEEK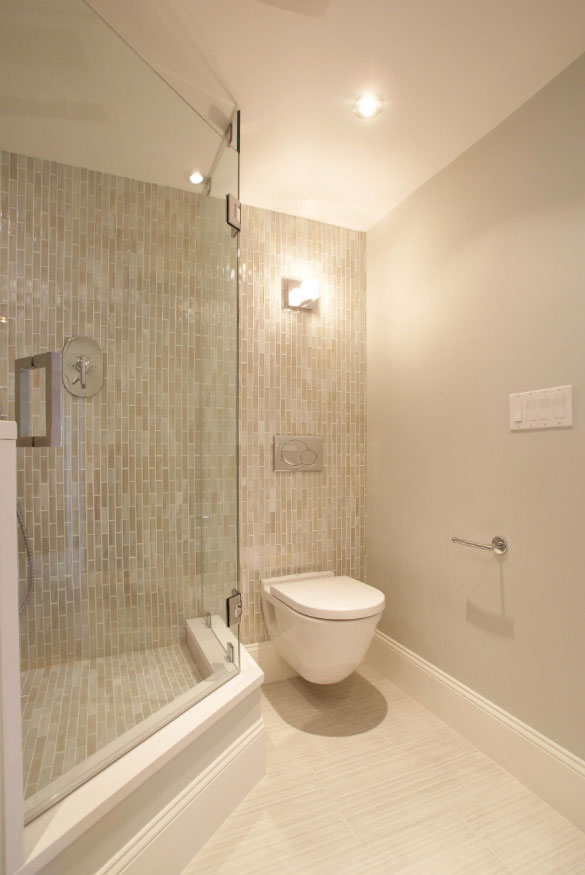 Serret Residential
This bathroom is located in a Boston condo. Love the wall tile and the wall mounted toilet and flush plate are so different!
DARK & DRAMATIC
Sebring Design Build
Wonderful large shower showcasing a rich dark tile.
SUBWAY FUN
rchitect Hewson
The pops of color within the subway tile add a little more interest to this white bathroom.
ZEN BATH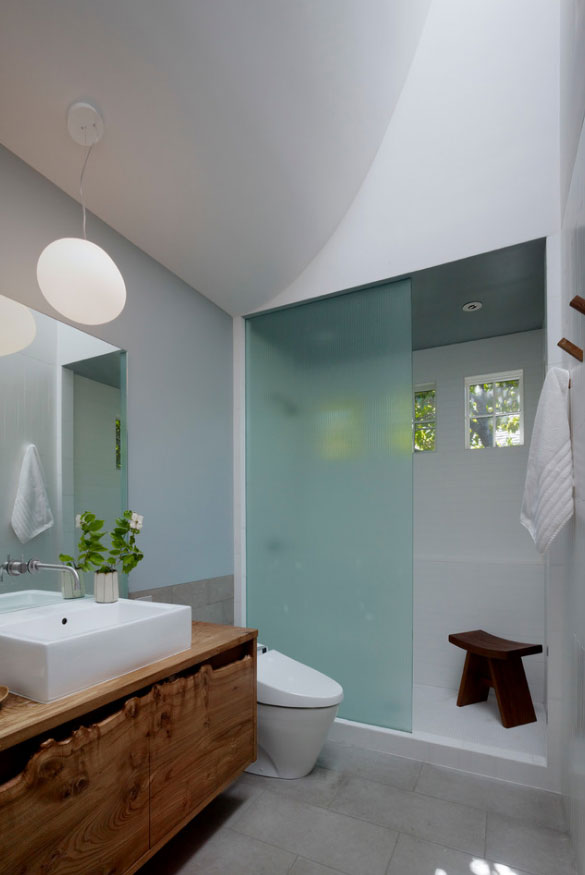 Buttrick Projects Architecture + Design
This bath features raked shower glass.
GORGEOUS BATH
Sebring Design Build
If this bathroom was in my house, I'd never leave!
GLASS VESSEL
Matarozzi Pelsinger Builders
That glass vessel sink is just so cool!
Reasons To Go For Frameless Glass Shower Doors
1. Frameless shower doors provide the appearance of a larger bathroom.
Glass has a natural propensity to make a space appear and feel larger. Frameless shower doors are composed of durable glass with thicknesses ranging from 3/8" to 1/2".
Because thicker glass bends less, it does not need to be supported by a frame.
It also expands the appearance of even the smallest bathroom. Shower door layouts in frameless styles can be adapted to fit bathrooms of any size.
2. Elegant designs are possible with glass doors.
Frameless showers have a seamless appearance because they use almost no metal. The glass is attached to the wall directly with discreet and straightforward hardware. Many one-of-a-kind designs feature glass on numerous or all sides for an ultramodern look.
3. Clear glass keeps your bathroom feeling open and airy.
Because frameless glass shower doors enable you to see through them, they do not operate as a visual barrier similar to a shower curtain or framed door would.
This creates a more open and airy feeling in your bathroom, making it appear larger, brighter, and less confining.
4. Frameless glass doors let in natural light.
Using natural light in the bathroom has various advantages—a good source of vitamin D, flawless cosmetic application, hair removal, and higher self-esteem. Shaving your legs behind a dark shower curtain or squinting under fluorescent lights is never a brilliant idea. When it comes to light, frameless glass shower doors ensure that you have plenty of it.
5. Display beautiful tile designs
The beauty of your shower is overshadowed by opaque doors that give the impression that a giant box is sitting in your bathroom. This takes away from the natural feel and grandeur of your bathroom decor. Frameless glass shower doors enable greater aesthetic enjoyment by providing a clearer view of the tile pattern, color, and embellishments.
6. Provides a spa-like environment
Bathroom renovations provide an excellent return on investment, both financially and personally. The use of frameless glass shower doors adds a sense of calm and transparency to the space.
Note About Accessories
Make sure to ask the seller what kind of accessories come with the door and which ones you can add on your own. All shower doors come with a door handle while others also provide a towel bar. Other accessories you may want to include would be a threshold to prevent leakage, towel bar/handle combos and recommended glass cleaner.
This is an image roundup post, curated to showcase and promote other reputable contracting companies' and their amazing work.  To have any of the images removed, please reach out to us and we would be happy to do so.
The post 37 Fantastic Frameless Glass Shower Door Ideas appeared first on Luxury Home Remodeling | Sebring Design Build.