31 Wonderful Hallway Ideas to Revitalize Your Home
Featured Image: Dreamstime.com
Hallways. You probably don't think much about yours. Often, they're simply a windowless walkway. A straight line, to get from point A to point B. It's not a place you generally linger, like your kitchen island or family room sofa. There's no place to sit down. Nothing to look at. What if instead of a closed-off corridor, it was a gallery, a library or even an architectural highlight of your home? Hallways can do more than connect rooms, they can reflect you, the homeowner.
How they reflect you depends on the size of your hallways and your style, of course. You're not going to squeeze a console table into a three-foot wide hallway, and you're probably going to need more than a few 8×10 pictures if you have a long hallway that's five feet wide. As with any design, you have to consider scale and function along with style. Here are just a few hallway decorating ideas.
FAMILY GALLERY
Breeze Giannasio Interiors
A terrific idea in this hallway for displaying those precious family portraits and pictures from favorite vacations spots and events.
COLORFUL LATTICE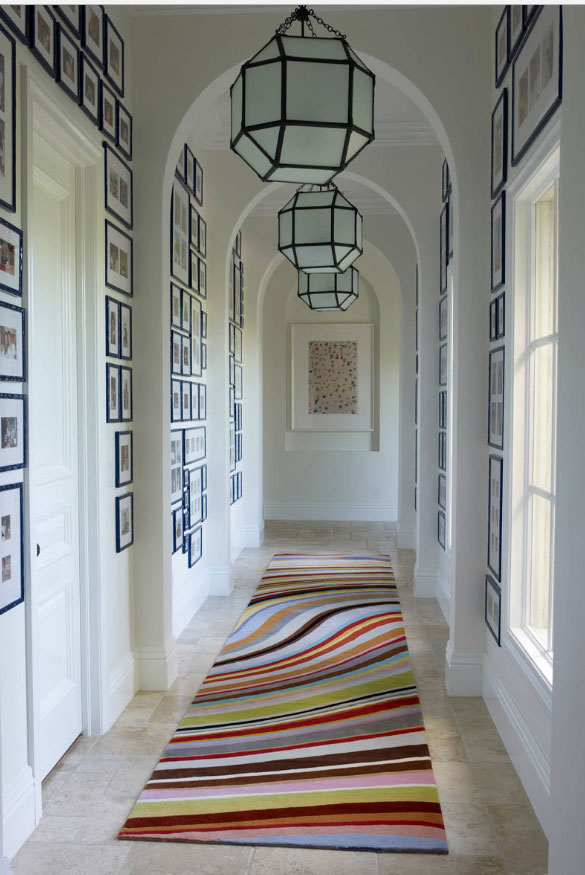 Kristin Rocke
The grid of black and white frames is offset by colorful photos and complemented by the grid on the globe-like lights. The wave-patterned rug adds whimsy and a pop of color to an otherwise white-washed walkway.
FINAL FOCAL POINT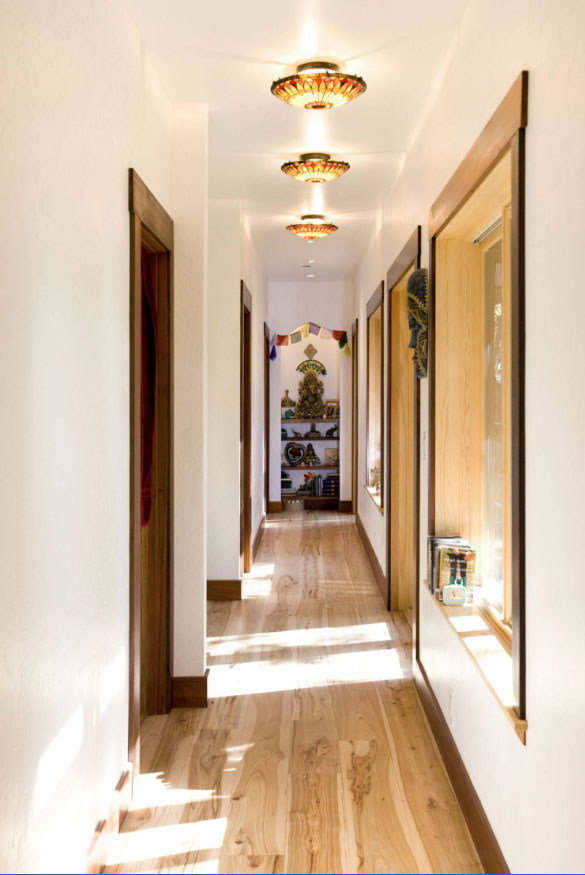 Paul Fritz Architecture/Planning
With the beautifully displayed sculptures at the end of the hall, you will want to get from point A to point B a little faster. And though the sculptures are clearly the focus of this hallway, the colorful flush mounts will entertain your eyes until you can examine the souvenirs displayed at point B.
GALLERY TO MASTER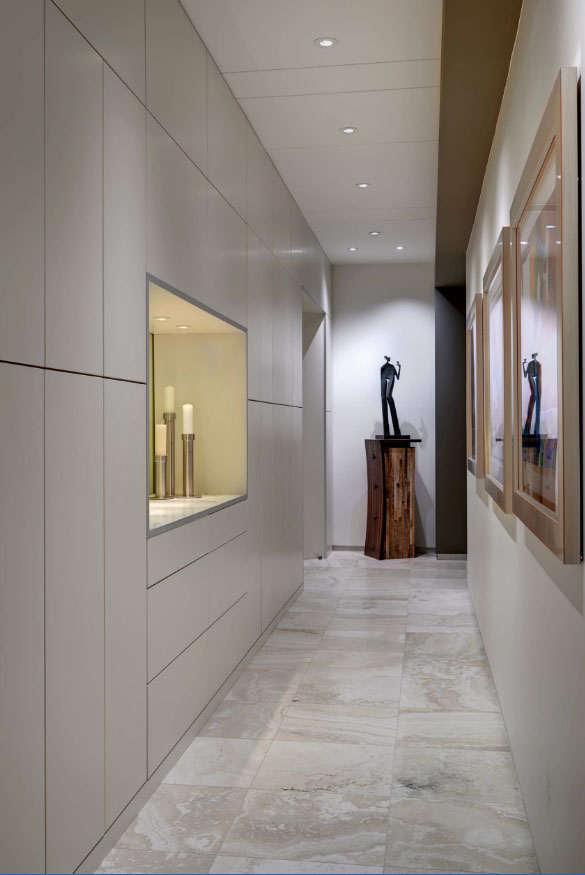 HAUS
The hallway in this downtown contemporary penthouse boasts a gallery that leads to the master bedroom.
BOOKWORM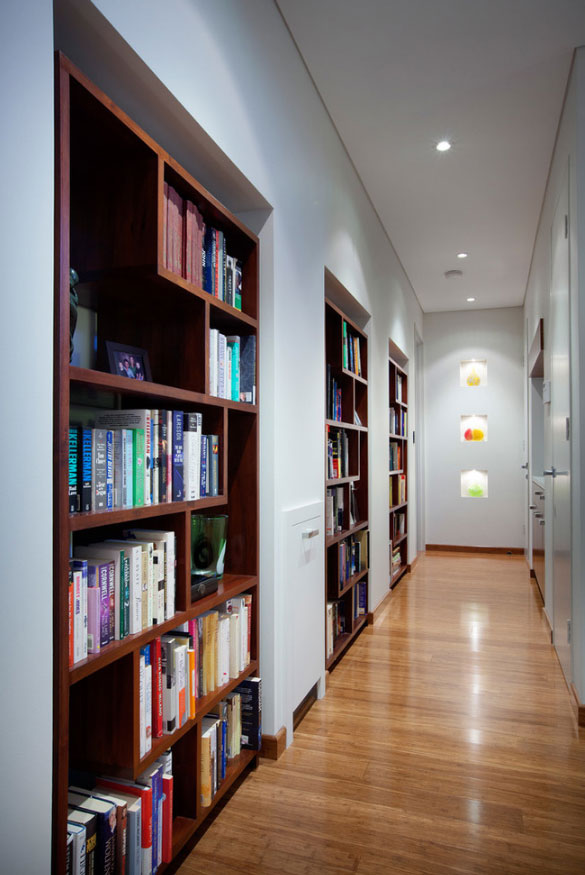 Yael K Designs
Really cool contemporary bookcases that you'll notice aren't standard design.   Also love the lighted nooks at the end of the hallway to feature your favorite tsatskes.
FOUND A NICHE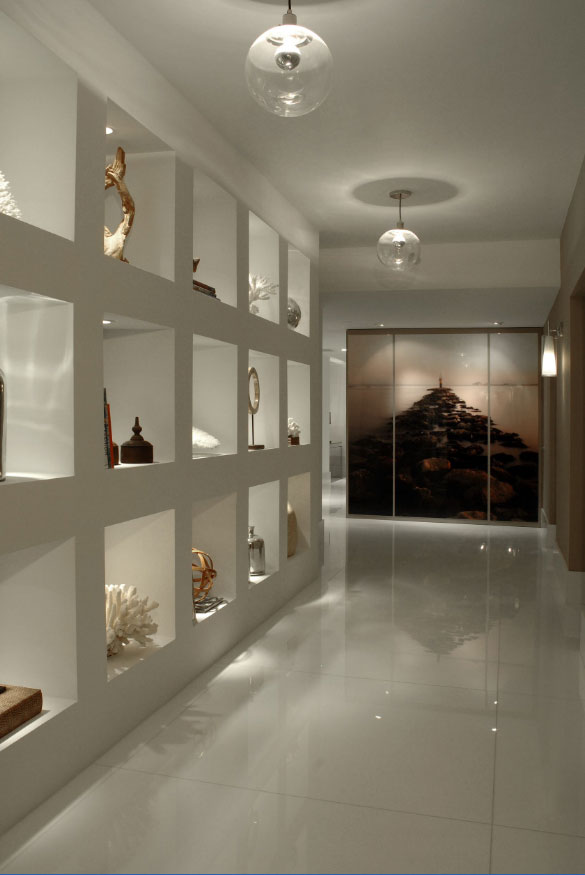 rtefacto USA
Monumental wall of niches!  Looks like each 24″x24″ niche holds a special treasure.
HIDDEN ROOM 1
Woodford Architecture and Interiors
Magnificent hall with stunning bookcases, but wait there's more — see next picture.
HIDDEN ROOM 2
Woodford Architecture and Interiors
There's a hidden door and behind it a bedroom!  How cool is that?
DARK & DRAMATIC
Orange Coast Interior Design
An exquisite hallway to feature this homeowner's special accent pieces.  Rich, dark and dramatic.
MODERN MEDIA
Contemporary Hall
Just goes to show that anything can be a source of inspiration to perk up a hallway.  In this case, it's the Beatles, but it can be any type of music, movies, etc.
Galleries,  Sculptures, Bookcases — Oh My!
The most obvious way to upgrade your hallway is to do a gallery wall–a curated collection of your favorite art pieces and/or photographs. You can display them in a modern grid style with matching frames, or a mishmash of frames and sizes for a more eclectic, thrown-together look. Consider highlighting your gallery wall with directional lighting to showcase your favorite artwork or cherished memory.
Prefer a cleaner look, but still want to add style? Custom millwork, creates an architectural feature out of a blank slate. Bare walls become artwork themselves. Creatively worked ceilings draw the eye up.
FARMHOUSE CHIC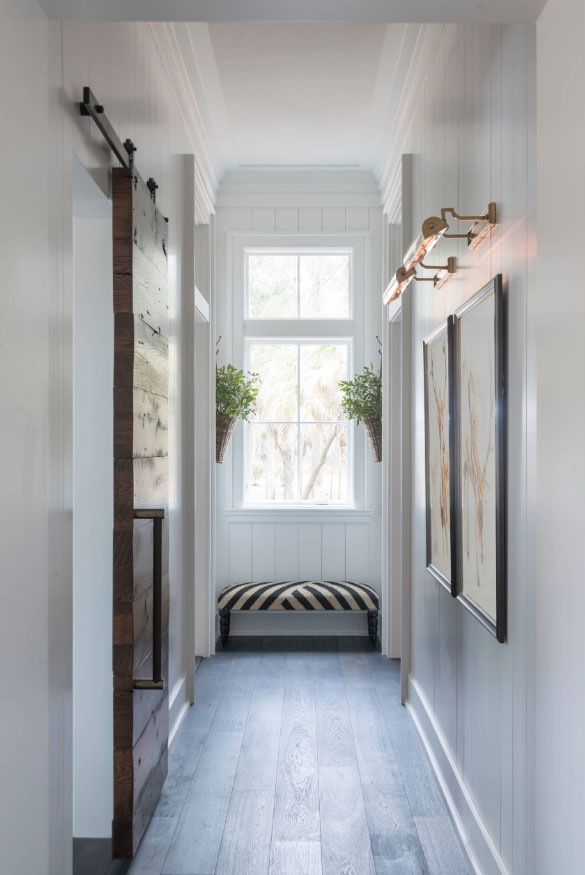 Cameron Custom Builder
So many great features in this charming farmhouse hallway:  barndoor, lighted art pieces and a cute bench at the end of the hall.
CHECKERBOARD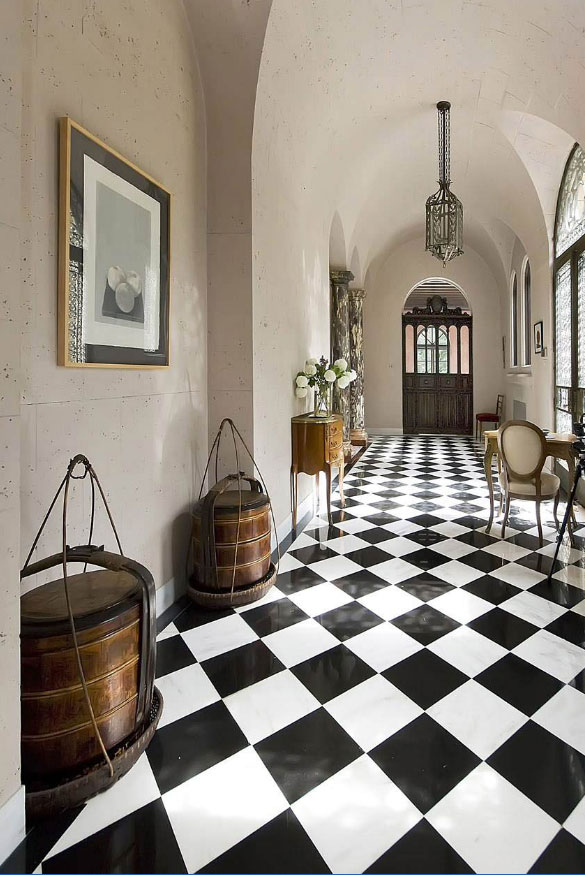 Mark Pinkerton – vi360 Photography
The floors steal the show in this beautiful traditional San Francisco mansion.
PEAK OF STYLE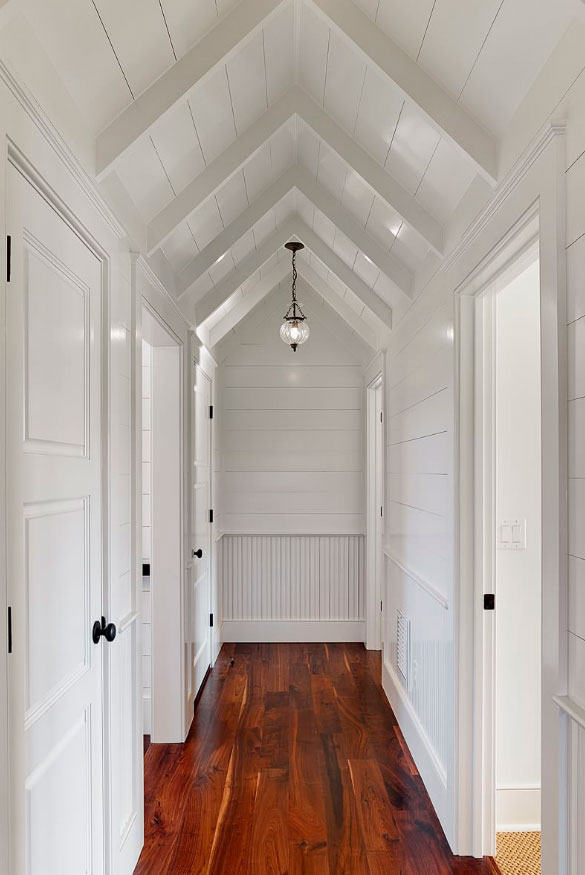 Structures Building Company
From the richly stained wood plank floors to the unusually peaked ceiling, this hallway is architectural artwork. The warm floors prevent the white walls from becoming too stark while the headboard and shiplap add textural interest to a mainly monochromatic color scheme. The beam-lined, peaked ceiling is the highlight of the design with a single pendant light accenting this dramatic hallway.
MEDITERRANEAN DREAM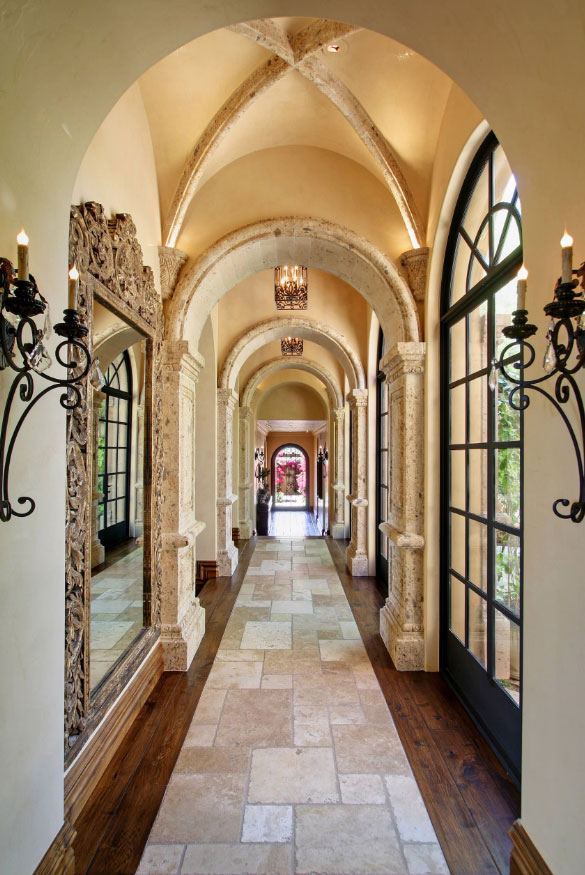 Fratantoni Luxury Estates
Everything in this hallway is exquisite–archways, stone, flooring, lighting, windows…
Flooring & Lighting
Don't forget about what's under your feet. The floor can be a great place to add pops of color and pattern. Wood planks can be shaped into a pattern different from traditional patterns in rooms. Intricately designed runners add warmth and style to the space.
You may be tempted to overlook lighting in the hallway. Most hallways have one, maybe two, standard ceiling lights. Maybe they're flush mount, or recessed, but chances are they're not very interesting. Small chandeliers can add drama to the ceiling. Spotlighting artwork adds interest and directs the eye across the walls. Sconces can also sculptural interest to otherwise bare walls. West Elm is great if you're looking for modern lighting pieces – though try scouring through Pinterest first to get an idea of what you want.
Check out these highlights of hallway ideas. They are sure to inspire.
NOOK WITH BOOKS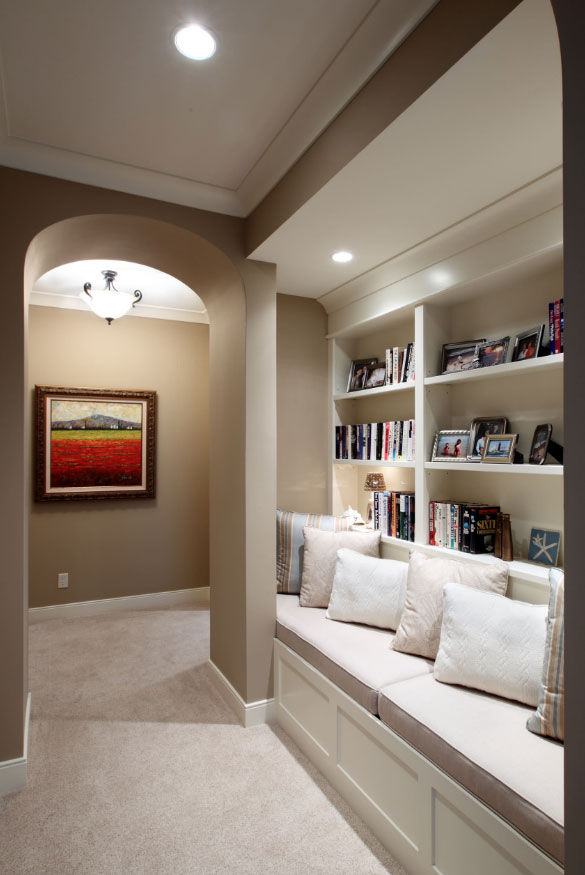 Visbeen Architects
This cozy alcove is a perfect place to curl up with a good book; it just happens to do double duty as a hallway. The extra lighting above the alcove and light neutral walls keep this dark hallway bright.
CONTEMPO CORRIDOR
Tim Clarke Design
Extending the shelves from the family room to the hallway visually extends the space, making it feel even longer and grander. The shelves also add dimension to an otherwise flat space.
FAMILY GALLERY 2
Urban Rustic Living
Another take on the family gallery.  This time with unframed family prints and a touching plaque.  You can feel the love and warmth in this hallway.
LOVELY LIBRARY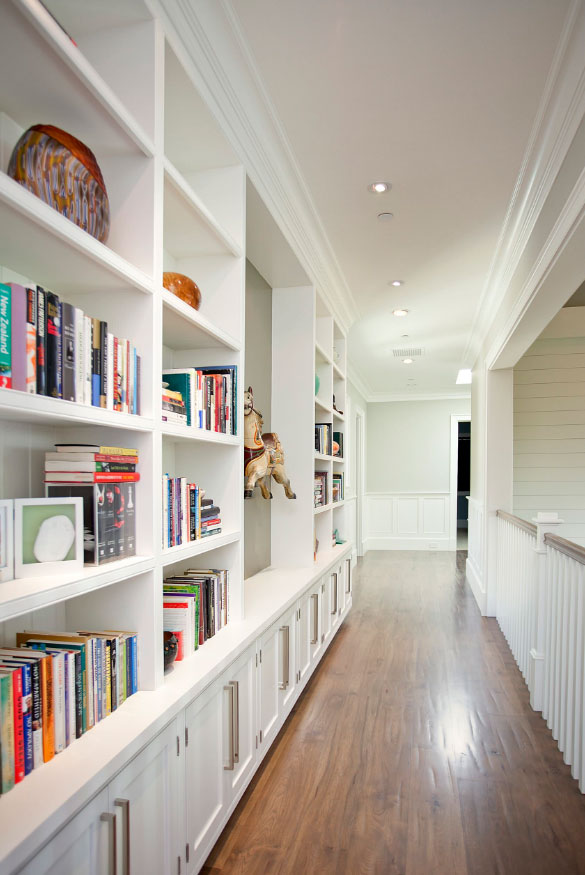 White Picket Fence, Inc
Neutral walls and white bookshelves create the perfect backdrop for this colorful literary display. The hickory floors add warmth while the carousel horse is the star of the show.
LOOKING UP
M. Elle Design
A clean, contemporary hallway is given warmth in the form of rustic wood beams, helping to balance the space.
TOP TO BOTTOM BEAUTY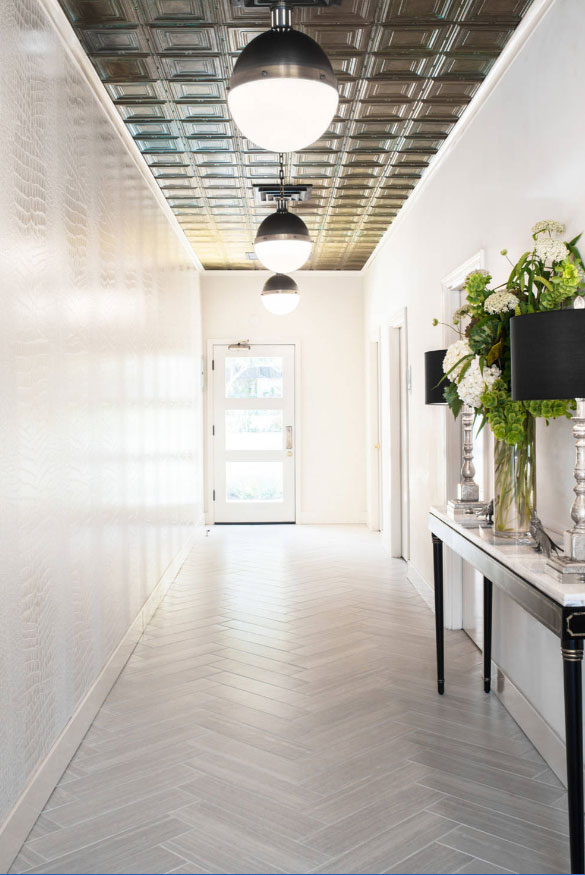 FORM – Design Studio
The tiled ceiling and herringbone floors add enough interest to the space that the white walls do not feel plain, while the console table provides an extra space for light and greenery.
HALL OF MIRRORS
Michael Abrams Interiors
This collection of mirrors does double duty as a visual display and to reflect light in this otherwise dark hallway.
RICH & WARM
Birdseye Design
Everything in this hallway is rich.  Deep dark colors give it warmth.  Distinctive ceiling light feature and the floors are beautiful!
MULTIPURPOSE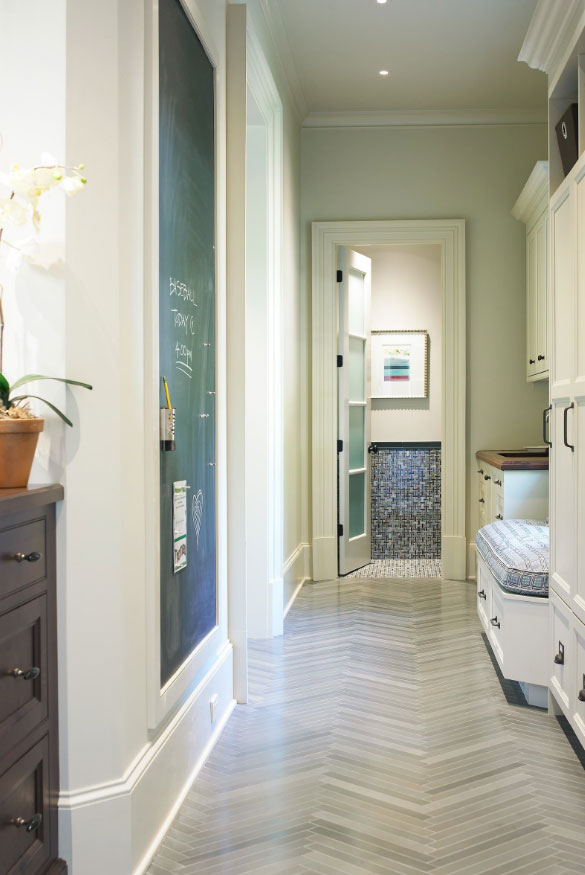 The Design Atelier
No wasted space here!   Clever use of every available wall, nook & cranny.
SCULPTURAL WALL
rt&deco
Why hang art on the wall, when you can turn the wall into the art itself? The stacked stone "columns" create texture while the dim, directional light adds drama.
BASEMENT REMODEL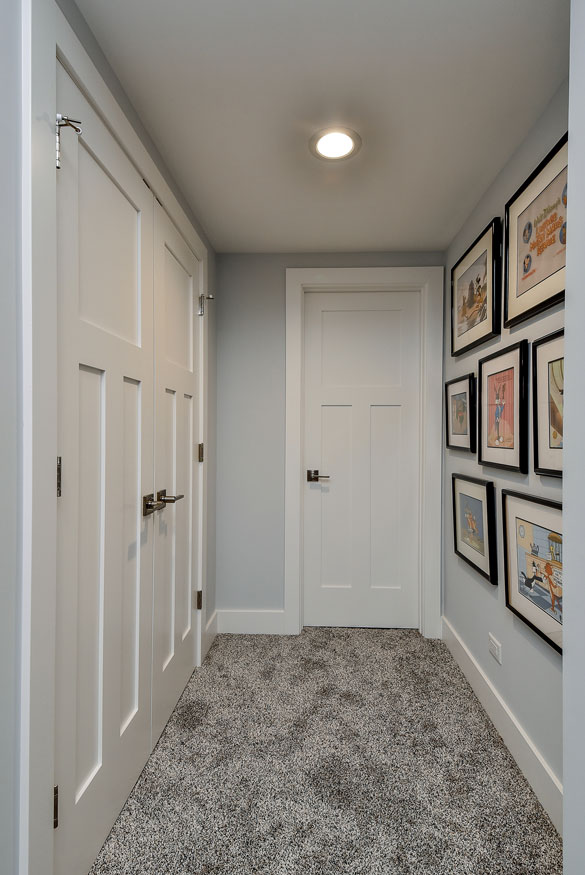 Sebring Design Build
A good place to locate a closet for tucked away storage. Plus some fun animation art pieces were chosen for this hallway gallery.
RT AS FOCAL POINT
Carola Vannini Architecture
This modern hallway directs your eyes only to two pieces of artwork, minimizing visual clutter and maximizing its contemporary feel.
WOOD WONDER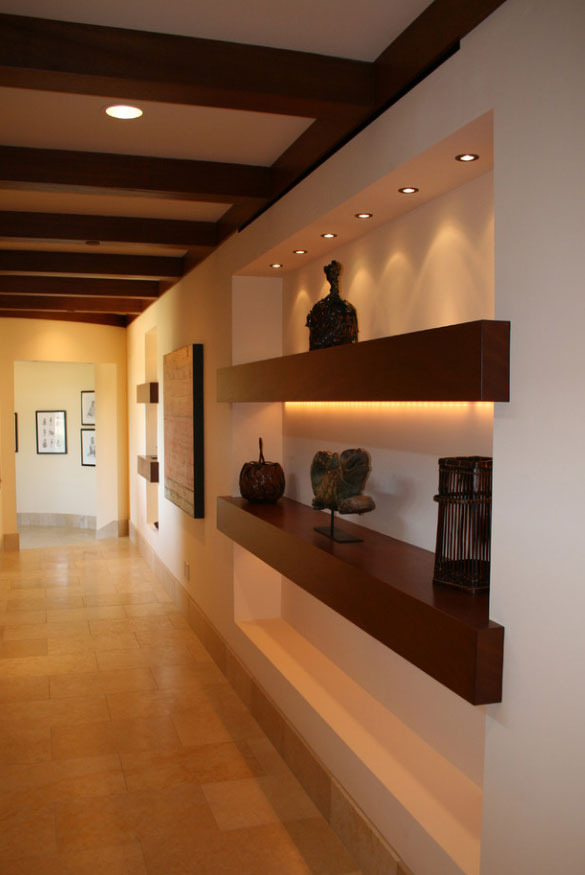 CJW Architecture
Thick wood beams and shelves lend an organic feel to the modern lines dominate this space.
LED HALLWAY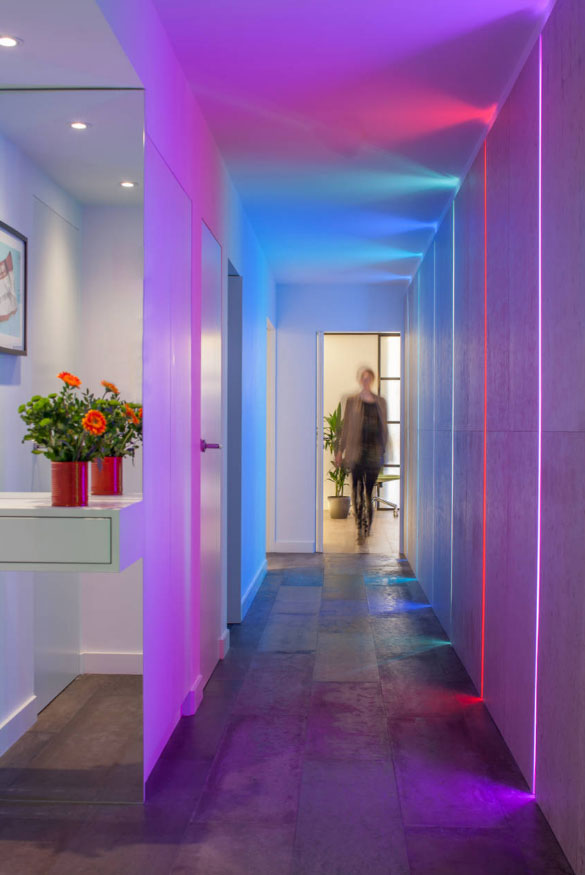 Cassidy Hughes Interior Design
The use of LED lighting screams "cool" and is definitely eye-catching and unique.
QUA ENTRY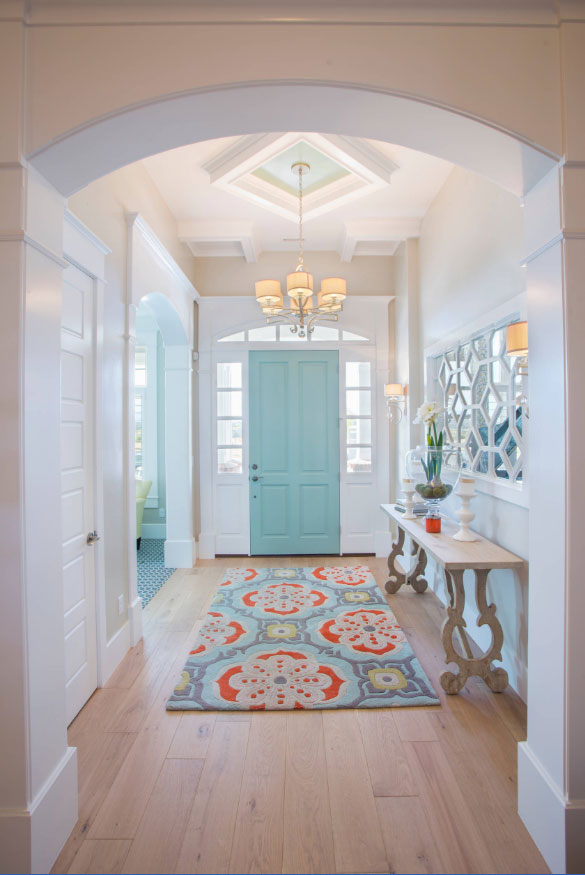 JCD Custom Home Design
Love the soft aqua accents in this entry hall. Gorgeous carpentry details from top to bottom.
COLOR COLOR COLOR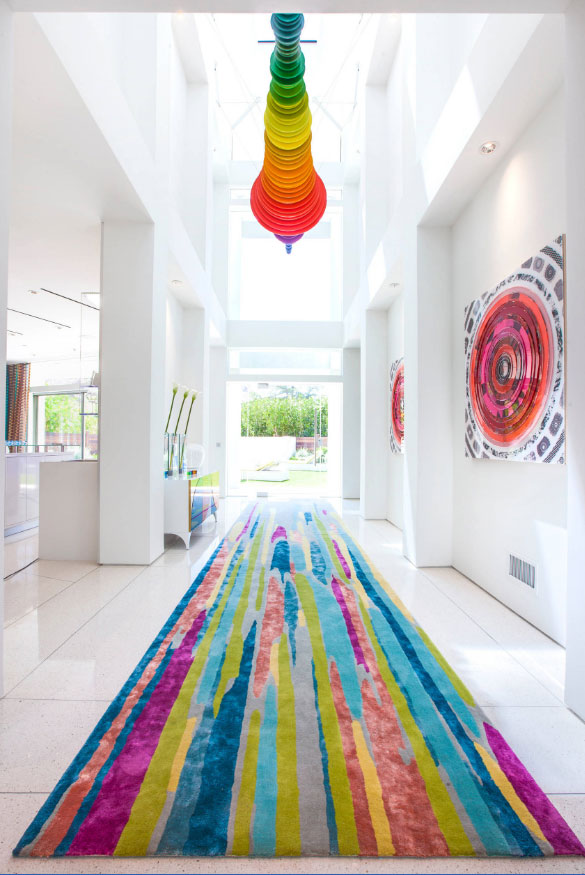 Crespo Design Group
The color is spectacular in this otherwise white space!
So many wonderful ideas to transform a boring hallway and make it special.  Which one inspired you today?
This is an image roundup post, curated to showcase and promote other reputable contracting companies' and their amazing work.  To have any of the images removed, please reach out to us and we would be happy to do so.
Other Great Articles to Read:
50 Interesting Mirror Ideas to Consider for Your Home22 Floor Transition IdeasMurphy Beds Dimensions & Design Ideas
The post 31 Wonderful Hallway Ideas to Revitalize Your Home appeared first on Luxury Home Remodeling | Sebring Design Build.
Did you miss our previous article…
https://lakeoftheozarkspropanehome.com/?p=2506