26 French Country Dining Room Ideas
Featured Image Source: Porch Daydreamer
The French Country style has evolved into one of the most iconic design trends for home dining rooms. Using French Country as an interior design choice can offer a lot of flexibility while boosting the value of your home. It is a universally loved trend that invites comfort and warmth without sacrificing sophistication.
The French Country style can be interpreted in many different ways to inspire unique dining room setups of all shapes and sizes. Knowing where this historical—yet always modern—style came from can give a visual reference when determining what does and doesn't count as French Country. While some similar styles form similar parts of the world, French Country is independently a popular and clearly defined trend. Take a look at some of the latest unique French Country looks for your dining room.
TRADITIONAL
Peg Berens Interior Design LLC
Amazing traditional dining room!
FARMHOUSE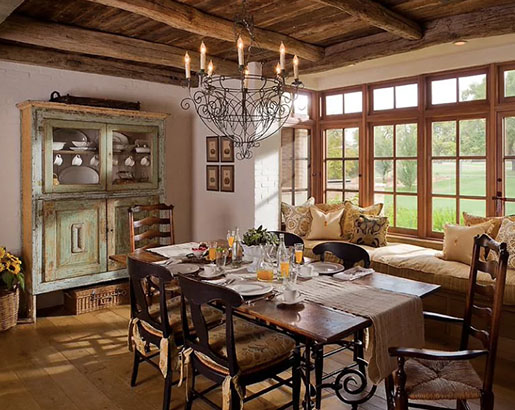 Higgins Architects
Cozy farmhouse feel for family gatherings.
19TH-CENTURY
Zin Home
One of a kind look that will make your guest remember you!
WOOD + BRICKS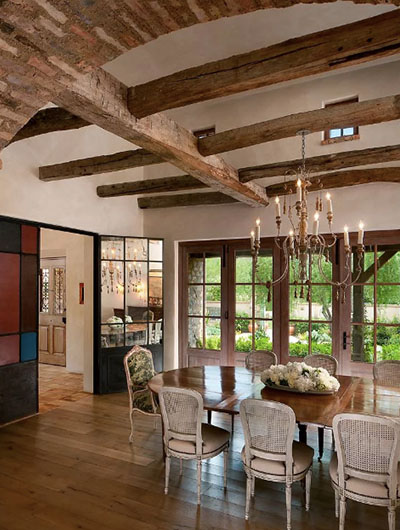 Higgins Architects
Stone and wood go perfectly together if done right!
RUSTIC
llan Edwards Builder Inc.
Open and rustic for an amazing dinner party!
DETAIL-ORIENTED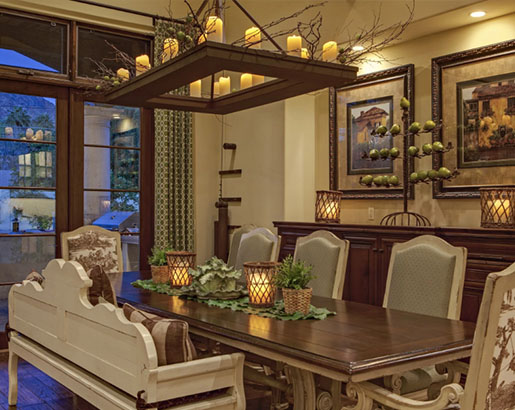 Hendricks Construction
Image having this dining room for the holidays!
VELVET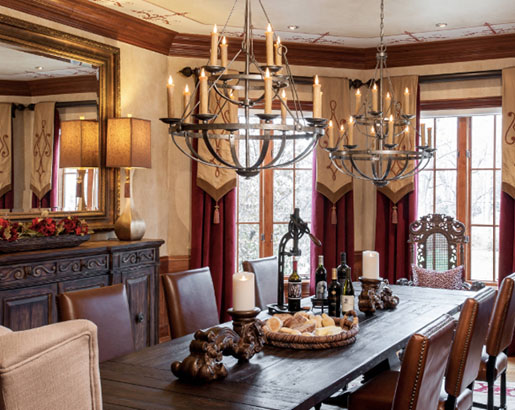 Velvet gives off such a warm and comfortable vibe.
FLORAL
Sue Murphy Designs
Great use of floral accents in this dining room.
BREAKFAST ROOM
Kim Nichols
This dining room screams family breakfast!
DISTRESSED FINISH
Bouton and Foley Interiors
Rustic and beautiful French country dining room.
French Country Style, A History
At one point in time, French Country was considered "old school". And that is perhaps what gives it some of its timeless charm. This design trend started in the Provence countryside, with old French villas and chateaus made of stone. The inside furnishings were exactly what you'd imagine – distressed wood ceilings, brightly-colored decorations, and vibrant wall coatings. The perfect combination of rustic and modern created this sense of chic design that hadn't been done anywhere else before.
The style actually dates back as far as the 1600s, during the reign of Louis XIV. When he renovated the Palace of Versailles, he made it one of the first large-scale buildings to boast the French Country style. At the time, this was considered the height of luxuriousness and wealth, making people across all nations jealous of the fabulous style.
Over the years, the style evolved into something that citizens in simple country homes could adopt. It soon became a symbol of the elegant and rustic French countryside. People wanted to imitate the style of richness and elegance brought on by the palaces in Paris, but put to practical and affordable use. That is where the modern Country French dining room style began. As a result, the world has adopted the style to reflect both elegance and frugality, with a warm blend of rustic nature that appeals to many modern homeowners.
MODERN
Beautiful Chaos Interior Design & Styling
Spectacular touch of modern in this dining room!
ELEGANT
Weiss Design Group, Inc.
With a tough of gold and a pinch of class, and you get elegance.
EXQUISITE
DSI-designs
Beautiful dining room with touches of French inspiration!
BIG & WHITE
Lovette Design+Build
Perfect blend of white and pink.
Things That Set A Country French Dining Room Apart
There are a few key elements that make a Country French dining room unique. There are times where it may get mistaken for a similar style—French Rococo, for example—but understanding the features that make it special can help you distinguish it from the rest.
These include:
Natural colors. The French countryside inspires this design, so naturally, many colors reflect neutral browns, bright yellows, rusty reds, and soft whites. Sebring Tip: If your dining room is on the smaller side, opt for more brilliant colors. If your dining room is large, you can introduce darker earth tones.Natural materials. Surfaces and flooring should also be inspired by nature. Also, French Country dining rooms use plenty of light-colored wood and timbers for ceilings and floors. This style also makes use of stone.French Country dining room furniture is unique to its style. Moreover, the table and chairs can genuinely make or break the whole scene. Furniture made from reclaimed wood is a popular choice. Farmhouse-style is ideal for bringing your Country French dining room to life. Furniture should also be functional; for example, large cupboards or sideboards with storage space are worth considering.Soft patterns. French Country dining rooms are not shy of decoration or style. It's common to find a space in this style with animal-print styles or floral decorations.
Many other elements make up a French Country style. From adding warm and gentle furnishings to filling the room with accessories, you can create a look that makes your dining room look "lived-in." Natural light, earth tones, and rustic furniture are priorities to consider when transforming your living space.
18TH CENTURY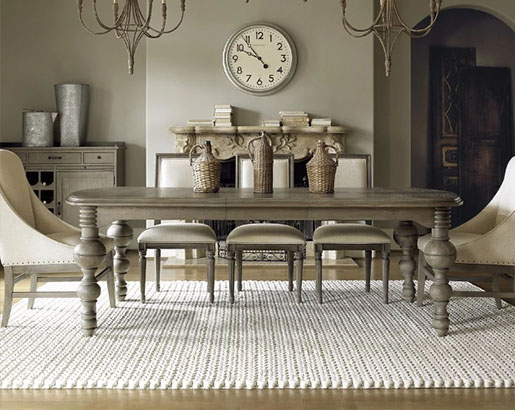 Zin Home
Great balance of modern and old.
SPECIALTY FABRIC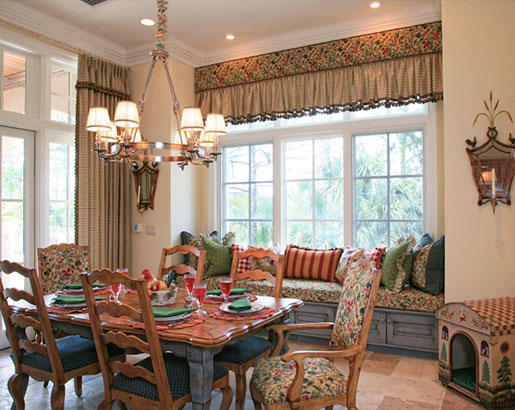 JMA INTERIOR DESIGN
Fantastic French dining room with stunning accents.
ENCHANTING
Douglas VanderHorn Architects
French dining room with a fairy tale feel.
TRANSITIONAL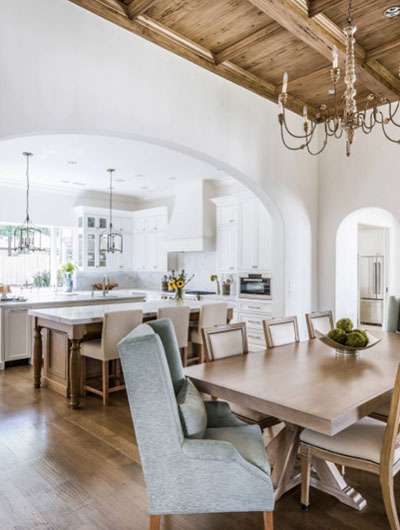 Erin Sander Design
Open concept dining room that will make any home stand out!
Decorating Ideas For Country French Dining Rooms
The above elements can be expressed in many ways to create the traditional Country French dining room style. Take a look at the following images, each highlighting a different feature that makes this style so warm and familiar – without sacrificing its uniqueness.
Opposites Attract
Remember that the key to defining a French Country style is with the peaceful marriage of sophisticated and rustic. Combining these elements can be done the right way. Your French Country dining room table and chairs are simple, made of solid or reclaimed wood, in an authentic farmhouse style. This leaves the sophisticated elements to the decor. Add fanciness with the drape patterns, chair cushions, or kitchenware.
Lots Of Toile
Toile is known as a French cloth used for decorating. While it literally means "cloth" in French, it also describes a fabric typically in beige or white background and covered in a repeating pattern. The pattern can be in many shapes or styles but most often depicts nature scenes (trees, animals, or farmers). Having this kind of pattern for your French Country dining room furniture can add credit to its value.
Make A Lot Out Of Your Lighting
Keeping things simple at eye level is a good idea. That allows you to add more of a sophisticated twist to the upper levels of the dining room. A hanging, antique-style lantern in your dining room can completely set the mood of the whole room. Make it a truly eye-catching piece with bright colors and fancy framing. This will look especially good against the simplistic backdrop of exposed beam ceilings or reclaimed wood chairs.
MID-COUNTRY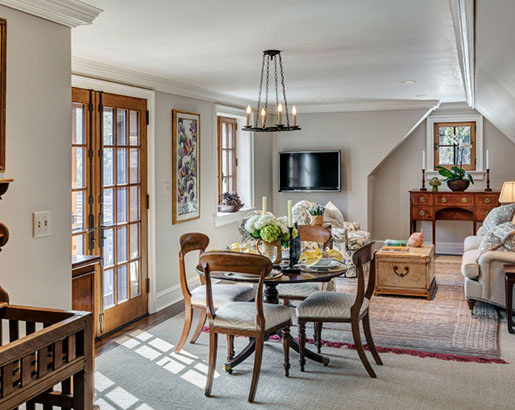 Charles Hilton Architects
Elegant dining room with a cozy feel.
ECLECTIC
Zin Home
French dining room that gives off a spark or energy.
SENTIMENTAL
Beautiful Staged Home and The Colorful Bee
Wonderful use of wood to make the space feel comfortable.
EXTRAORDINAIRE
Douglas VanderHorn Architects
Bright colors and big windows to make a space bigger than what it is.
CREAM TOUCH
Creative Touch Interiors
White and peach colors mixed together make a sweet impression!
CUSTOM
Giffin & Crane General Contractors, Inc.
Rustic but elegant look to French dining room.
Thick Beams and Wooden Accents
Speaking of exposed beams, this is one of the most famous architectural elements of a French Country dining room. Using distressed wood for the ceiling beams can give your home an antique look, immediately adding to its value. This also adds a touch of charm to a room that instantly makes it more inviting. A style like this can be accented well with stone flag flooring. Your rustic French Country dining room sets are what blend everything together in this chic yet savvy look.
Add A Real Rustic Touch
It's one thing to make some of the elements of your dining room look rustic, but it may be of use to incorporate actual antique pieces into your room. For example, antique farm tools, kitchen utensils, or silverware can look good displayed on the wall. Put a vintage vase out as the centerpiece on your French Country dining room table to show that you want nothing less than the real deal.
Use Ornate Colors
The French Country style is all about using natural colors…but it's also about being elegant and inspiring a scene from French royalty. Use ornate colors like gold and silver – but especially gold – as an accent for some of the decorative items in your room. Gold drapes, gold drawer handles, or a duvet color made from gold fabric can make you feel Parisian and chic.
Use Motifs
Perhaps one of the most famous historical elements of the French Country style is its motifs on the window panels. Adding motifs to any wooden framing or molding is a creative way to turn something regular into something unique. Inspire fanciness with traditional French motifs on your windows. Your window treatments should be one of the more elaborate elements of your French Country dining room, as you want it to stand out.
Make A Statement With Old And New
Again, it's important to incorporate both elaborate and simplistic pieces into your dining room. When you are finished with your design, it should look like you sourced your French Country dining room sets from an upscale antique store or a quality flea market shopping spree. The perfect combination of high-end and homemade, of ultra-modern and antique, of calm and noisy, is what gives this style its own definition.
SOFT WHITE
Eclectic Design Source
Perfect mix of soft white and modern.
COZY
Barbara Stock Interior Design
Great space to have a comfortable family meal.
Don't Let the Patterns Overwhelm
It's all too easy to get carried away with the diverse and multi-colored fabric patterns that the French Country dining room furniture style typically has to offer. And while almost any fabric pattern choice will help improve the look of your dining room, it's essential not to use it too much. Adding just a little bit of something fancy and colorful—like toile fabric upholstered on the chairs, for example—can go a long way. It shouldn't be so much that it becomes the entire focal point of the room. Leave that to your excellent dining set or your natural exposed beams!
Add Lots of Artwork
If it's one thing the French Country style loves to do, it's decorating the walls. Harkening back to the times of Louis XIV and the Palace of Versailles, one way to express the status of wealth was by hanging plenty of artwork on the walls. You can even imitate the style of the olden days by framing your portraits and paintings in large, gold-gilded wooden frames. Not only does it enrich the room, but it also gives it dimension.
Don't Forget the Little Details
You can make something fancy out of even the most ordinary things. Adding those little details to the room can really bring it to life, giving it a warm and familial characteristic. Rustic decor pieces like an old wine rack are a unique focal point and a convenient storage space for your everyday items. Keep the furniture vintage, but you can marry rusticism with modernity with colorful seat upholstery. Think about what kind of light you want hanging above the table or what your centerpiece will look like. Use these little things as opportunities to add the vintage and rustic touches without making the room lose its poise.
Dark and Light
Bright colors in small rooms and dark colors in big rooms go a long way. But no matter what size your dining room is, you can add something both bright and vibrant. Dark-colored flooring goes great with white walls, white ceiling lights, and white French Country dining room sets. And vice versa; dark chandeliers, rich wood-colored furniture, and light floors with light-colored beams atop can make the room stand out.
Keep Things Symmetrical
It's okay for the French Country to look a little asymmetrical at times, as this is part of its charm. But in some cases, and especially for large dining rooms, it might be wise to be symmetrical. The best way to keep the room in balance is to keep some of the focal points lined up. This can mean lining up your lanterns directly over the table, securing your rug in the middle of the room, or ensuring that there are an equal amount of decorations on each side of the room. While it doesn't need to look so straight to the point of being static (you still want the room to look lived-in!), it can keep the eyes from getting too overwhelmed when entering such a bright and dynamic room.
Consider French Country In Your Kitchen!
French Country is a timeless style that will never steer you wrong. If you are considering remodeling your dining room, you can learn more about how the French Country style can work with you. If you have a taste for the eclectic, and you want to invite some warmth and comfort to your home, this may be a good style to consider.
The dining room is a big part of the home remodeling process. If you are a homeowner who's planning on a renovation project, make sure you are prepared before starting the next big task. You can design, build, and remodel your home in a design that will compliment your personal tastes and add overall value to your home.
This is an image roundup post, curated to showcase and promote other reputable contracting companies' and their amazing work.  To have any of the images removed, please reach out to us and we would be happy to do so.
Other Great Articles to Read:
19 MID CENTURY MODERN KITCHEN IDEAS10 TOP TRENDS IN KITCHEN DESIGN FOR 20196 TOP TRENDS FOR KITCHEN COUNTERTOP DESIGN IN 2019
The post 26 French Country Dining Room Ideas appeared first on Luxury Home Remodeling | Sebring Design Build.