24 Fantastic Outdoor Kitchen Ideas
Featured Image Source: www.techo-bloc.com
More and more homeowners are escaping the daily routine of cooking indoors by building an outdoor kitchen in the comfort of their backyards. This popular trend allows families to get outdoors, enjoy the serenity of nature, and add new experiences different from the typical lunch or dinner. Building a kitchen in your backyard is not all difficult, especially with the right ideas in mind.
Get away from the mundane habit of cooking inside with little to no windows. Give yourself and your family a breath of fresh air with one of our outdoor kitchen ideas below.
First, let's take a look at some of the possibilities that await with an outdoor kitchen; knowing the do's and don'ts of a backyard bistro can help you narrow down your style selections. After you are confident that it can be built to your liking, you can then choose from one of our stylish designs.
OUTDOOR GRILL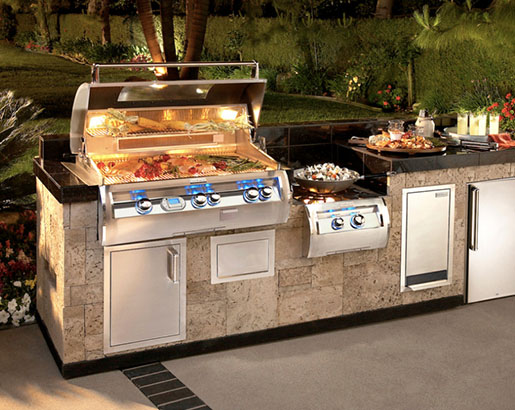 Fire Magic Grills – Robert H Peterson Company
Great stone work on around the grill and kitchen.
PATIO DINING
Hanomoco Design
Look how the kitchen spans the length of the wall. It is also covered by a large pergola.
CUMARU DECK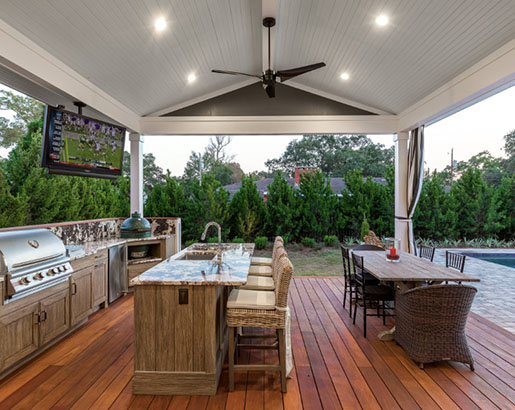 Omega Construction and Design, Inc.
Beautiful outdoor kitchen that has all the entertaining space.
REFRESHING
Chr DAUER Architects
Great simple outdoor kitchen in backyard.
ROMANTIC
Hughes Landscaping
Late night grilling with friends and family would be perfect with this kitchen.
COCKTAILS
Lifescape Colorado.
Beautiful grey backyard kitchen that also has a fireplace with seating for all.
Building Your Outdoor Kitchen
The art of outdoor entertaining can increase both your creativity and your land value. Outdoor kitchens are leisurely, allowing families to enjoy the feeling of a good cookout without having to stay indoors. But there are a few key considerations to understand when embarking on your outdoor kitchen journey. Take a look at some of these DIY outdoor kitchen ideas and tips to help you transform your backyard into the outdoor entertainment center you want it to be.
Take Accurate Measurements
You need to take the space and size of your backyard into account before deciding which outdoor kitchen ideas work best for you. You can get in touch with a professional contractor for help making measurements of your patio and kitchen area. Make sure not to put aside too much backyard space for the kitchen alone, as you still need an area for comfortable seating, tabling, and relaxation.
Think About Framing
Is your outdoor kitchen going to be the main focal point of the backyard? How many components of the outdoor kitchen do you plan on installing? Being able to answer these questions will give you a better idea of the design you're looking for.
Plus, you should make sure that you have a sturdy foundation built up for you to base all of your appliances on. Make sure that whatever you're building is solid enough to hold the backyard kitchen you plan on having.
Know Your Decor And Details
An outdoor kitchen isn't complete without a nearby place to sit down and enjoy the food. Arranging your decor can be another big step in the decision-making process when looking for new outdoor kitchen ideas. And going beyond just form, you need function, too. Make sure you've planned for additional storage space for your cookware and dishes. Make sure you know where your water and gas lines are if you plan on installing a stove or sink. Get all the details before you set the design portion of your plan into motion.
SOPHISTICATED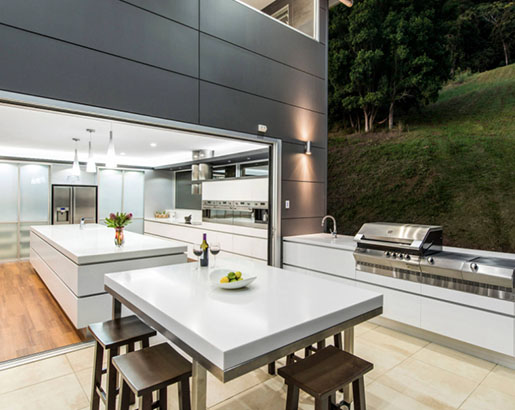 Kim Duffin for Sublime Luxury Kitchens & Bathrooms
modern look to this outdoor kitchen that opens up the bottom of the home.
GRILL STATION
Concrete Commander
The word work on the this kitchen looks amazing.
BEACHFRONT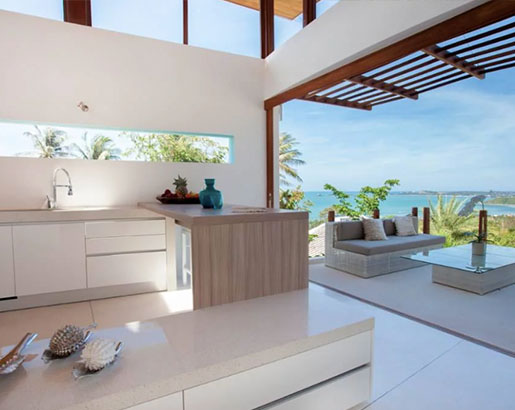 Isabelle Robyns
Wonderful colored kitchen that complements the beach and water.
VENT HOOD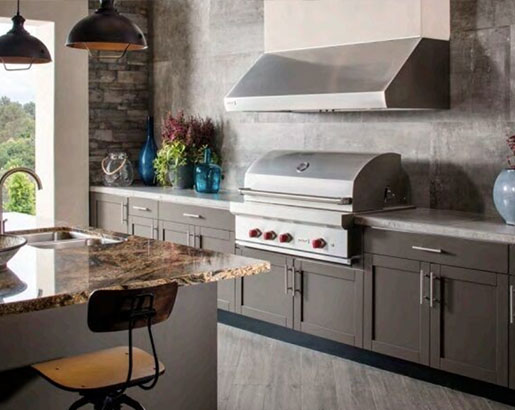 Guyton's Custom Designs, Inc.
Stainless steel never looked so good!
Outdoor Kitchen Ideas For Small Spaces
Just because your backyard is small, doesn't mean there isn't a space for an outdoor kitchen. In fact, some of the best designs can be laid on a budget. The most important thing an outdoor kitchen needs is a functional space, not a large one. In fact, you can even design a kitchen that is closeby to your indoor one; that way, you can quickly run in and grab additional items without having to run all throughout the house. It also allows you to use many of the same gas and water hookups that you use for your regular kitchen. Saving energy and time go hand in hand with saving space.
Make It Separate
When it comes to cooking outdoors, you just need a place for your stove or oven to ventilate. As long as you can build sufficient space for that, the rest of your design can be resized to your liking. One clever idea is to build a small bar or island that can be designated especially for the outdoor kitchen. The rest of your backyard can be left the way it is, or reserved for other functions. It will help your space to feel larger while also having a special space put aside just for cooking.
Keep It Covered
A covered outdoor kitchen can actually expand its lifespan. Offering your outdoor kitchen a fair amount of protection from the elements or the sun's constant rays can prolong the functionality of your appliances and utensils. Wooden archways or patio covers make excellent coverings for an outdoor kitchen and bar area. It can be solid or slatted to fit well with your already-existing style.
POOL HOUSE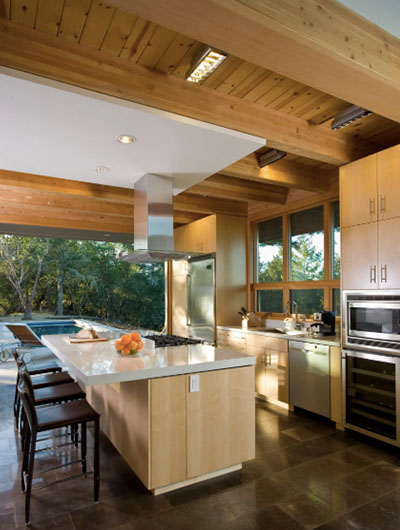 Swatt | Miers Architects
Extremely decent wood work to keep this kitchen operating at its best.
FIREPLACE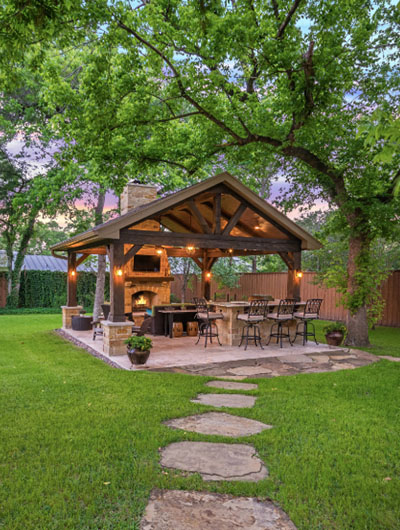 Texas Custom Patios
Perfect place to have a barbecue!
OVEN + GRILL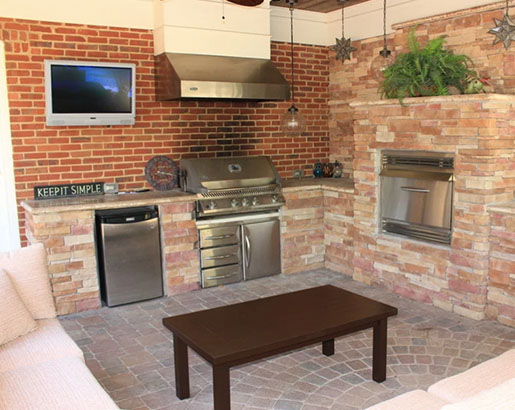 Sketches, An Interior View LLC
Sometimes less is more. In this case, you have everything you need to have a great time.
CONTEMPORARY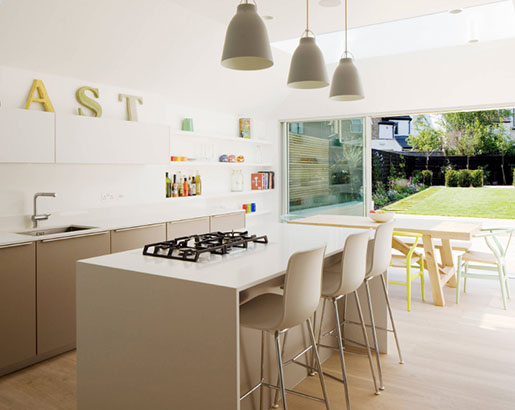 STUDIOCARVER
Sleek and modern finish and looks amazing.
Combine Your Cooking And Seating Areas
Kitchens with attached bars look attractive for a reason. It can be both a fun and functional way to conserve space while making sure not to skimp out on any of the outdoor kitchen necessities. You can have a full seating area with some chairs and plenty of space for food and drinks on the bar, while your oven or stove is on the other side. This is sure to liven up your holiday barbecues, and this time you won't be embarrassed to invite the neighbors.
Rustic Outdoor Kitchen Ideas
Something about old fashioned makes it always in fashion. The rustic, artisan style is popular for outdoor kitchens, especially those inspired by rustic country farms or Tuscan villas.
Make New Look Like Old
Rustic kitchens use a lot of slatted and reclaimed wood to decorate tables, provide awnings and offer unique decoration. Mixing a little bit of old in with the new – like leaving some vintage kitchen utensils on the bar for decor – can really go a long way by boosting the value of your yard. Using farm tools as functional decoration pieces (like the top of a pitchfork for hanging your spatulas, for example) will add both history and charm to your once plain backyard.
ON WHEELS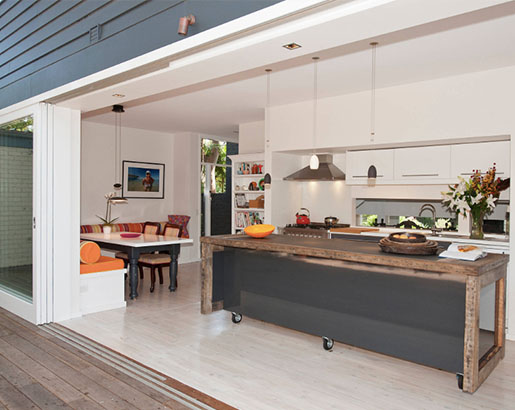 nnabelle Chapman Architect Pty Ltd
Not only can this kitchen be inside, it can also be rolled outside to operate in multiple spaces.
SHADE SYSTEM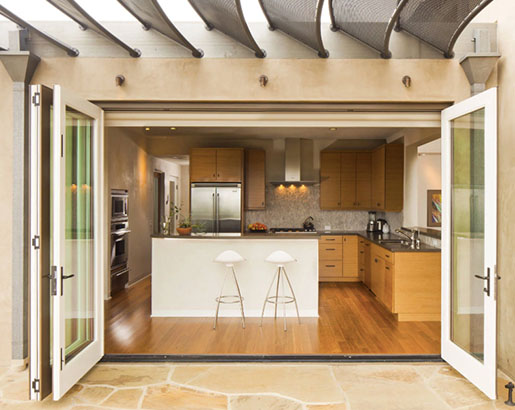 Thompson Naylor Architects Inc
Great use of the french doors with the shade from above.
GLASS COVERED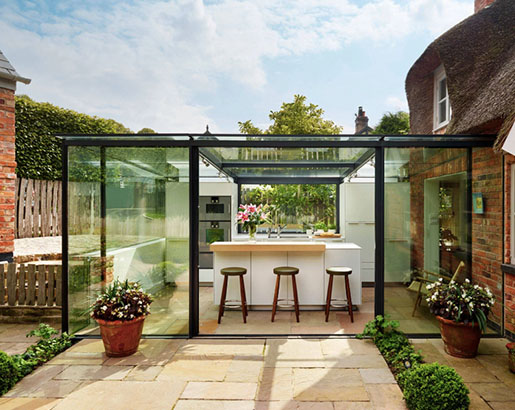 re|form [architects & urban strategists]
Stunning glass windows to keep you protected from the elements but still give you the ability to see outside.
TIMBER DECK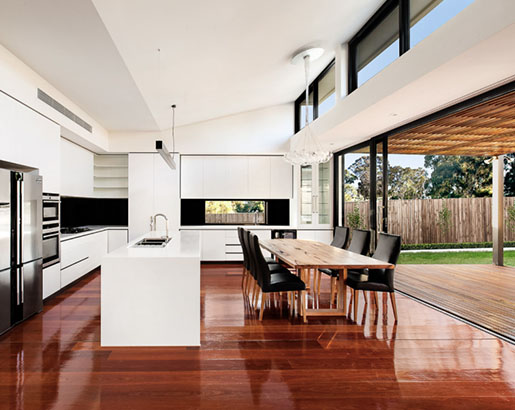 Finney Construction
This outdoor kitchen has some of the best looking floors around.
Work With Nature
You dont need to separate the kitchen part of your backyard from the garden part of backyard. Incorporate it all at once so you can get that true rustic farmhouse look. Build seating areas around tree trunks, or use old wooden flowerbeds as coolers to store fresh ingredients. There are a number of ways to enhance the design of your outdoor kitchen by giving it some old fashioned style.
Use Stone and Brick
It's true that wood gives off a rustic vibe. But stone and brick can transform your outdoor kitchen into a quaint cottage or old-fashioned European home. The cool stone walls will help regulate temperatures as your cooking is sure to turn up the heat. Some homeowners even opt for built-in pizza ovens right into the stone, where hand-tossed pies can be cooked to perfection.
Make A Fireplace Retreat
Add a covering and a fireplace to your kitchen area for a true rustic outdoors experience. You can create your own little sanctuary in your old-fashioned outdoor kitchen. It's your own escape from the stresses of modern life while you and your family can enjoy the feeling of living in simpler times.
LANDSCAPE
Chibi Moku – Architectural Cinema – Photo – 360
When you have a backyard like this, use it to your advantage!
LOFT CONVERSION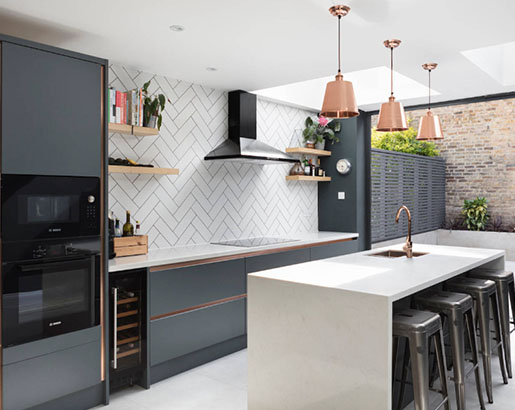 MAC Building Solutions
Super modern feel that looks like something from the future.
LONG COURTYARD
Scale Architecture
Great use of a space when you are limited or square footage.
BACKYARD GRILL
Christiano Homes, Inc.
Love the herringbone brick. It adds style and makes the space pop.
DIY Outdoor Kitchen Ideas
Looking to build your outdoor kitchen with your own hands? There are a couple of designs that will help make your job easier – and more amazing.
Make An Island Frame
The best way to get the kitchen of your dreams with your own work and materials is to construct a frame for a kitchen island. No matter the size of the yard, it might be easy to have a separate piece made just for the kitchen, rather than having to rip up or replace certain parts of your yard that already exist. You should also know your materials. Wood is combustible yet affordable, and brick is heavy and long-lasting. Even if you are invested in a DIY project, you may still want to communicate with a professional contractor to ensure that you have all the materials and supply you need to build a reinforced structure.
Build A Patio Or Deck
Outdoor kitchens look wonderful on top of a patio or deck, where they are elevated to become the focal point of the yard. If you have parts of your outdoor kitchen ready, but nowhere to put it, you can start by designating a solid foundation to put your kitchen upon. Decks made of wood and patios made of concerete are both solid options – no pun intended.
Outdoor Kitchen Ideas On A Budget
Sometimes it's good to get back to basics. When you're working on a budget, you learn to really reflect on what's necessary and what isn't. There are several ways you can build your dream outdoor kitchen while sticking to your price plan. Some parts of the outdoor kitchen experience might be DIY, but that can be part of the fun, and all the more rewarding once it's built.
TROPICAL
New Leaf Construction
What a relaxing place to have a cook out.
EXTERNAL BAR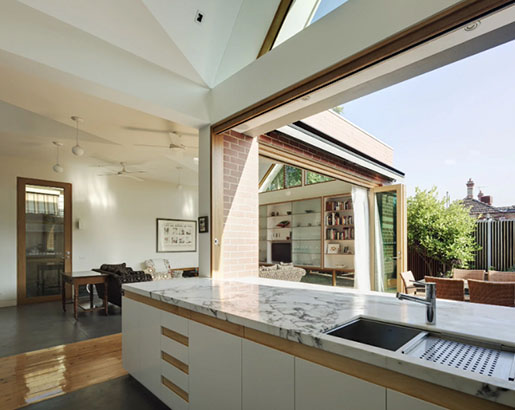 Mihaly Slocombe
Amazing space that has all the high-end elements.
Plot Out Your Essentials
Designing a kitchen that has just the basics doesn't mean it needs to look bad or bare. In fact, a little bit can go a long way. Spending some of your budget on a nice grill that comes with plenty of storage and cleanup space will save you the cost of separate cabinets and trash cans later. A basic table and chairs is all that's needed to make an inviting dinner setting where your friends and family will enjoy dining with you under the stars. Or, you can build your own kitchen island and install some of your kitchen appliances inside of it to make it look like a full modular component.
Get Reused Or Salvaged Materials
Looking to make a wooden island frame but you can't afford to cut a bunch of fresh lumber? There are still options available. Go to salvage yards or recycling centers where you can find reclaimed wood, stone, countertops, building materials, and even some appliances or machinery that might help you further your outdoor kitchen plans. Your local hardware store might even have "put-it-together" kits where you can install modular kitchen appliances without having to build every little thing from scratch.
Focus On The Seating
If you can't afford much in the way of kitchen appliances, don't feel like it's going to dampen your idea of a picturesque backyard. You can enhance other parts of the kitchen design – such as the seating and tabling arrangements – in a more opulent way. Keeping in mind that both form and function are important, and what you lack in function you can make up for in form. Having a simple grill is enough to create an entire outdoor kitchen space.
Install A TV
Again, you can focus on the extra parts of the outdoor design to make up for a lack of actual kitchen appliances. Having a television set up next to your seating area can make it the best place for entertainment. What was once an empty space is now the go-to spot for family gatherings and neighborhood parties every summer. Simple outdoor kitchens are all you need to create a dynamic space.
Build Your Outdoor Kitchen Without Limits
Achieving your ideal outdoor kitchen design is not something that has to empty out your bank account. If you are working on a budget, there are plenty of design and decor options that will take a little bit and go a long way with it. In fact, some of the most popular outdoor kitchens have been made in small spaces or with a small budget.
If you are in the market for multiple appliances and a designated kitchen setup in your yard, there are a number of ideas to help you enhance the space. As an example, building a deck or patio can add new levels and dimension to your yard, making it look bigger than it was before. Or, you can design a patio cover that will cover the kitchen area for a more private and peaceful place to enjoy the outdoors. If you're looking for more guidance before starting your ultimate outdoor kitchen design project, you can check out Remodeling 101: A Free Homeowner's Guide, which is available for download. More tips and ideas can give you a way to take your available space and budget and come up with your ideal outdoor kitchen design.
This is an image roundup post, curated to showcase and promote other reputable contracting companies' and their amazing work.  To have any of the images removed, please reach out to us and we would be happy to do so.
Other Great Articles to Read:
19 MID CENTURY MODERN KITCHEN IDEAS32 KITCHEN CABINET HARDWARE IDEAS10 TOP TRENDS IN KITCHEN DESIGN
The post 24 Fantastic Outdoor Kitchen Ideas appeared first on Luxury Home Remodeling | Sebring Design Build.