23 Pink Tile Design Ideas for Your Kitchen & Bath
Featured Image: RLB Architecture
Designing or decorating your home is an enjoyable task. The bedroom and the living room are often the first rooms to get a makeover, but how about the other spaces in your home? Your kitchen and bathroom should not be left behind. The kitchen is probably one of the areas in your home where activities are high – you cook your meals there every day. You should, therefore, make it a place where cooking will be a joy and not a bothersome chore. On the other hand, a bathroom is a place where you do very personal activities, so designing it to give off a vibe that will help you relax is imperative. What do these two areas have in common in terms of the materials used in them? The answer: tiles. Tiles have significant effects on the overall look of your kitchen and bathroom.
Vintage tiles are great to use in the kitchen – whether as flooring, walls, or splashbacks – because you can easily wipe them clean, and they are very durable. In the bathroom, tiles cover almost everything except the ceiling, perhaps. The tiles you choose to use in these spaces will affect the ambiance. With the right tiles, you may feel like walking into a deluxe spa. Aside from the materials, you also have to consider the color of the tiles you will use. We recommend pink tile as the color is calming, letting you chill while doing your activities in these rooms.
SPARKY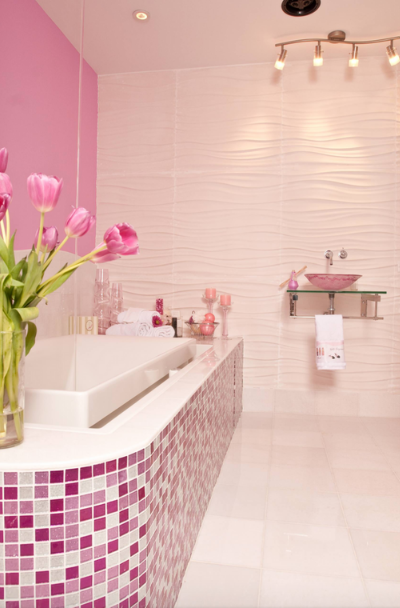 Susan Jablon
Pink tulips, pink mosaic tiles, and white wave tiles—we are in love! Check this lovely idea using pink bathroom tile.
FARMHOUSE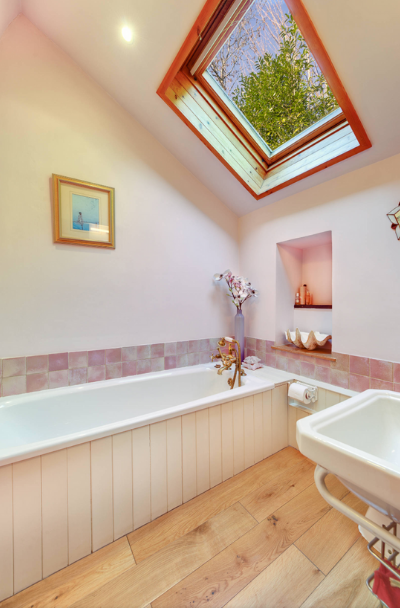 Colin Cadle Photography
Relieve stress with a relaxing bath on this pink tile bathroom. There's definitely no need to go to spa when you have this kind of refreshing bathroom.
MEDITERRANEAN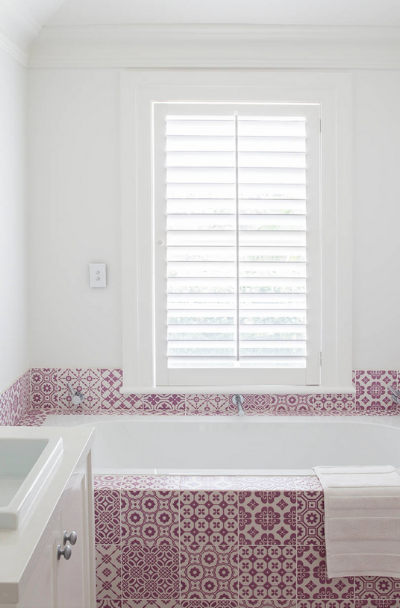 Clipsal by Schneider Electric
You don't need to go all out on pink if you don't want to. Just look at this one! Lovely pink patterned tiles add character to this white-walled bathroom.
FAIRYTALE
Sheila Rich Interiors, LLC
Whether she is Beauty or Cinderella, your little girl will surely adore this fairy-tale inspired bathroom.
BRIGHT
Lesley Glotzl
The addition of pink tiles in the bathroom makes it warm and bright. We also love the fact that the owner used different materials to add texture and style to this bathroom.
SOPHISTICATED
Mustard Architects
Pink tiles with black hardware make an elegant and sophisticated bathroom. With this kind of bathroom, you don't really need to put too much decor to make an statement.
BLACK + PINK
Gristmill Builders, LTD
What an amazing storage system for all your bathroom essentials! We also love the utilization of black paint over the shelves and pink tiles for the bathroom vanity top.
TRADITIONAL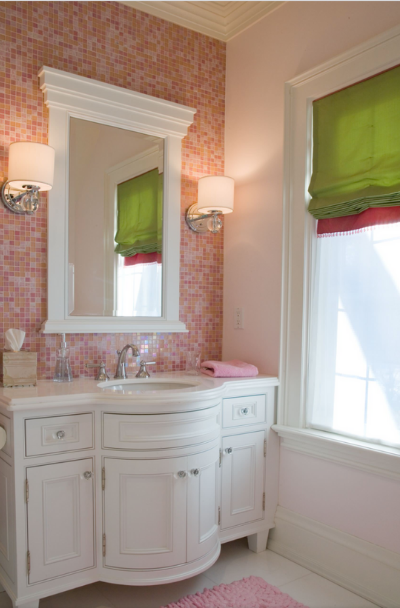 Coe Mudford Interior Design
Dainty and sweet for this pink and white bathroom. The green curtain is able to catch attention without overpowering or distracting the overall theme of the bathroom
SUBTLE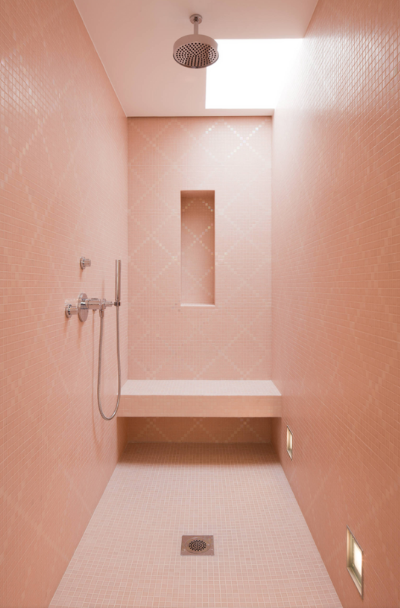 Hélène & Olivier Lempereur
Gorgeous and subtle diamond pattern on this pink mosaic tiles make this bathroom serene and pleasing to the eyes.
VINTAGE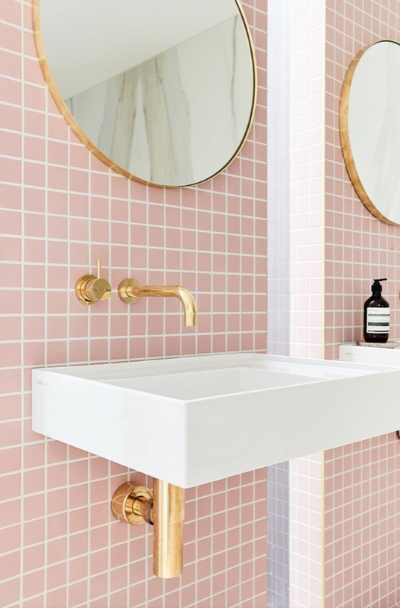 Finstad's Carpet One
Use pink, white, and gold for an elegant and luxurious touch for your bathroom.
The History Of Pink Tile For Kitchen & Bath
In America in the 1950s, pink was one of the most popular bathroom tile colors, with 5 million to 10 million families estimated to have pink bathrooms in their homes. Some even have pink bathtubs, pink toilet bowls, and pink sinks, not just pink tiles! Whether this was a trend is unclear, but these pink bathrooms survived through ages and managed to still be present in many homes today. Some simply find renovating expensive, so they maintained their pink bathroom, while others like the nostalgic appeal the pink bathroom gives.
Also, back in the 50s, pink was a popular color for kitchens, at least for those who were carefree at heart and would not go with the standard colors such as white or wood tones. Others, however, say the pink's popularity started when then First Lady Mamie Eisenhower, wife of US President Dwight Eisenhower, who was elected into office in 1952, made it known that her favorite color was pink. Since then, pink had been known as a feminine color, and because the kitchen was at that time seen as a place for women, kitchens were often colored pink. Nowadays, women, of course, are no longer bound by such stereotypes, as they have secured their rightful place in society. Though we welcome this change, pink kitchens are still very welcome.
Excited to have your kitchen and bath look fresh? Pink tiles will surely give that effect. These pink tile design ideas will help you if you do not know where to start.
CUBE
Variant Office – Architecture & Interiors
Afraid of using pink tile because it's too feminine? Use it with black!
DIAGONAL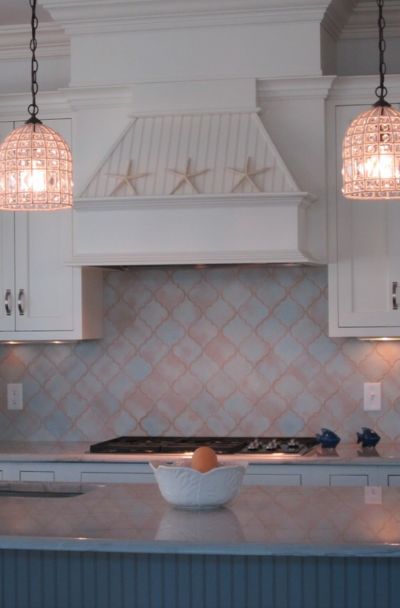 Hancock Lumber Kitchen Design Showroom
Pink diagonal tiles with a hint of blue for that dramatic effect on this beach-style kitchen.
MYSTICAL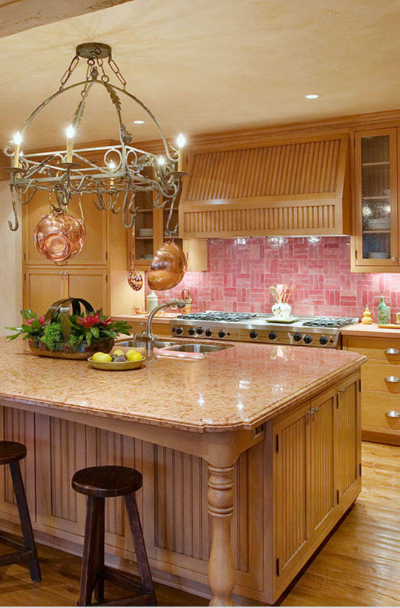 Maienza – Wilson Architecture + Interiors
The pink patterned tiles for the backsplash make this kitchen fun and exciting.
HANDMADE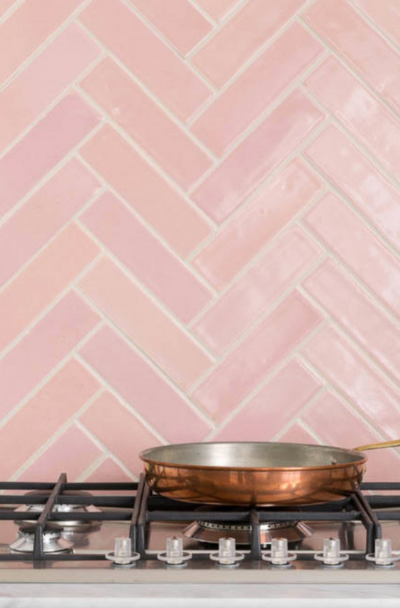 Floors of Stone
Pink handmade tiles in a herringbone pattern for this wonderful kitchen.
Going With Common Pink Tile Materials
In terms of materials, You have many options to choose from when having pink bathroom tiles or kitchen tiles. The most common ones are ceramic, marble, and subway.
Pink ceramic tiles fit well in kitchens and bathrooms. Their durability and elegance make them perfect as flooring. Because they have a very solid surface, dirt does not easily cling to them, making cleaning with mop or sponge a breeze. Ceramic tiles are also more affordable than other flooring materials.
Marbles are also known for their durability. Builders have used these natural stones for centuries. Pink marble tiles will surely look great on your bathroom or kitchen as flooring. And if that is not enough to convince you to get them, hear this: marbles keep away dust and pollen, making them hypoallergenic and sanitary. And during summer, marble tiles stay cool. Marbles, however, are not recommended to be used as a kitchen countertop because acidic substances used in cooking may damage them.
Subway tiles perhaps are one of the most recognizable types of tiles for the kitchen and bath. These are the 3×6-inch tiles, usually white, laid in a running-bond arrangement. They are called subway tiles because they were first used in the 1900s in subway stations in New York. The tiles being durable and easy to clean made them popular among residential homeowners. Using pink subway tile instead of the usual white will make your kitchen or bath look exciting.
LIT BACKSPLASH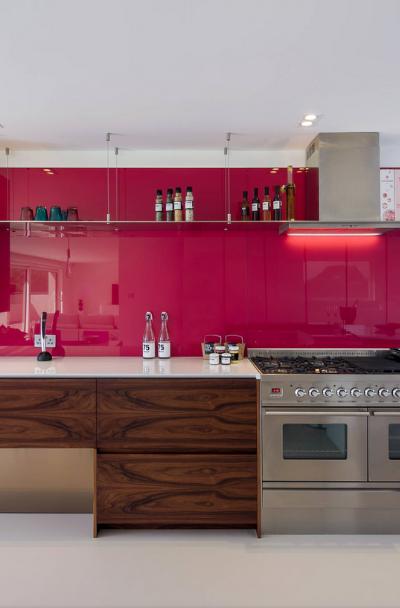 Pedini London
Want to make an impact? Why not go for a glossy hot pink backsplash?
DAINTY
Domus Nova
The pink patterned tiles combine well with the gray cabinets.
MOSAIC
Suzanne Allen Design
Bring a pop of color to your kitchen with pink mosaic tiles.
MID-CENTURY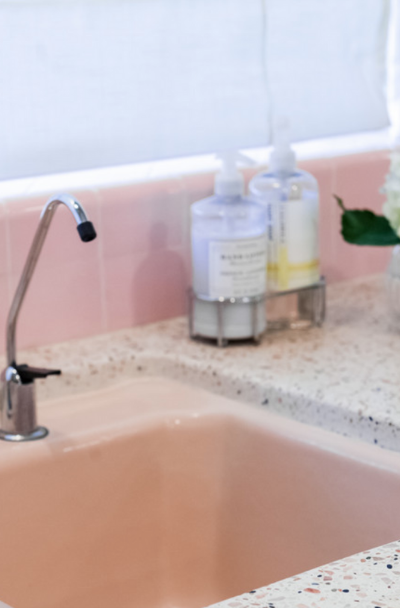 Red Egg Design Group
Keep it simple with these light pink tiles paired with peach sink.
PRETTY IN PINK
Space Craft Joinery
Not ready to commit to full pink tiles? Go for pink grout!
OPEN & BRIGHT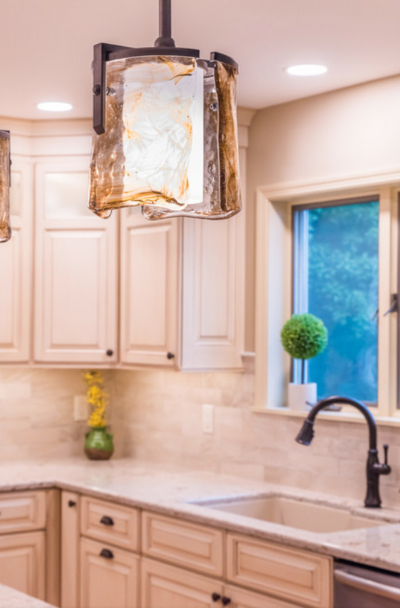 Bennett Contracting, Inc
Subtle pink backsplash tiles for a romantic appeal in this lovely kitchen.
Other Types Of Pink Tiles To Use
If you are worried about solid pink flooring tile being dull, ceramic producers actually have tiles that are embossed or printed, so you will never go out of options. You can have pink tiles with hardwood or natural stone finish. You can also mix and match tile patterns to get a look that you would genuinely appreciate.
If you want your bathroom or kitchen to stand out, install pink glass tiles as backsplash. Their luminosity will surely transform any boring kitchen into a work of art. Another good thing with pink glass tile is that it reflects light, making your kitchen or bathroom look brighter and bigger. Also, because they are easy to install and commonly available in stores, they make excellent materials for do-it-yourself renovations in your kitchen or bath.
Glass subway tiles are also great if you cannot choose between pink subway tile and pink glass tile. Why not have both, right? The glass finish adds a modern twist to the familiar subway pattern. It's a union of the old and the new.
However, if you want your kitchen and bathroom to be eye-catching, use pink mosaic tile, which is a combination of other materials mentioned earlier. Pink mosaic tiles are perfect if you want your kitchen or bath to be attention-getting geometric patterns. These materials are pieced together like a puzzle to form intricate yet beautiful patterns. You may have various shades of pink and a bit of other colors in your mosaic tiles that you can use as a backsplash, countertop, or even flooring. The tip is not to use pink tile too much and instead just have it as an accent.
PINK GLOSS
Bon Accord Splashbacks
If pink is your favorite color, don't hesitate to use it even on backsplashes.
PINK + WHITE
ESPACIOS Y LUZ FOTOGRAFÍA
Go for a vibrant pink if you want to create a stunning and welcoming kitchen.
What Paint Color Matches Pink Tiles
Now that you know the different tile materials and you have decided to go with a particular type or a mix of different types, you also have to think of the paint that will go with your tiles. After all, not everything in your kitchen and bath will be covered in tiles. Here are some ideas.
To update a vintage kitchen with pink bathroom tiles, paint cabinets, or walls with pastel teal. Teal adds a harmonious contrast to pink because the green in teal and the red in pink are on the opposite sides of the color wheel. Following this, aqua or blues also makes a great choice of paint color.
If you want to make pink still present but not empowering, tone it down with ivory-painted walls and ceiling. Light gray will also work well in toning down the pink tile down. The color can also lower the temperature in a pink kitchen or bath.
You can also paint walls and ceiling in platinum. Paired pair pink tiles, your kitchen or bathroom will look glamorous. If you do not want to go overboard with the paint color to go with your pink tiles, try painting a small portion of the room first. If you get excited upon seeing the combination, then continue painting more.
Other Things To Consider
So you have decided to go with pink tile, and you have identified the material you want. One thing you should not forget is the grout. Since you are going with pink, a choice for grout color would be white, if not a lighter shade of pink. The grout you choose affects the overall look of your tile, so it is of crucial importance.
Other important things to consider are the pink tiles' finish, durability, and sanitariness. Glossy and smooth tiles, like glass, are more stylish than the tiles with a dull finish. They are good to have on walls or backsplash as they are also easy to clean. For pink flooring tile, you cannot have it too smooth and glossy as it can be slippery. When going with pink ceramic tile as flooring, add abrasive glaze for slip resistance.
Pink bathroom tile may be pretty, but you also have to make sure that it is durable and hygienic. That's why for recommend pink flooring tile, especially in wet areas, we recommend ceramic tile as they resist moisture and last longer than other materials. Pink marble tile and pink ceramic tile earn another point for being hygienic as they are easy to clean. Therefore, they are also great for the kitchen where you prepare food.
The kitchen and bathroom cannot be dull. We hope you got great ideas to splash them up with pink tiles and admire these rooms daily.
This is an image roundup post, curated to showcase and promote other reputable contracting companies' and their amazing work.  To have any of the images removed, please reach out to us and we would be happy to do so.
Other Great Articles to Read:
19 WAVE PATTERN TILE DESIGN IDEAS12 TOP TRENDS IN KITCHEN DESIGN FOR 202023 ORANGE TILE DESIGN IDEAS FOR YOUR KITCHEN & BATH
The post 23 Pink Tile Design Ideas for Your Kitchen & Bath appeared first on Luxury Home Remodeling | Sebring Design Build.