19 Tiny Bathroom Design Ideas
Featured Image Source: Douglas Huston Estate Agents
Are you searching for tiny bathroom ideas? A tiny bathroom can be truly attractive, practical, and space-efficient if you know how to design it properly.
Huge bathrooms are an extravagance most of us certainly dream of having. In fact, a free-standing bath in the center of the room, equipped with a luxurious armchair, is on everybody's wish list. On the other hand, we believe tiny bathroom ideas can be just as beautiful!
In particular, a little space doesn't need to look cramped or cluttered when you include a couple of smart strategies. Also, your room can soon rock excellent style and sophistication, regardless of whether you only have shower room to deal with.
Several space-saving tips, coupled with a few lovely accessories and fixtures, will transform the tiniest bathrooms into an admirable space in minutes. Moreover, we will present you the best way to make the tiny bathroom you had always wanted.
Are you tired of your tiny, dark, and unsatisfying bathroom? Do you want to give your bathroom an upgrade? Indeed, there is no better time to give it a new look than now. Tiny bathroom design ideas are at long last venturing out of the sink cabinet, cookie-cutter bathtub, toilet, and mirror combination. The latest tiny bathroom ideas are truly crisp and progressive, reexamining what we all expect a bathroom configuration to look like. For instance, wall-mounted sinks and toilets defy gravity, while cabinet doors are no more.
Finally, smart storage choices and bright finishes mean that even the tiniest bathroom can be upscale as well as functional. Regardless of whether you select a smooth, streamlined look, or conventional detailing, there are a lot of tiny house bathroom ideas for you.
CONTEMPORARY
rchitected
A tiny bathroom doesn't need to look cramped. Just look at this gorgeous layout!
MODERN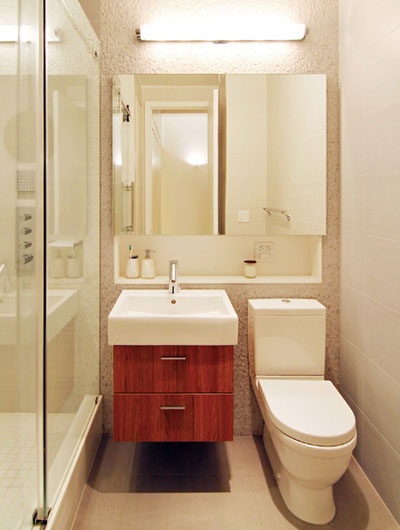 KIMOY Studios
A floating vanity will make your tiny bathroom look spacious than it actually is.
TRADITIONAL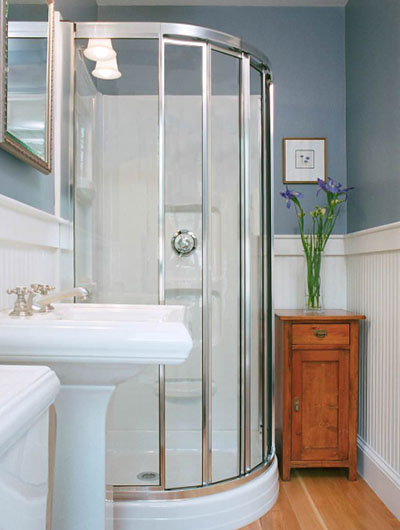 Charlie Allen Renovations, Inc.
The owner requested an enclosed glass shower for added functionality to an existing bathroom.
KIDS BATH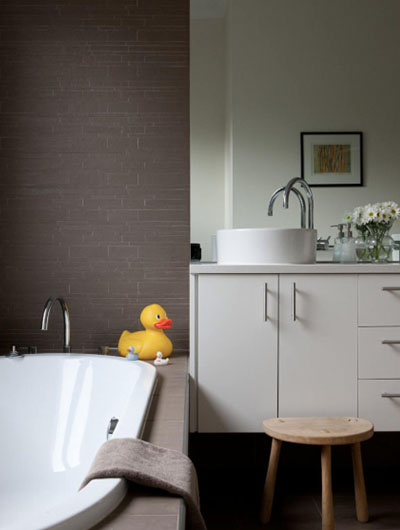 one small room
Simple but effective elements that radiate timeless and harmonious design.
POSH
N Builders Pty Ltd
White subway tiles with black grout for the wall and black penny round mosaic tile for the floor.
ECLECTIC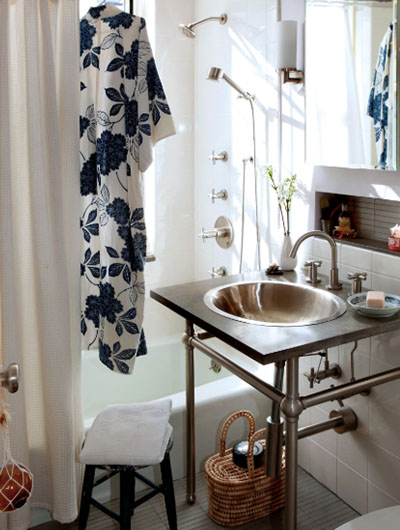 moment design + productions, llc
Gorgeous and quaint tiny bathroom in an apartment in New York.
LUXURIOUS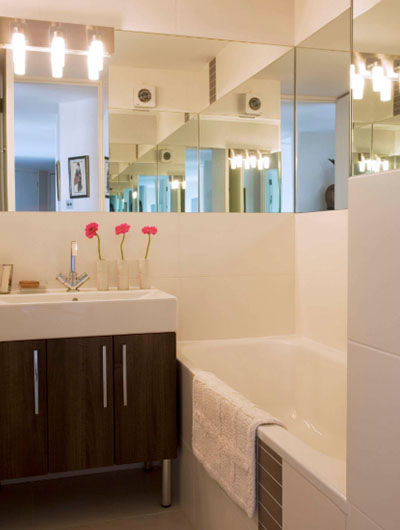 House & Home
With the inclusion of mirrors all around the room, this bathroom looks larger and luxurious.
CLEVER STORAGE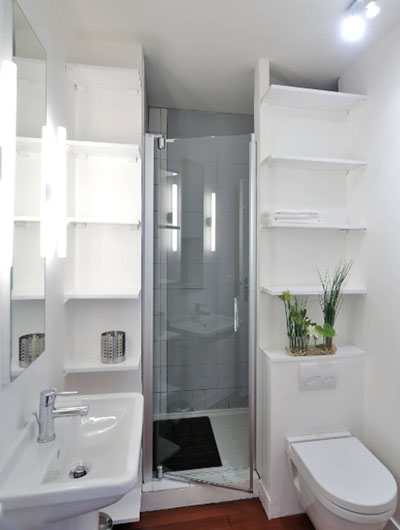 Fables de Murs
Incredible use of the walls for extra storage. The wall-mounted toilet is also a good idea.
TRANSITIONAL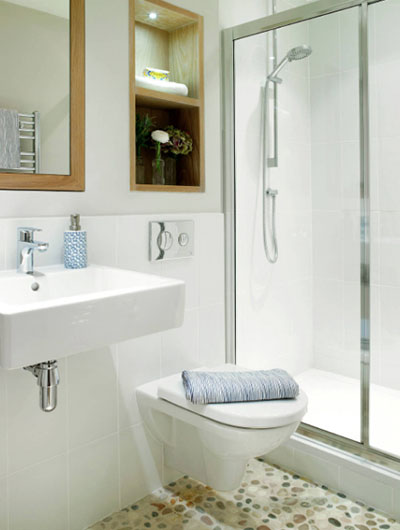 CLPM Limited
Wall hung toilet and basin make small bathroom neater and easier to clean.
VICTORIAN
STEPHEN FLETCHER ARCHITECTS
The dual-purpose under sink acts as a chair and a storage box.
Decorating Solutions For Tiny Bathroom
Our first, and presumably the most significant of all our tiny bathroom ideas, is about stripping back on what you need. Truly consider what you require in your bathroom. Also, adhere to the minimum necessities, so you have as little as possible. Bulky items, in particular, can occupy that valuable floor room, and they will make the room appear smaller. In particular, all you probably need in a bathroom is a sink, a toilet, and a shower or bath. On the other hand, storage is crucial as well, but consider how you can build this around your basin or pick wall mounted cabinets that won't take up any of your floor space.
Next, with some inspiration from our tiny home bathroom ideas, it's possible to pack (nearly) all that you need into your bathroom, all that it requires is a smart approach with regards to the layout. You can also choose a frameless shower. Provide an illusion of more floor area by removing a cumbersome shower tray and enclosure and opt for a frameless glass shower instead. In effect, this will decrease the visual clutter in a tiny bathroom and enable light to get in the room effortlessly. Moreover, frameless, walk-in showers likewise provide an extremely dazzling, elegant feel, as well as being one of the most practical tiny home bathroom ideas.
Finally, making the most of your space is a fundamental step when dealing with tiny bathroom ideas. Set aside some time also to consider using smart tiny bathroom storage ideas, especially those intended to fit what may be regarded as dead space, such as an awkward corner.
GLAM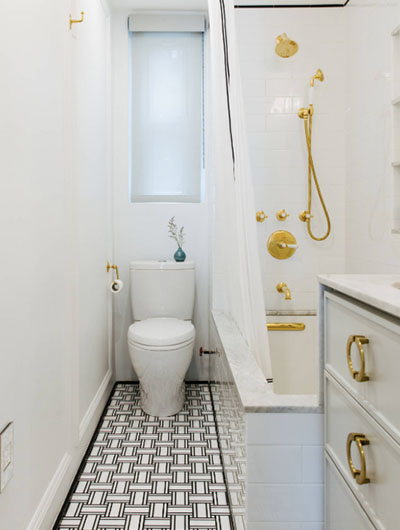 designs by human.
A drawer, toilet, shower, and tub—you got everything you need in this bathroom.
RUSTIC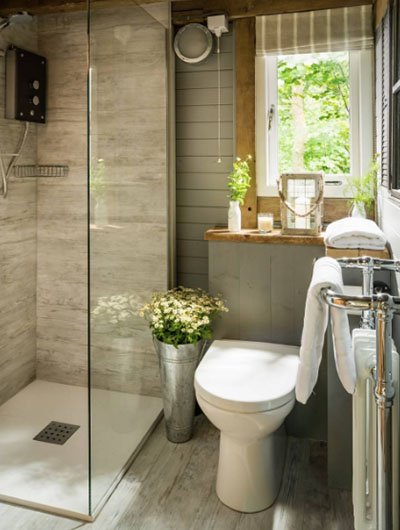 Unique Homestays
We love the wood effect tile and the wall paint called "Little Greene Slaked Lime."
MINIMALIST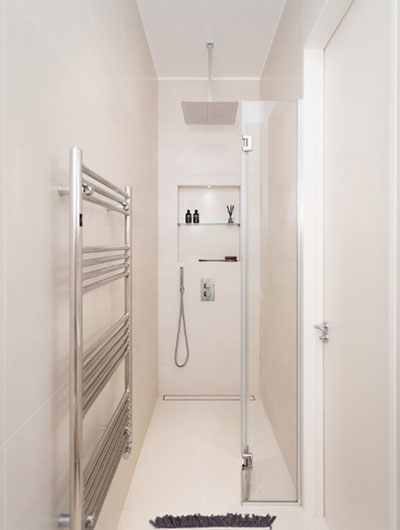 TEMZA
Minimalist shower solution for a tiny bathroom in London.
WOODY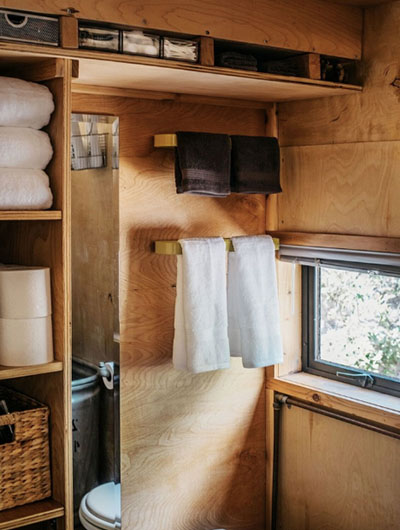 Topos Homes
Effective DIY storage solution for this rustic bathroom in Denver.
Items Worth Considering For Tiny Bathroom Ideas
Oversized Mirror
Here's one of our tiny house bathroom ideas: mounting a big mirror in a tiny bathroom will help it appear bigger—particularly in case you've picked a romantic dark color theme. Moreover, choosing a round mirror will make a softer vibe than a rectangular or square one, and picking one that is frameless will make it appear less bulky. Thus, make sure to add this to your tiny house bathroom ideas.
Great Bathroom Lighting
You'll probably be utilizing your bathroom for about half the time when it's dark. In this way, guaranteeing the lighting is acceptable—and not merely depending on a single overhead bulb—will cause it to truly feel larger when it's dark outside and you can't depend on space-enhancing daylight. Besides, tiny bathroom ideas need to work at night, as well, right?
Ladder Shelf
Indeed, tiny bathroom ideas need to incorporate storage solutions since they are a significant component to consider when planning a tiny bathroom. In particular, we like the idea of adding a ladder shelf to a tiny space. Aside from bringing slimline and making the most of the vertical space when propped up against the wall, it also offers an exquisite design feature.
Open Shelving
On the other hand, open shelving is another viable tiny bathroom idea worth considering in case you're stressed over fitted units causing a tiny bathroom to feel boxy.
With a casual, unfitted feel, it not only provides plentiful storage, but it also creates a stylish design configuration whenever styled with house plants, fresh towels, or other appealing bathroom basics. Going for recessed shelves, in particular, likewise helps an awkwardly shaped bathroom to feel larger, with shelves mixing into a design plan whenever painted in a similar shade as the remainder of the bathroom.
HAND-BUILT TUB
Extraordinary Structures
Space-saving hand-built cedar Ofuro soaking tub since a standard tub does not fit in this bathroom.
GREEN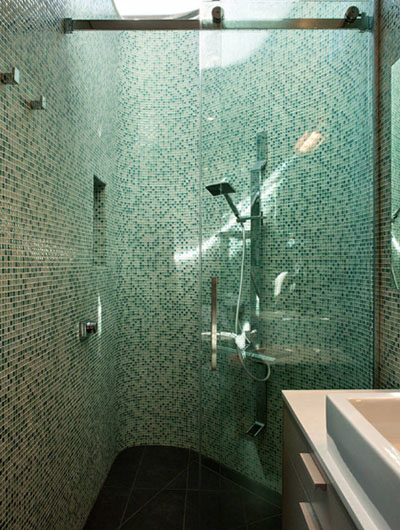 Studio Pacific Architecture
Olive green mosaic tiles for this contemporary bathroom in Wellington.
CCENT WALL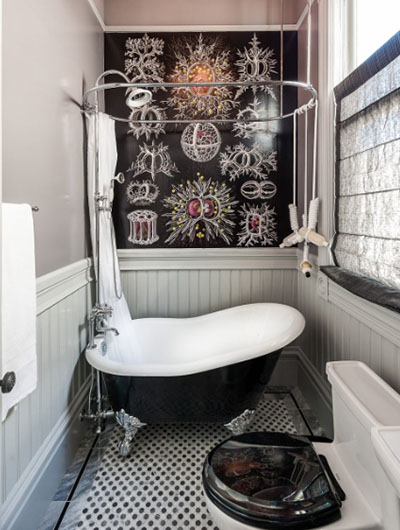 aron Gordon Construction, Inc.
The wallpaper has a custom image applied to it to bring character to this Victorian bathroom.
VINTAGE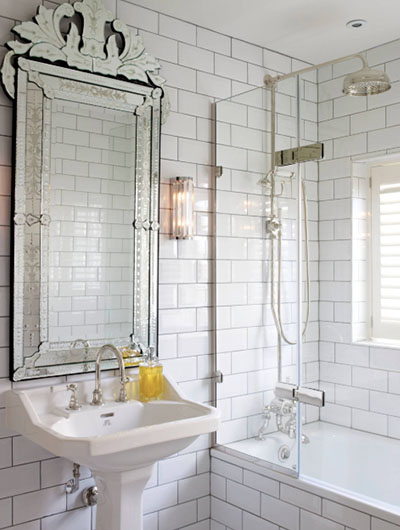 Peach Studio
The vintage mirror is from Frame Emporium, and the sink is from the 1900 collection of Lefroy Brooks.
Tiny Half Bathroom Ideas
Half bath, powder room, water closet—regardless of what you call the spatially challenged bathroom that includes a sink and a toilet, one thing will always stay the same—it is quite challenging to design. Besides, how would you add character and put your imaginative prowess on such a tiny space? Also, is it possible to cause it to look and feel somewhat bigger than it really is? These are indeed valid questions, but don't worry; we have tiny half bathroom ideas for you! By utilizing smart space solutions and decorative materials, you can make a half bath a lot more—and probably, whole.
A half bath is certainly more than just a powder room under the stairs. It also brings convenience to the whole family and acts as a perfect canvas to showcase your design and decorating skills.
All things considered, tiny half bathroom ideas don't need to be boring. In any case, many creative homeowners have found inspiration from these tiny half bathroom ideas and create gorgeous powder rooms! From Victorian-style toilets to modern pedestal sinks, the half bath is truly your opportunity to share some of your inner design sensibilities.
Typically the smallest part of one's home, the tiny half bathroom often gets ignored in the grandeur of one's home. However, with tiny half bathroom ideas above, these tiny bathrooms can be a luxury in its own right.
Making The Most Of Tiny Bathroom Ideas
Size is not everything with regards to bathrooms. As a matter of fact, selecting choices that cause your space to appear brighter and lighter, as well as fittings and fixtures which have various uses, can have a tremendous effect on how any bathroom feels and functions.
With some smart planning and clever design choices, even a tiny bathroom or small ensuite can truly feel roomy and provide everything your family requires.
Basins
Wall-mounted basins, otherwise called wall-hung bowls, do not have a conventional pedestal, freeing up floor area and transforming your room to appear more streamlined.
Shower
Modern shower enclosures are accessible in a wide of sizes and shapes that can fit into even the most challenging spaces.
Meanwhile, quadrant and offset quadrant enclosures provide elegant look, and sliding doors will occupy a small area as opposed to more conventional hinged doors.
Toilet
Choosing a wall-hung model will not only provide the appearance that your room is biggera, but it will also help make way for easier cleaning.
Bath
Straight baths are ideal for small spaces and come in a wide variety of lengths to best accommodate your room. In addition, you can also maximize the floorspace intended for a bath by utilizing it for hidden storage.
Walls
Making a tiny bathroom as bright and light as possible is the perfect method to open it up and cause it to feel bigger.
In particular, neutral tones such as creams, whites, and light grays, along with glossy surfaces, will assist with accomplishing this.
Flooring
Indeed, picking a darker colored flooring can assist with defining the area in a tiny shower room and make it appear larger.
CLASSIC
Remodeling Consultants
Wall frames are an effective way to decorate a tiny bathroom without using much floor space.
GREEN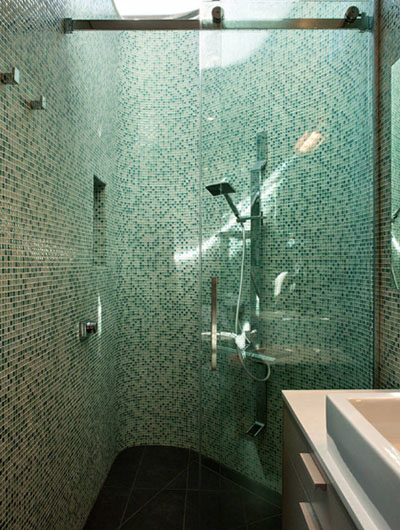 Studio Pacific Architecture
Olive green mosaic tiles for this contemporary bathroom in Wellington.
Tiny Bathroom Storage Ideas
Towel Rack
For instance, you can utilize a decorative wine rack on the wall to hold fresh rolled towels while freeing up space in your linen closet or cabinets. Moreover, it's additionally not a bad thought to keep one slot open for its designed purpose. After all, available wine is a necessity in a bubble bath.
High Shelf
Get innovative in case you are running out of tiny bathroom storage ideas. People rarely use the space above the door, so it's an incredible idea to store stuff you do not need every day. Also, a high shelf that is not within reach can store extra toiletries or hide deodorizers to maintain your bathroom smelling clean.
Basket Shelf
Moreover, you can get an inexpensive basket or crate to transform into deep shelving storage. Besides, the open face enables you to effectively see all you have stuffed in it while the top side fills in as a standard rack to hold decorative embellishments.
Tiered Storage
In case you're coming up short on countertop space but at the same time need your cosmetics and nail polish in plain view, think vertically! Also, create your very own tiered caddy by stacking two plates with a candle holder. Then spray paint the entire unit to make it cohesive and match your design theme. It's truly an economical and custom fix to a typical issue.
Tension Rod
Finally, make the most out of under-the-sink cabinets for tiny bathroom storage ideas. Besides, you can mount a tension rod to suspend cleaning supplies while having a pullout drawer underneath that provides simple access to additional bathroom tissue. In addition, you can likewise utilize S hooks to hang storage baskets from the bar.
More Tips For Tiny Bathrooms
These tiny bathroom ideas go beyond simply making the most of the available space, demonstrating that bold design features can be completely at home in even the smallest of spaces.
Mirror A Wall
Instead of just hanging one above the vanity, consider reflecting the entire wall of your small bathroom. The reflection of light and pattern (and, occasionally, that open door) will provide the same function as a window.
Select A Glass Shower Door
Consider removing the curtain totally if you're starting from scratch with your small bathroom decor. In a small bath, glass shower doors help open up the room.
Install A Pocket Door
Though this method is a little more time-consuming, replacing your door with a pocket door that tucks away into the wall might free up space for additional storage. You'll simply need to find another location to hang your towels.
Keep The Floor Clear
Covering the floor with a vanity or storage bins might result in a claustrophobic environment, not to mention tripping hazards. A pedestal or floating sink keeps the floor uncluttered, and putting floating storage puts everything within reach.
This is an image roundup post, curated to showcase and promote other reputable contracting companies' and their amazing work.  To have any of the images removed, please reach out to us and we would be happy to do so.
Other Great Articles to Read:
MASTER BATHROOM DESIGN IDEASSMALL MASTER BATHROOM DESIGN IDEASTOP TRENDS IN BATHROOM TILE DESIGN>
The post 19 Tiny Bathroom Design Ideas appeared first on Luxury Home Remodeling | Sebring Design Build.